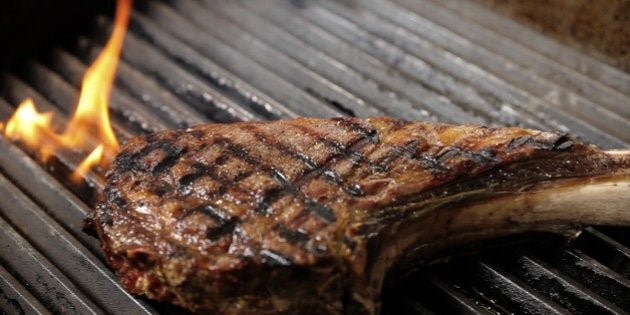 At first thought you might assume that cooking steak is easy -- just bang it on the barbie and Bob's your uncle. But the way you cook your cut makes all the difference to the texture and taste.
Choose a cut you like and best meat you can afford. If you like softer, melt in your mouth steaks then choose a piece of eye fillet. If you want super flavour and don't mind chewing then you can't go past a T-bone, rump, sirloin on the bone, skirt or hanger.
Prepared by By Chef Colin Selwood from The Cottage,Scone for 1888 Certified, here's an insiders guide to a sensational steak, every time.
Take your steaks out of the fridge up to an hour before you want to cook them. This allows them to come up to room temperature before you cook them ensuring they cook evenly.
Prepare steaks by seasoning on both sides with salt, pepper and olive oil. This not only makes the steaks taste great but helps seal in the juices.
Place the steak on a hot, clean barbecue or griddle pan remembering a thick piece of meat is going to take longer to heat in the centre than a thin piece, so you may need to turn the barbecue down slightly after the initial searing so it doesn't burn on the outside.
Steaks should be turned 3 - 5 times depending on the thickness. Turn the meat at right angle with each turn so you get the attractive cross hatching marks -- to make it look more professional. To ensure your steaks are cooked just the way you like them use a meat thermometer.
Finally after you have cooked your steak to your liking you need to rest it before eating. Allowing the meat to rest off the heat ensures the juices settle back to the centre of the meat and fibres relax and become tender. Meat should rest for 1/2 the cooking time. You can always put it back on the heat for 30 seconds on each side to warm it again before serving.
Internal core temperatures should be:
Medium Rare 41 - 46 degrees