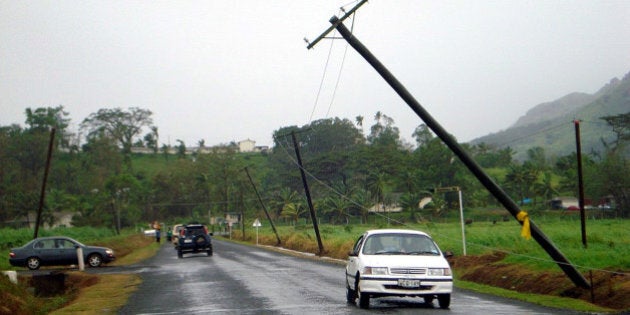 Emergency workers in cyclone ravaged Fiji say they are in a race against time to reach isolated areas of the country, amid fears the death toll will rise.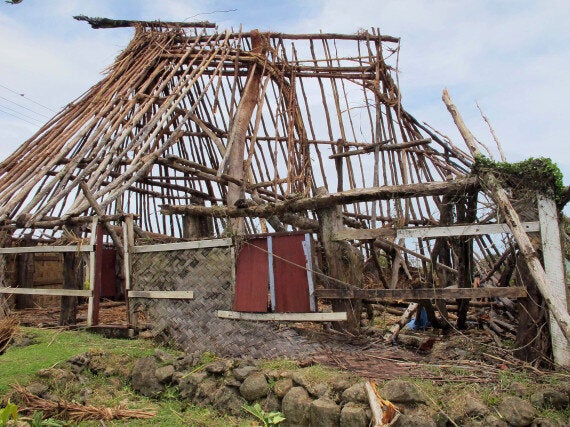 A destroyed Fijian village home in Sanasana. Picture: AP
Fiji's Minister for Industry, Trade and Tourism Faiyaz Siddiq Koya said all visitors to Fiji were accounted for.
"We understand that friends and families are very concerned, however, we request everyone to remain calm," Koya said.
"Cyclone Winston has caused extensive damage to the communications infrastructure, hence, mobile and Internet communications in some parts of Fiji maybe affected. However, communication is active in Suva, Nadi, Denarau and along the Coral Coast."
Oxfam in the Pacific Regional Director Raijeli Nicole said the Fijian Government was still trying to reach isolated regions with no phone connection or assistance.
"The Fijians are desperately trying to repair severed lines of communication, but they hold grave fears that the news waiting for them will be dire," Nicole said in a statement.
"Given the intensity of the storm and the images we have seen so far, there are strong concerns that the death toll won't stop climbing today and that hundreds of people will have seen their homes and livelihoods completely destroyed."
CARE Australia advisor Anna Cowley said the search effort was happening without power.
"There is still a complete power blackout across the main island, Viti-Levu, which has stopped water pumps from working," Cowley said in a statement.
"In this type of emergency, it really is a race against time to get immediate relief to those who have lost everything and ensure families can stay safe and healthy."
"We hold grave fears for people living in Fiji's outer islands where communities remain cut off from communication lines."
A Virgin Australia statement said it was due to resume flights from Nadi on Monday while Jetstar was assessing flying conditions.