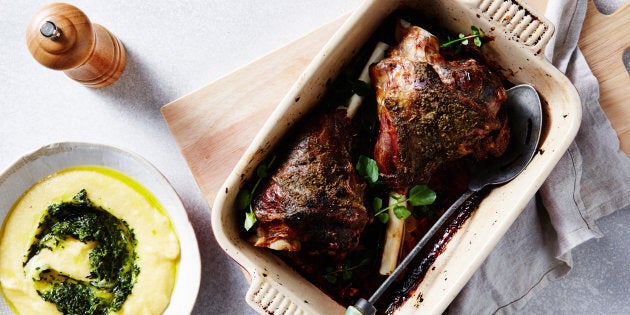 Sooo it's date night. You've gone out a few times, passed the awkward stage and now it's time to introduce them to your home (and your cat and messy room/life and annoying housemates).
Other than watch Netflix, there's only one more thing left to do -- get your head out of the gutter, we mean eat food. Geez.
Good food is the way to anyone's heart, which is why The Huffington Post Australia has rounded up seven date night recipes for you and your luuurverr.
These recipes are simple and easy to make, while being pretty damn impressive -- from bangin' pork tenderloin and slow cooked Italian beef brisket, to flourless chocolate cake and rose ganache tart.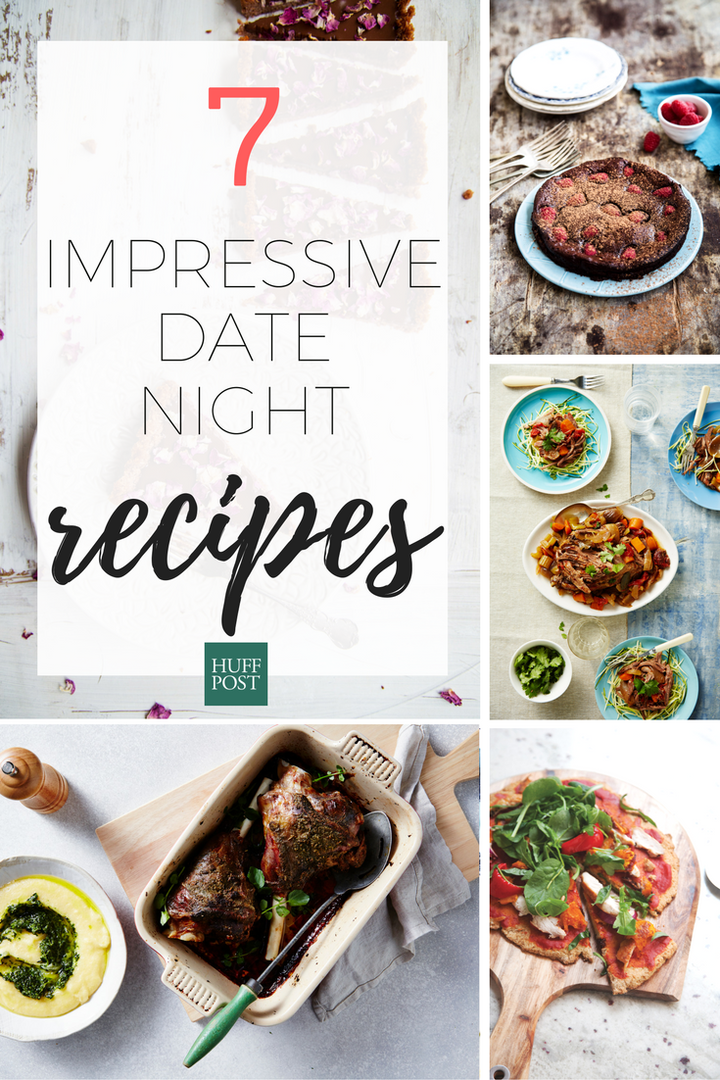 1. Better than bangin' stuffed pork tenderloin
INGREDIENTS
2 tablespoons extra virgin olive oil
1 pork loin
2 rashers bacon
1 garlic clove, minced
1 tablespoon almond meal
½ cup flat leaf parsley, finely chopped, plus extra to serve
200g button mushrooms, thinly sliced
Sea salt, to season
Freshly cracked black pepper, to season
4 large white potatoes, peeled and chopped into 2cm chunks
2 large parsnips, scrubbed and chopped into 2cm chunks
METHOD
1. Preheat oven to 180ºC (350ºF or Gas Mark 4). Heat olive oil in a large frying pan over medium heat. Add bacon and cook until crispy. Add garlic and mushrooms and cook until mushrooms are soft, about four minutes. Remove from the heat and stir through almond meal and parsley leaves.
2. Butterfly the pork by cutting the tenderloin down the middle, lengthways. Ensure not to cut the whole way through. Open up the meat like a book so it lies flat. Pound the pork with a meat mallet until it is even and fairly thin -- about 2cm thick.
3. Spread the cooled filling over the surface of the pork. Starting from the long side, tightly roll up the tenderloin and wrap cooking twine around to secure it in place. Alternatively, you can use toothpicks soaked in water. Drizzle the tenderloin with olive oil and season with salt and pepper.
4. Place potatoes and parsnip into a large baking tray, drizzle with a little olive oil and season with some salt. Make a space in the middle of the veggies and place in the pork. Place into the oven and bake for 30 minutes.
5. Once cooked through, remove pork from the oven and allow to cool slightly. Slice into 2cm thick pieces. Serve pork with roast veggies and a sprinkling of parsley.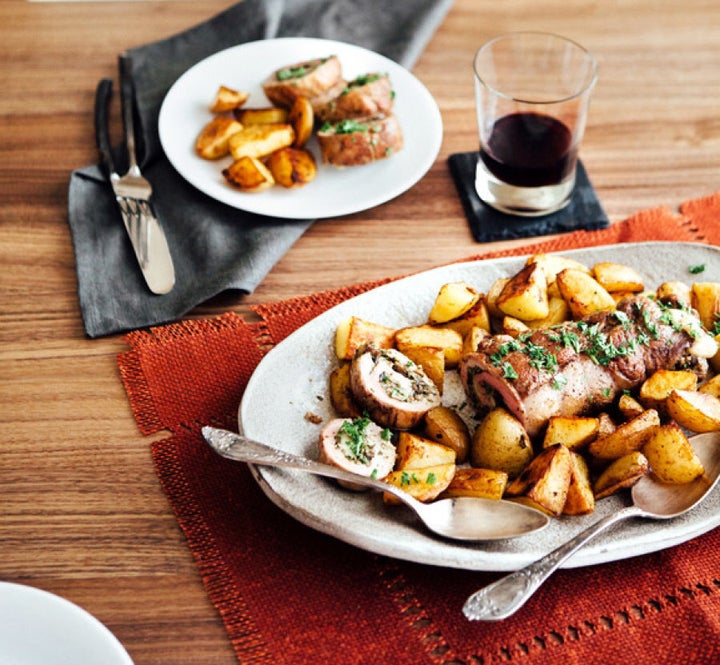 2. Saltbush lamb shanks with watercress potenta
INGREDIENTS
1kg lamb shanks
2 cloves garlic, minced
2 teaspoons saltbush, dried (or use ½ teaspoon sea salt)
2 sprigs rosemary, leaves finely chopped
2 tablespoons extra virgin olive oil
1 lemon, zested (lemon juice reserved for polenta)
125ml chicken stock
3 cups watercress
1 clove garlic, sliced in half
½ lemon, juiced
2 tablespoons extra virgin olive oil
1 cup instant polenta
2 cups chicken stock
100g parmesan cheese
METHOD
1. Preheat oven to 160°C (325°F or Gas Mark 3). Combine minced garlic, saltbush, rosemary, lemon zest and olive oil in a small bowl.
2. Place lamb shanks into a roasting dish and cover in saltbush mixture, massaging into the meat. Pour over stock and cover roasting dish with a lid or foil. Place into the oven and roast for four hours until the meat pulls away from the bone.
3. Place watercress and garlic cloves into a bowl and cover with boiling water. Allow to blanch for five minutes. Drain really well and add to a food processor with olive oil and lemon juice. Blitz to form a puree. Set aside.
4. Add stock and 500ml of water to a medium saucepan. Bring to a gentle boil. Gradually add in the polenta, whisking as you pour. Continue to whisk the polenta until it starts to thicken. Reduce heat to low and cook for polenta for 15 minutes, continuing to stir every now and again. Remove pot from the stove and stir through watercress puree and parmesan.
5. Serve saltbush lamb shanks with watercress polenta between four bowls. Drizzle over a little olive oil and season with salt and pepper.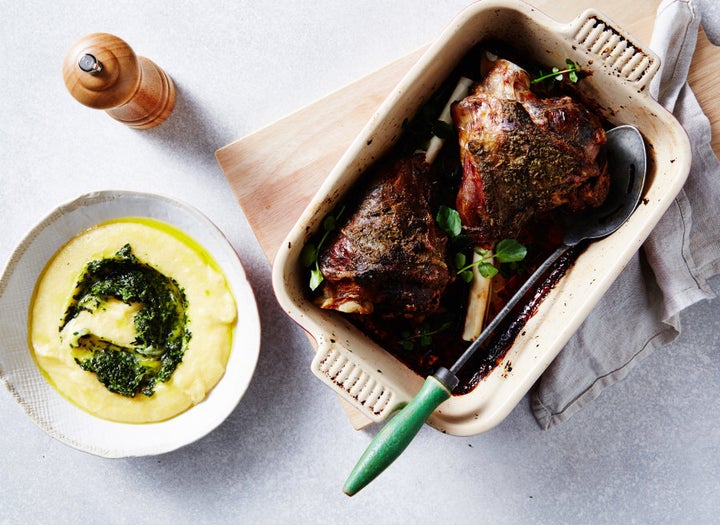 3. Cauliflower pizza
INGREDIENTS
½ small cauliflower
1 cup almond meal
¼ cup coconut flour
1 tablespoon tapioca
2 tablespoons psyllium husks
2 teaspoon baking powder
¼ teaspoon sea salt
1 egg, free range
¼ cup butter
2 tablespoons tomato paste
1 teaspoon extra virgin coconut oil
100g chicken, sliced
½ cup pumpkin, diced
2 tablespoon sun dried tomatoes
1 large handful spinach
METHOD
1. Preheat oven to 200°C. Chop the cauliflower into florets and steam until very soft. Mash or blend until fine and set aside.
2. Add the almond meal, coconut flour, tapioca, psyllium, baking powder and salt to a large bowl and mix well.
3. Beat the egg and melt the butter, and add both to the above mixture.
4. Add the cauliflower and stir thoroughly. Let this sit for a minute so all of the moisture from the cauliflower is absorbed.
5. Pour the mixture into a lightly greased quiche tin or onto a pizza tray. Use a bit of love here to spread the base evenly and firmly press down with your hands. To prevent sticking, lightly grease your hands first. Cook for 25-30 minutes or until lightly brown. The longer you leave it here, the crunchier it will be.
6. Meanwhile, heat coconut oil in a fry pan and cook chicken and pumpkin until browned and chicken is cooked throughout.
7. Remove base from the oven, evenly spread the tomato paste, add your toppings and serve.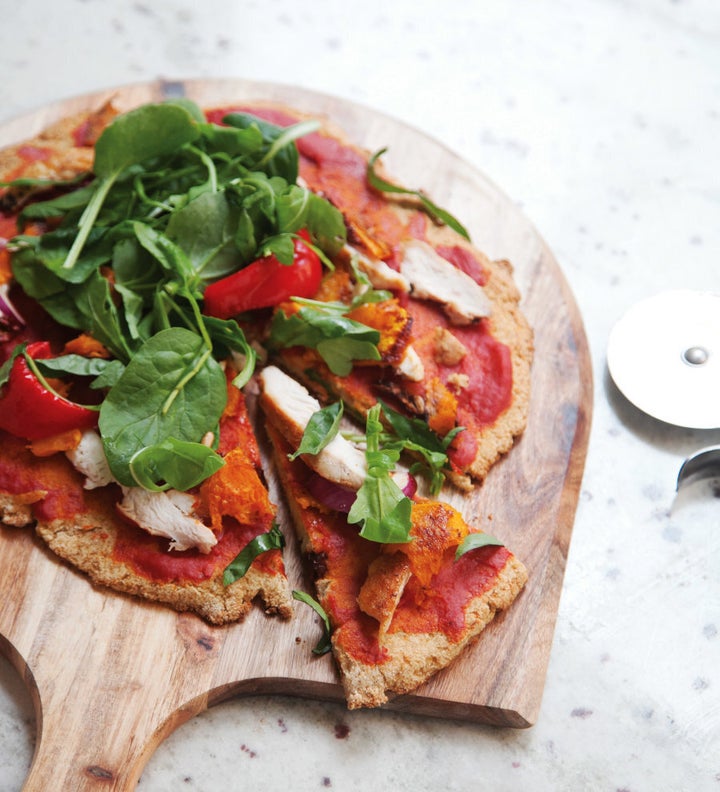 4. Slow cooked Italian beef brisket
INGREDIENTS
1-1.2 kg beef brisket, fat removed
3 carrots, halved lengthways and roughly chopped
2 red onions, cut into wedges
3 sticks celery, roughly chopped
2 bay leaves
3 cloves garlic, minced
Sea salt and freshly ground black pepper
½ tablespoon dried basil
½ tablespoon dried oregano
200g can diced tomatoes
Fresh parsley, to serve
4 large zucchinis, peeled into ribbons using a peeler or mandolin
METHOD
1. Place meat in the base of the slow cooker insert. Add the remaining ingredients (except for the parsley and zucchini) on top and around the meat. Season with salt and pepper. Cover and cook on low for 8-9 hours or high for 4-5 hours.
2. Serve on a bed of zucchini ribbons and sprinkle with parsley.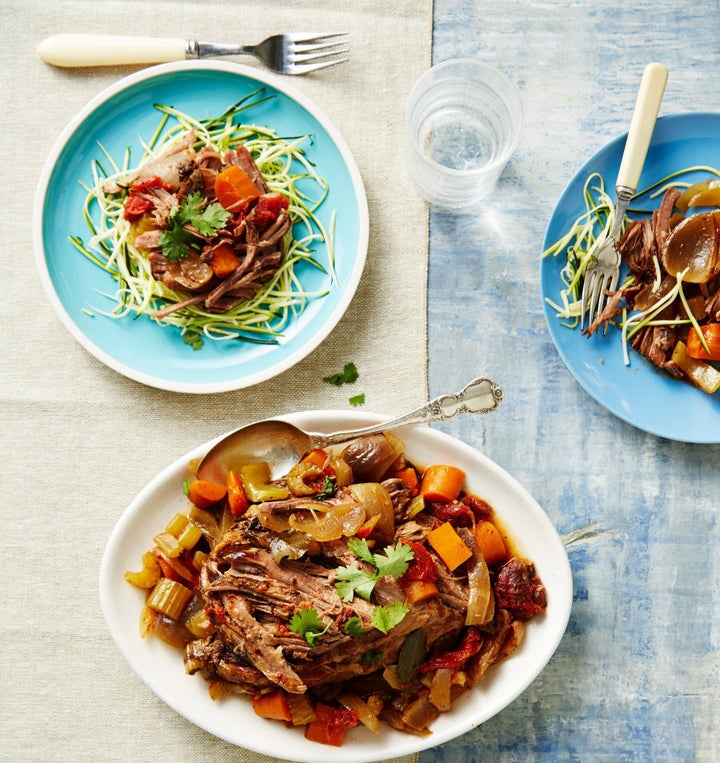 5. Flourless berry chocolate cake
INGREDIENTS
Coconut oil, butter or ghee for greasing
100g dark (85 percent) chocolate, chopped into even-sized pieces
½ cup coconut oil
¼ cup raw cacao powder
3 eggs, whisked
1 teaspoon ground cinnamon
Pinch of sea salt
½ cup rice malt syrup
1 punnet fresh raspberries
METHOD
1. Grease a 20cm spring-form tin generously. Preheat the oven to 200°C (400°F or Gas Mark 6). Melt coconut oil in the microwave. Pour hot oil over chocolate chunks in a separate bowl and stir until smooth and combined.
2. Add cacao, cinnamon, salt, rice malt syrup and eggs to the chocolate/oil mixture and whisk until a smooth batter forms. Gently stir through raspberries, reserving a few.
3. Pour batter into greased pan and level out with the back of a spoon or spatula. Top with extra raspberries.
4. Bake for 25 minutes, until the centre looks just firm. Set aside to cool before removing from the pan. Dust with cacao, if you like.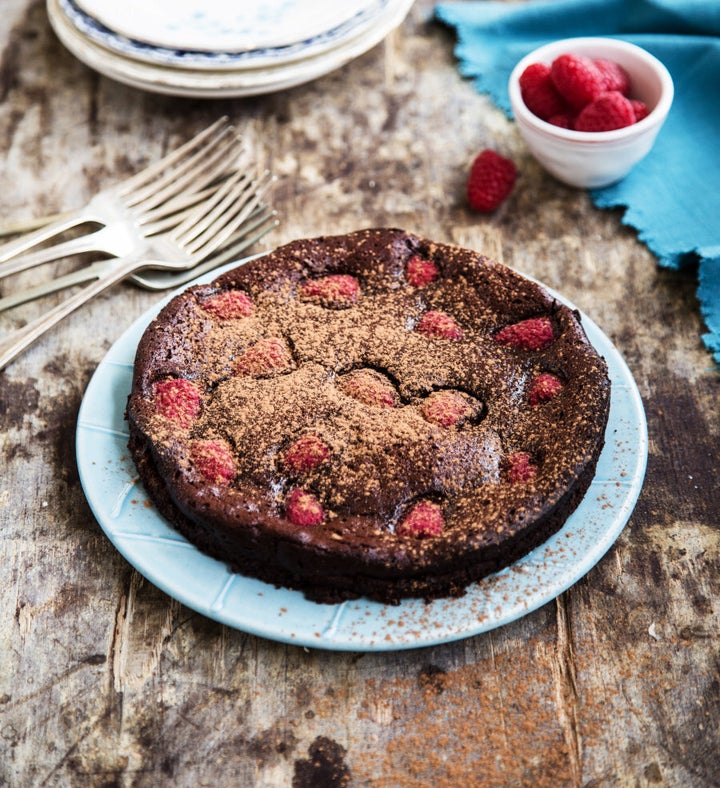 6. Chocolate brownie bites
INGREDIENTS
¾ cup walnuts
¼ cup almonds
8 Medjool dates, pitted
2 tablespoons raw cacao powder
2 tablespoons raw cacao nibs
2 tablespoons unsweetened coconut flakes
1 teaspoon pure vanilla extract
METHOD
1. Blend nuts together to form a fine nut flour. Add all other ingredients and blend until a crumbly mixture forms.
2. Empty mixture into a bowl and roll palm size scoops into balls. Chill in the fridge before serving and freeze prior to serving.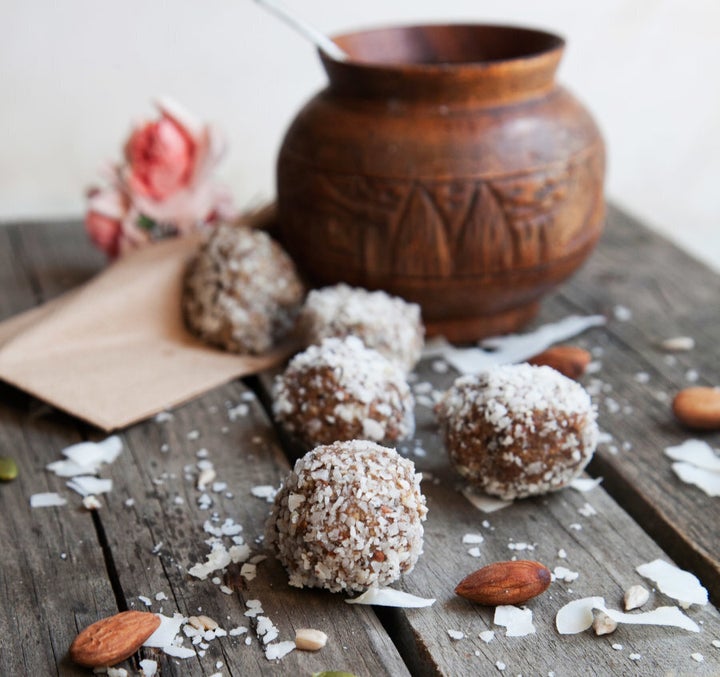 7. Rosewater chocolate tart
INGREDIENTS
270ml coconut cream
1 teaspoon vanilla powder
100g dark (85-90 percent) chocolate
Pinch sea salt
½ teaspoon rosewater
⅓ cup coconut oil, melted
¼ cup rice malt syrup
2 cups shredded coconut
METHOD
1. Preheat oven to 180ºC (350ºF or Gas Mark 4).
2. To make the crust, combine coconut oil, rice malt syrup and shredded coconut together in a mixing bowl. Press mixture into the base and up the sides of a quiche tart or tart tin so that the mixture is approximately 5mm thick all around. Place into the oven and cook for 15-20 minutes until base is crispy. Remove from the oven and set aside to cool and firm up.
3. Meanwhile, create a double boiler by bringing about an inch of water to a simmer in a small-medium pot. Set a heatproof bowl over the top of the pot, making sure the water doesn't touch the bottom of the bowl. Add in coconut cream, dark chocolate and a good pinch of sea salt. Continuously stir for approximately five minutes until the mixture has melted together. Remove from the heat and stir through the vanilla and rosewater.
4. Once the tart has cooked and cooled, pour in the chocolate filling and refrigerate until ganache sets, about two hours. Once ready to serve, garnish with some rose petals and slice into 16 thin slices.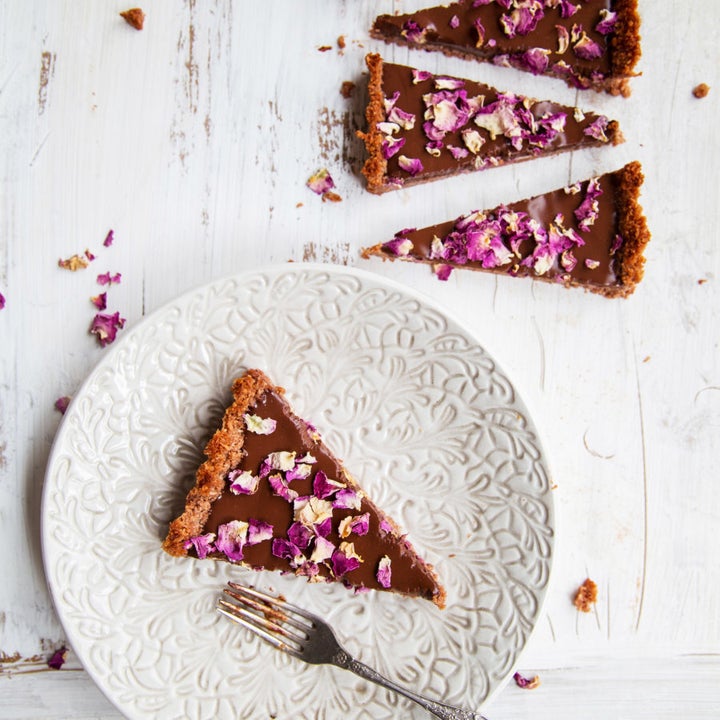 Click below to follow HuffPost Australia on Snapchat!