About 70,000 people in Puerto Rico's northwestern municipalities of Isabela and Quebradillas were being urged to evacuate immediately Friday after the Guajataca Dam there was found to be in "imminent" danger of failing.
Engineers found a crack in the 88-year-old structure during an inspection after Hurricane Maria left the island Wednesday. The storm dumped more than 20 inches of rain across a wide swath of the island.
A complete failure of the dam would unleash a deadly, fast-moving wave of water as the 2-square-mile lake it once held back is funneled downhill.
Per the National Weather Service, the dam began failing at 2:10 Friday afternoon. Authorities were busing as many people as they could to safety. Those who had the means to evacuate were told to do so immediately:
Compounding problems, Hurricane Maria destroyed 95 percent of the U.S. territory's cell towers and all of Puerto Rico is without power, frustrating efforts to notify those downstream.
"We don't know what the details are," Puerto Rico Gov. Ricardo Rosselló said at a news conference Friday. "We are evacuating everywhere."
The Army Corps of Engineers considers all of Puerto Rico's 37 dams to be "high hazard potential dams" ― not because they're all at risk of failure but because of the risk they pose to human lives, the economy and the environment should they fail.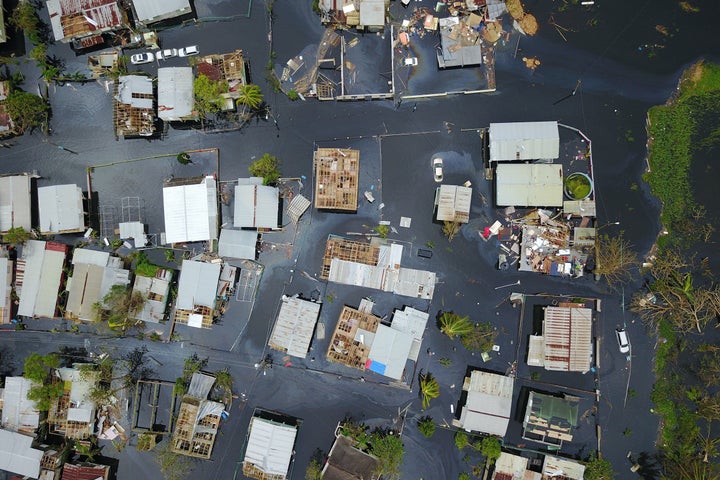 Jery Stedinger, a civil and environmental engineering professor at Cornell University who has studied dam safety, told HuffPost that Puerto Rico's dams are particularly vulnerable because Hurricane Irma also swiped the island just two weeks ago.
"We're seeing a lot more hurricanes these days, and this was back to back," he explained. "The first one probably got the ground wet, and it really enhances the runoff from the second one.
"So when doing dam safety studies, one worries about more than one flood. If you've just had a big hurricane come through and the ground is saturated and the reservoir fills up when the second one rolls through, you're in a really vulnerable position."
A study by the Association of State Dam Safety Officials found extreme weather events like these are by far the most common causes of dam failure.
"Those are designed to get you through the maximum conceivable event that would happen," Stedinger added. "But we're dealing with people and physical systems, and sometimes worse things happen than we imagine was conceivable."
Travis Waldron contributed reporting.