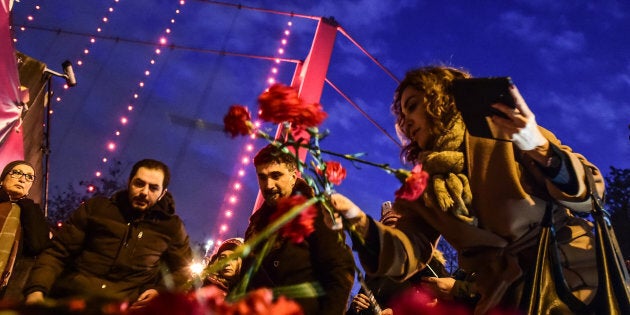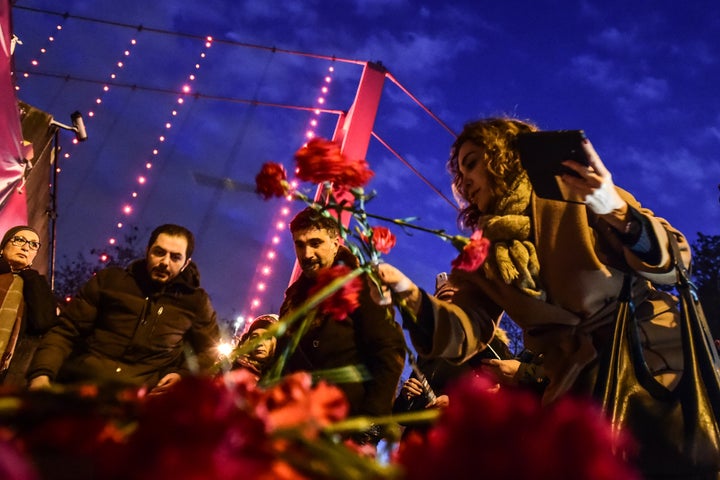 The routine is now eerily familiar for Turkish expats around the world. It starts with a quiet ping from their smartphone's WhatsApp messaging app late at night. A sad face emoji appears as the first line of the chat. Their hands shake as they try to open and read the rest of the message. When they do, a devastating screenshot, usually captured from CNN Turk or some other news channel, appears and announces yet another terrorist act in Turkey.
The attack on New Year's Eve at one of Istanbul's most popular nightclubs patronized by Turks and foreigners alike left at least 39 people dead and 69 wounded.
It is fast becoming branded as "Turkey's Bataclan," named after the nightclub attacked in Paris in November 2015. My home in Turkey is five minutes from Reina. I used to walk by it every day.
The routine is now eerily familiar … a quiet ping from WhatsApp … a sad face emoji ... a devastating screenshot ...
The attack came as many Turks abroad ― myself included ― were preparing to sit down to dinner in their adopted countries and as Turks at home had already gone to bed after New Year's Eve festivities. Both groups desperately wished for a better 2017 for their home country.
They were met with the terrible news and once again, their hopes for normalcy dashed.
Only this time, they may have sensed something unusual. The reaction on the ground from all sides was inclusive and not divisive, giving them at least some reprieve in the face of this senseless carnage.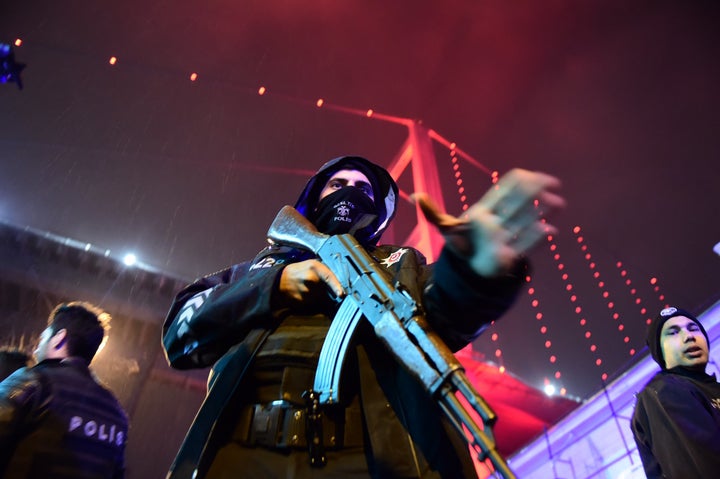 The most significant post-attack statement for secular Turks, as well as those lucky survivors at Reina nightclub that evening, their families, and many others who could potentially have been celebrating there on any night, came from a rather unexpected character whom nobody associates with the liberal profile frequenting venues like Reina.
Mehmet Görmez, Turkey's soft-spoken top cleric and president of Diyanet İşleri Başkanlığı, or the Religious Affairs Directorate, which is the state body in charge of religious administration, took it upon himself to reassure everyone, liberals and conservatives alike, that, "there is no difference whether this barbarous action would be done in a bazaar or a place of worship or in an entertainment place."
The Religious Affairs Directorate isn't normally the official source to go to after a terrorist attack. But in this case, before Prime Minister Binali Yıldırım and even before President Recep Tayyip Erdoğan made a statement, Görmez identified that, "the only nuance" is that this time, the attack "aims to divide the nation and confront people from different lifestyles by inciting them."
Investigations are still under way. However, compared to past attacks, most of which were aimed at security personnel or tourist spots, the attack on Reina seems to target a secular side of Islam. It is seen by many in Turkey as a confrontation of the democratic Islam this country is famous for succeeding at.
According to reports, victims came from 14 different nationalities. Except a few, all foreigners who died in the attack are believed to be Muslims from countries such as Morocco, Tunisia and Lebanon, each of which celebrate the new year in their own ways and not necessarily following a materialistic tradition. Even the pope showed sympathy for the victims and solidarity with the survivors in his first address of the new year in Rome.
There is no doubt the emphasis in Görmez's sentence is on "different lifestyles." That's what makes this attack ― one in so many others in my home country ― stand out.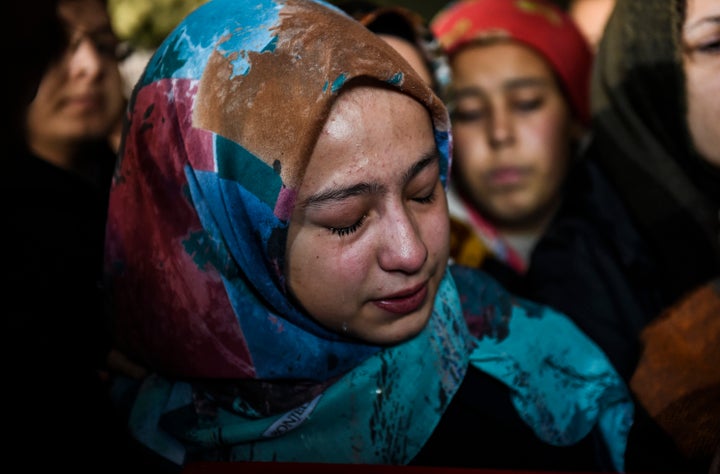 Whatever its message may be, secularists fear that what happened that night was additionally an attack on their own way of living. Which is why Görmez's kind of tolerant approach came both as a surprise and a relief, considering the Religious Affairs Directorate's Friday sermon just one day before the attack, dissuading the public from "non-Muslim" actions like excessive New Year's Eve celebrations, which the directorate declared "unlawful."
Turkey is a wonderfully diverse country with people on a varying scale of piousness, living side by side. It's the country where Sinem Uyanık, a young, modern club-goer and survivor of the Reina attack with a completely different lifestyle from a conservative female in headscarf, chose the same last prayers, reportedly reciting Allah's and the Prophet Muhammad's name, believing that she would certainly die that night.
It's the country where many LGBTQ members, who are among the most marginalized groups in Turkish society, choose to fast during Ramadan like their religious friends.
The attack on Reina is seen by many in Turkey as a confrontation of the democratic Islam this country is famous for succeeding at.
It's also the country where literally next door to Reina, the attacked nightclub, stands Huqqa, an equally chic café. Dubbed the "Reina for the conservatives," it serves its namesake shisha or hookah, non-alcoholic drinks and a halal menu. Living in Bebek-Ortaköy area for a long time, I have always liked the vibe of Huqqa combining the Bosphorus view with a conservative menu since I don't drink.
It is against this backdrop that Görmez's comments are much needed to unite an increasingly divided nation where the power struggle between Islamists, the secularist army and the elites is not new but exacerbated.
Turkey has long been suffering from the toxic side effects of increased polarization between secularists and conservatives. So much so that they even have a term for it: ötekileştirme, or "otherization," meaning intolerance toward the opposite side and labeling it as the other.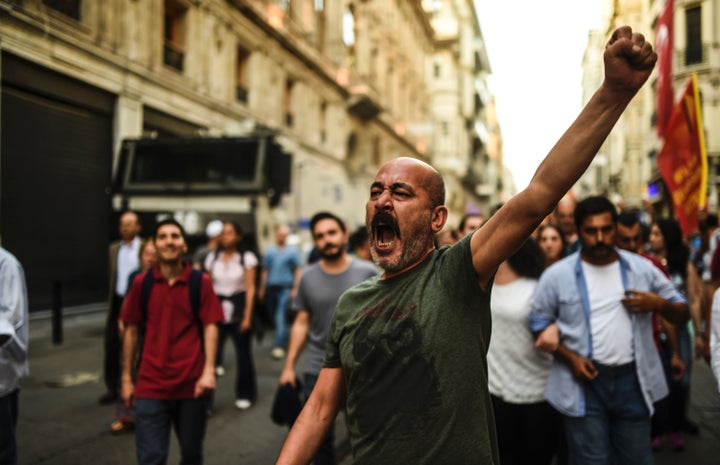 There have been serious provocations by both conservatives and secularists especially during the Gezi protests of 2013. Secularists have always thought of the conservatives as the backward and the uneducated, who are forever trying to scrap Mustafa Kemal Atatürk's modernization efforts since the founding of the Turkish republic in 1923.
In a statement delivered Wednesday to a group of muhtars or village heads, that represent the heart of Turkey, President Erdoğan pointed out what he saw as a double standard, and urged people to compare the Reina attack in cosmopolitan Istanbul to those like the bombing of a wedding in Gaziantep in Southeast Anatolia this past summer: "Would the same reactions be shown if the attacker committed this act not there that night, but the next day at a marketplace?" he asked.
He also added, "In Turkey, nobody's lifestyle is systematically under threat, we would never allow this. … Just as it is wrong to not be able to tolerate an imam's call to prayer, it is also wrong to pressure someone who doesn't do namaz[praying five times a day]."
'Would the same reactions be shown if the attacker committed this act not there that night, but the next day at a marketplace?'President Recep Tayyip Erdoğan
Based on this statement and his disapproval in the past of the discrimination against girls who were denied entry to schools because of their headscarves, secularists want President Erdoğan not to tolerate the increase of violent attempts by the Islamist vigilantes who frequently storm Western art and music events in big cities on the grounds that alcohol is being consumed.
Fueled by the conservative media, marginal religious chauvinism was again on the rise in the run-up to New Year's Eve.
Meanwhile, the killer of so many innocent people in Reina that night is still on the loose. My friends who are planning to meet these days are looking for a place that the killer won't think to find them, one where they can take shelter if he strikes again.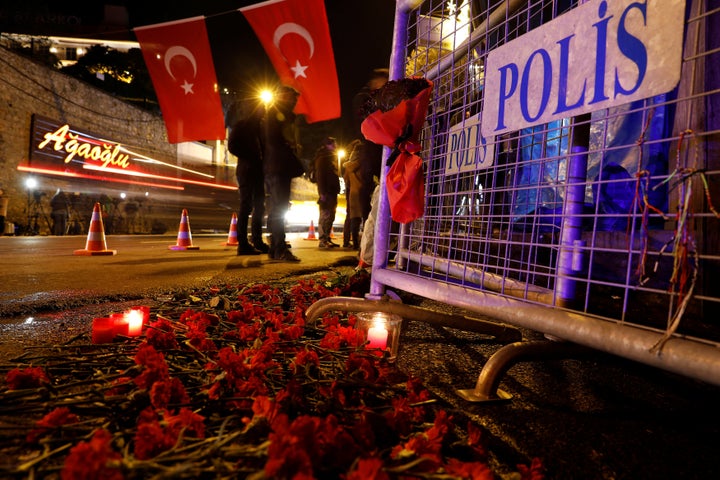 Putting aside these anxieties, which is pretty much the only way millions of people in Turkey can function at the moment, there is one bitter truth that the Reina attack has revealed. One friend, an IT specialist, put it in writing beautifully in this post on her LinkedIn account:
"My friends overseas used to ask me if I was OK after explosions in Turkey and yet I am with disappointment noticing that they didn't ask after the last three explosions/shootings…" she wrote.
It hurts her a lot that her friends abroad "got used to these strange (from their point of view) and deadly explosions taking place in Istanbul." She shudders at the thought of Istanbul becoming a war zone like the once-beautiful Beirut from where some of the casualties at Reina came from.
Perhaps for foreigners, the Reina attack … resonated, because not only were victims of so many different nationalities, but it could have happened in any club anywhere in the world, and not just in a Muslim-majority country.
"The opposite of life is not death but indifference between life and death," Elie Wiesel, the late Holocaust survivor and human rights champion, once said. Perhaps for foreigners, the Reina attack hit home more than other attacks in Turkey. It resonated, because not only were victims of so many different nationalities, but it could have happened in any club anywhere in the world, and not just in a Muslim-majority country.
Our foreign friends do care of course and ask us, liberals and conservatives, what this latest chaos in Turkey is all about. Most of us inside and outside Turkey are watching the events in our country with increasing alarm. Like them, we have no clue in these crazy times.
Those still in Turkey take one day at a time, telling themselves that everything is eventually going to get better, much like people who whistle while walking through the graveyard at night. They are under incredible pressure from trauma after trauma created by terror attacks, a failed coup d'etat and a refugee crisis.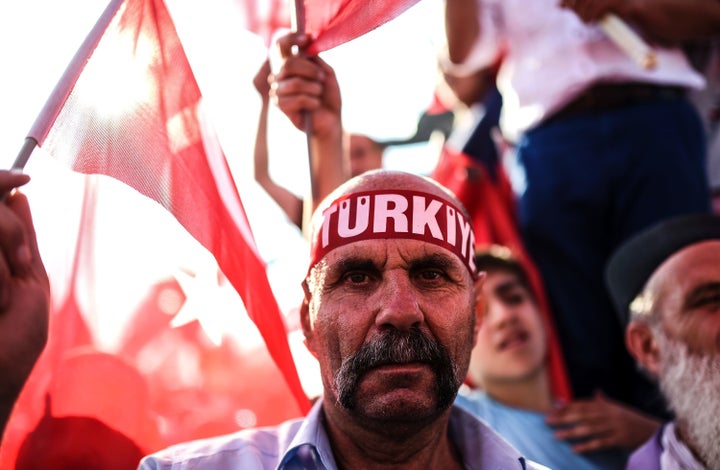 These people need the West more than any time.
They need its media to understand that Turkey, a NATO country, has suffered more deaths in the last couple of years than, "anything France, Belgium, Germany and the U.S. have had to counter," according to Guardian, and not to concentrate only on what President Erdoğan may or may not have done against these traumas.
They need Western citizens to stop pitying them and to start to actively support them and pay attention to ordinary people like them, not just when a nightclub is attacked. The same selective attitude goes for the entire Middle East: On the same day of the Reina attack, a blast in a Baghdad market killed at least 28 people and injured some 50 others. But the attack barely made major news channels.
My people are afraid that the West will soon become indifferent to them and like Baghdad, Istanbul will be dismissed as a war zone.
My people are afraid that the West will soon become indifferent to them and like Baghdad, Istanbul will be dismissed as a war zone. In short, they need their allies and friends in London, Berlin and elsewhere to go beyond just showing solidarity.
As a non-drinker, I fully share President Erdoğan's tolerant view that even if these people were drinking and not praying, they still shouldn't feel unsafe. In that sense, this horrific attack, because it hit at the heart of Turkey's religious pluralism, could at least help heal those divides between Turkey's two sides.
Only then can we end these pings and sad emojis that wake us up in the middle of the night.