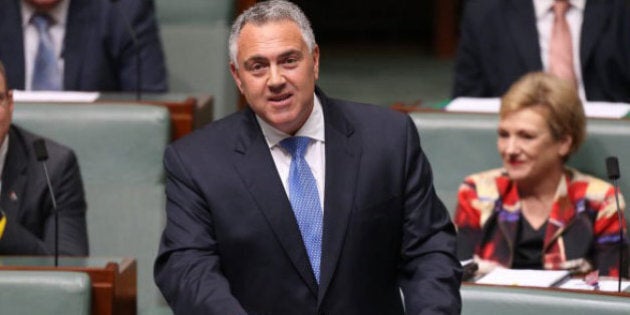 Independent Senator Nick Xenophon has today urged Joe Hockey not to double dip on his parliamentary pension if he becomes ambassador to the United States.
Senator Xenophon told reporters in Adelaide that he would seek legislation to prevent Hockey from accessing his pension if he became ambassador to the US, as is widely tipped, and received the estimated $330,000 salary.
The former Treasurer resigned from parliament last week after he lost his portfolio in the Malcolm Turnbull reshuffle. If he takes over the ambassadorship from Kim Beazley, parliamentary guidelines would allow him to receive up to 50 per cent of his parliamentary pension at the same time, which would see him receive an additional $90,000 a year.
"I just want to help Joe Hockey fulfil his dream of ending the age of entitlement by Joe Hockey setting an example for the rest of us," Mr Xenophon said.
"What Joe Hockey can do is to refuse to accept his parliamentary pension in addition to getting $330,000 a year as ambassador.
"If Joe doesn't do that, I will be putting up legislation in the Senate that will say that if an ex-politician who's getting a parliamentary pension is offered a diplomatic post, then they can't get any of that pension during that time of that diplomatic post.
"If you're going to be an ambassador earning a quarter of a million dollars or more representing Australia's interests with all the benefits that go to that, why should you also be able to double dip with a parliamentary pension as well in terms of being able to top up your income by another $100,000 or so?
"It's completely untenable. It's offensive to ordinary Australians who can't access that sort of benefit and if Joe Hockey reckons the age of entitlement is over, he can start by leading by example," Mr Xenophon said.
The South Australian Senator's comments came after a News Limited report that stated that Mr Hockey would be able to earn up to $450,000 with both salary and pension, while living rent free with personal staff.
In an interview with Laurie Oakes earlier this year, Mr Hockey had a go at 'double-dipping' employees taking paid parental leave from both government and employers, suggesting it was fraudulent.
"At the moment people can claim parental leave payments from both the government and their employers so they are effectively double dipping. We are going to stop that. You cannot double dip, you cannot get parental leave paid from your employer and taxpayers," he said.
Meanwhile, a by-election for Mr Hockey's seat of North Sydney is likely to be set for December 5.