Energy and Environment Minister Josh Frydenberg says he has received advice that he is not a Hungarian citizen by descent, declaring that any suggestion otherwise is "absolutely absurd".
Under Section 44 of the Constitution, foreign nationals are banned from sitting in Foreign Parliament unless they renounced their dual citizenship prior to being elected.
On Friday, Frydenberg claimed the Hungarian embassy had given him advice that he would not be a citizen of the country.
He told Sky News the claims to the contrary were "ludicrous", as he became just the latest MP to be embroiled in the dual citizenship saga currently engulfing Australian politics.
Frydenberg said his mother marked "stateless" on her papers when arriving in Australia, which in the post-war period was regarded as a renunciation of any prior citizenship, but Hungarian laws enacted following the Holocaust conferred citizenship on people born in the country between 1941 and 1945 -- which may have made Frydenberg's mother a Hungarian citizen after all, and raising questions over whether he inherited citizenship from her.
​​​​​​​"I was born in Australia to two Australian citizens with my mother and her family coming to Australia post-war as stateless persons as a result of the Holocaust," he told the ABC's Tom Iggulden on Friday, maintaining he is "an Australian and an Australian only".
"It is absolutely absurd to think that I could involuntarily acquire Hungarian citizenship by rule of a country that rendered my mother stateless."
Frydenberg's mother, Erica, came to Australia via a displaced persons camp "like thousands of others who had gone through the Holocaust".
"Just think of the proposition that a country that renders her stateless -- and hundreds of thousands of Hungarian Jews died in the Holocaust -- and then against her will that same country purports to make her a citizen. That doesn't pass either the rational or the humane test," he said.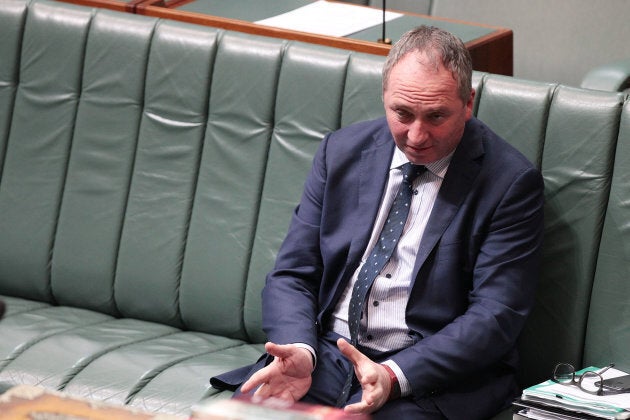 "To become a citizen of Hungary there is a very extensive process that you need to go through which involves providing the relevant documentation, putting yourself forward for an interview, none of which I have ever entertained or undertaken," he said.
Communications Minister Mitch Fifield knew for weeks that Parry could be a dual UK-Australian citizen but had said nothing after the Senate president confided in him, Fairfax Media has revealed.
Fifield told Fairfax that "former senator Parry mentioned to me a few weeks ago that he was endeavouring to check his family's records" and that he had encouraged him to do so.
Last week the High Court ruled that Nash was a dual citizen and therefore ineligible.
"If I was the Prime Minister I would be ordering the AEC, for example, to undertake an examination of every MP and senator and report as soon as possible back to the government," he said.
"If we don't do that this is just going to fester along and cause problems politically."
The High Court also struck out four other MPs over dual citizenship -- Fiona Nash, Malcolm Roberts, Larissa Waters and Scott Ludlam.