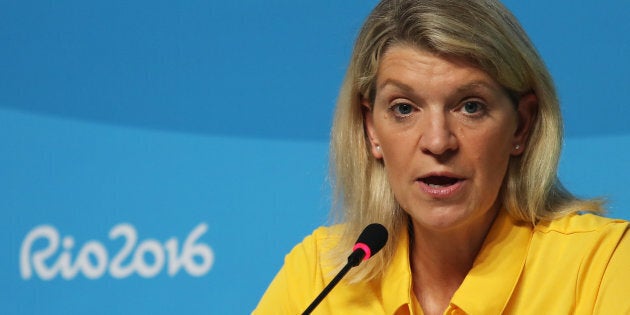 As jobs go, there can surely have been few more challenging.
Kitty Chiller had the task of taking over as Chef de Mission of the 421-strong Australian Olympic team, straight after the debacle of the London Olympics of 2012 -- think "Stilnox parties" -- and trying to make sure everyone in the team did their bit to restore pride, while performing well, staying disciplined and remaining safe in a city as notoriously dangerous and sometimes shambolic as Rio.
Add to that the challenge of wrangling together a team chock-a-block with athletes who have already made it big on the world stage, often used to a plethora of hot and cold running helpers, PR flacks, and salaries that could buy and sell Chiller a hundred times over. So many egos, so many multi-faceted challenges, so hard to keep track. It was going to need a supreme effort.
Chiller set the tone early, making it clear to the likes of Nick Kyrgios and Bernard Tomic that while they would be most welcome in the Olympic team, their brattish antics would not. They decided not to come, and she did not blink. Whatever else, it seemed to many observers that at least this Australian Olympic team would have high standards and a strong sense of direction, overseen by someone who meant business.
Certainly, she had critics but I ask this question seriously: Has there ever been a time when a strong woman in charge of something important, taking hard decisions, hasn't drawn more than her fair share of critics?
But her demands were not just of the team, but for the team.
As soon as the Australians moved into the Olympic village, Chiller made clear it was not up to standard and though local feathers were ruffled, a battalion of Brazilian cleaners and plumbers were soon on their way.
Still, not to take it too far, when the basketballer Andrew Bogut complained on Twitter that his room was not up to his usual five-star standard, Chiller quickly defused the issue, saying his remarks were "a bit of fun. The village is what it is – we're all mucking in".
And so it went. Going at it 20 hours a day through the course of the Olympics, Chiller solved problems as she went along, led the cheerleading, handled the press, functioned well under what even her critics would agree was an enormous weight of responsibility.
And of course, the greatest responsibility was her pressing duty of care to ensure the safety of the athletes, most particularly when their events were over and they wanted to go out on the town. With 60 percent of the team first-timers, most of them young, Chiller established a protocol whereby all athletes had to be back in the village by a certain time, or let their team managers know the situation otherwise.
So when swimmers Josh Palmer and medallist Emma McKeon made the decision to stay out all night without checking back in with the team manager, they did so knowing they were breaching protocol and that there would be consequences.
We all know what happened then.
Kitty Chiller took the hard decision, to guarantee the safety of her charges. If protocol was to count for anything, there had to be consequences for those who breached it.
Making the decision to put an early curfew on Palmer and McKeon and ban them from the Closing Ceremony can't have been an easy one. Chiller would have understood how crushing that news would be for both athletes, and likely how vilified she personally would be by the Australian public -- particularly for holding the very popular McKeon to account. But she did it anyway.
And the result was indeed two-fold: her vilification, and a safer team.
Most of the public abuse was driven by those who had no idea of the kind of responsibility Chiller bears, nor the dangers the team faced.
But former three-time Olympian Kieren Perkins did, and how much safer the team was because of it.
"If Kitty Chiller had shrugged off these two breaches," he wrote in his column for News Corp, "there would be 30 athletes sleeping tonight on Copacabana beach amid the dangers".
Ian Thorpe agreed, telling my own Today Show that he supported Chiller's actions for the good of the team.
But still the abuse of Chiller has continued -- now, for days.
And it is ugly. And personal.
This, even though -- after Emma McKeon wrote a heartfelt letter of apology -- Chiller relented and allowed her to march after all.
Having responsibility for 421 largely young people, filled with adrenalin, and finally free of the strictures of their intense training regimes, believing themselves bulletproof in a city where actual bullets are too often fired, where danger lurks, needed a strong person.
It needed someone to impose boundaries on a group whose whole life has been spent trying to break boundaries, break records.
She has done her duty, fully and fearlessly, in an age where so many in the public eye waver with the winds of social media.
And I wish those who continue to send nastiness her way, would try some empathy instead, for someone who did an exceedingly difficult job well.