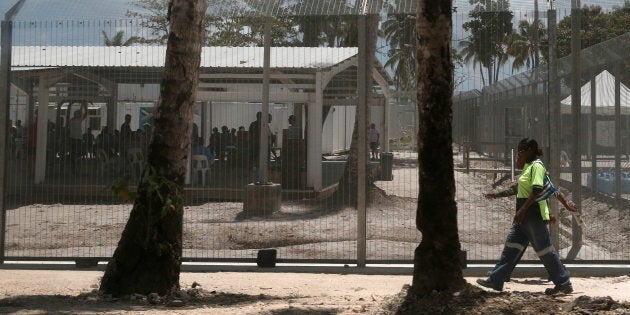 CANBERRA -- Immigration Minister Peter Dutton said around 200 men on Manus Island found not to be refugees may remain in detention in Papua New Guinea when Australia's regional processing centre closes next month.
The Federal Government hopes a large number of those on Manus may be accepted by the United States as part of a controversial refugee 'swap' deal, but the question of what happens to the remaining men has been a thorn in the government's side.
Printed advisories distributed to the men in the RPC, printed under the letterhead of PNG's immigration department, state residents should prepare for a move to the East Lorengau refugee transit centre, an already overcrowded facility 10 kilometres west.
On Thursday, Dutton said that Australia's regime of detention on Manus may not be over. In response to a question from independent MP Cath McGowan during Question Time, Dutton revealed that several hundred men may be moved from the RPC to another centre.
"I have met with [PNG] Prime Minister O'Neill in Port Moresby on the 1st of September," Dutton said.
"We continued our case from the Australian government's perspective, that is that we want to see the regional processing centre closed by the 31st of October. There's obviously a lot of details and logistics to be worked through and some of the compound has already been dismantled. That process will continue.
"Prime Minister O'Neill expressed to me that his government was intent on seeing the regional processing centre close as well and we have spoken with Prime Minister O'Neill and my counterpart, the new minister, Petras Thomas, about the way the logistics could operate, which might include those people, which total about 200 that have been found not to be refugees to be moved to an alternative detention away from the regional processing centre, given that they have no lawful claim to be in PNG."
"We've had a record number of people that have taken up offers to return back to their country of origin, given that they don't have legitimate claims to make in PNG," Dutton said.
"There is the capacity within the East Lorengau centre for about 400 people to be accommodated there, and we will work with the PNG Government in helping them provide the services to those people.
"We have to it in a way we don't want to see boats restart."
A recent report in The New Daily claimed Australia was working on a new facility outside Lorengau for those leftover men, where currently stands an "abandoned building" and where the men would "live in tents on malaria-infested swampland".
The report, citing an unnamed source in PNG, claimed work had begun to clear the site -- which allegedly has no power or water supply -- in anticipation of asylum seekers moving in.
HuffPost Australia submitted questions to Dutton's office on this report, which had not been answered at the time of publication.