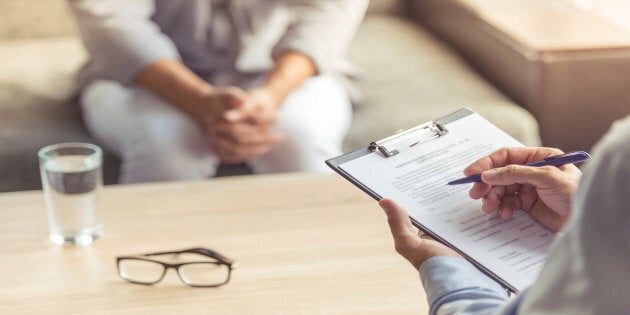 People with mental health conditions are often treated unfairly by insurance companies, a Senate hearing has heard, with claims that a "wealth of data" from the medical community is being ignored.
The Senate Joint Committee on Corporations and Financial Services is currently holding an inquiry into the life insurance industry. It has received more than 60 submissions, including from the insurance and financial industry itself as well as from health providers, legal services and private citizens. On Wednesday, inquiry hearings were held in Melbourne, with one session dedicated to how the life insurance sector deals with claims around mental health.
Representatives from Beyondblue and the Royal Australian and New Zealand College of Psychiatrists (RANZCP) told the hearing that people with mental health conditions reported they had been mistreated in trying to obtain, and make claims on, their insurance.
Dr Stephen Carbone from Beyondblue said the organisation received "hundreds" of claims of discrimination over unfair insurers, and claimed up to half of people with mental health conditions suffered difficulty in obtaining insurance because of their condition. Fairfax Media last year investigated how insurance companies were treating people with mental health issues, collecting many stories of people knocked back for their conditions.
"Much more needs to be done to improve transparency of decisions about refusing insurance for people in this context," the RANZCP said at Wednesday's hearing.
Carbone claimed declaring a history of attending therapy or counselling, or taking anti-depressants, was a "red flag" when trying to obtain insurance.
"Your risk rating goes through the roof, you're deemed as high risk and ineligible, or extra premiums, or excluded from being compensible for that condition should it recur," Carbone told the hearing.
He also said there were "bizarre" cases of women who experienced post-natal depression being excluded for cover for 'cognitive impairment' such as dementia. Beyondblue's submission to the inquiry called for "blanket exclusions" for mental health -- clauses which "treat all mental health conditions as if they were the same and treat all people with a mental health condition as homogenous and high risk," as Beyondblue said -- to be removed.
"It's hard to understand how a history of post-natal depression can put you at risk of some other completely unrelated mental health condition," Carbone said, adding that a "wealth of data" from the mental health sector was not being utilised by insurance providers in assessing applications or claims.
In its submission, the RANZCP cited a 2011 survey, conducted with Beyondblue, of people with mental health conditions. Two-thirds of respondents said it was difficult to obtain life insurance and income protection due to their condition, 45 percent said their application for income protection was declined due to mental illness, and half either paid more or faced exclusions for mental illness claims.
Mentioned in the hearing was the case of Melbourne student Ella Ingram, who cancelled a school trip to the United States in 2012 after an episode of depression. Her insurer, QBE, refused to reimburse her costs, claiming their policies did not cover mental illness. In a landmark ruling in 2015, the Victorian Civil and Administrative Tribunal (VCAT) ruled the company "engaged in direct discrimination" against Ingram and her disability, breaching the Equal Opportunities Act when it issued the insurance policy with a mental illness exclusion, as well as when it refused her claim. QBE was ordered to pay $4,292 to cover Ingram's travel costs and a further $15,000 in compensation.
Carbone said he knew of cases where young people avoided seeking medical help for their mental health issues because they didn't want it on their records, as well as patients who were sent to multiple doctors -- at their own cost -- when trying to claim on insurance. He cited one case where a person fought for five years for their insurance payout, after the insurance company forced them to visit many doctors for assessment.
"I don't think it's an outlier, it's not a unique case," he said of the five-year ordeal.
"In a former life as a GP, I've seen patients... repeatedly sent back for more assessments. I can't see the logic of that other than fishing for the right [diagnosis]."
"Why, when it's pretty transparent what a person's situation is, send them to multiple specialists unless you're looking for the answer you want? It's a bad practice."
Senator Deborah O'Neill, Labor's shadow assistant minister for mental health, is on the committee hearing about life insurance. She said Wednesday's testimony was a wake-up call for the industry.
"The evidence we've received shows there needs to be some very significant changes, particularly around mental health [in the insurance industry," she told The Huffington Post Australia.
"We know creating a stigma around mental health means people who need to seek help are avoiding doing it. There's parents of teenagers saying they don't want a mental health record on their daughter because she won't be able to get insurance. That's the brutal reality, and discrimination seems fairly rife across the industry."
She criticised treatment of people with mental health issues in their past, who carry that on their record into the future.
"This amorphous description of mental health or illness is very unsophisticated, it's something from the dark ages. Our understanding surely has developed to a point where understand we are healthy sometimes and sometimes not," O'Neill said.
"We don't say because you fell over once you cant get insured for any job where you might fall over again."
If you need help in a crisis, call Lifeline on 13 11 14. For further information about depression contact beyondBlue on 1300224636 or talk to your GP, local health professional or someone you trust.