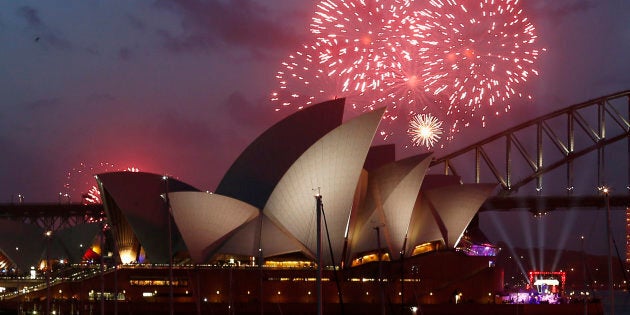 An estimated 1.5 million revellers have staked out some of the best spots around the Sydney Harbour foreshore as Australia counts down to the end of 2016.
Organisers of Saturday's Sydney New Year's Eve are promising a fireworks spectacular that's bigger and better than ever, with 120 tonnes of pyrotechnics set to dazzle the more than one million people tipped to pack prime vantage points.
Smoke billowing from the Four Seasons Hotel on George Street caused alarmed as fire -fighters were called by an automatic alarm, according to Fairfax Media. It is understood the fire was caused by an an air conditioning unit in the pool area with no threat to the celebrations on the harbour.
More than one billion people worldwide are expected to tune in to the fireworks extravaganza on television.
The inspiration for this year's Sydney show comes from artwork that reimagines the Sydney skyline as native plants and animals, while there will also be a tribute to some of the entertainment legends who passed away this year, including David Bowie, Prince and Gene Wilder.
Revellers, many of them overseas tourists, are already flocking to harbourside locations to nab some of the best spots from which to check out tonight's colourful display.
The fiery NYE tribute sits alongside this year's theme "Welcome to SydNYE" and follows past years that have focused on themes like "Shine", "Inspire" and "City of Colour".
Sydney Lord Mayor Clover Moore tipped tonight's kaleidoscope of colour to be "awe inspiring".
"We're shooting over 20,000 fireworks off the Sydney Harbour Bridge , an increase of 2,400 from last year, and showcasing the world famous coat hanger arch with 175 lights -- making 2016 the biggest display ever," Moore said on Saturday.
"Sydney New Year's Eve showcases some of the very best that Sydney has to offer and directly contributes $133 million to the local economy through local, interstate and overseas visitors."
She said more than 1,000 workers had toiled behind the scenes to bring "Sydney's most spectacular New Year's Eve display to life".
As usual, there will be a heavy police presence across the city. Police in NSW say they'll have 2,000 extra officers on land, sea, and air, in plain clothes and in uniform.
If you're heading to the area there are also restrictions to take into consideration, with many parts of the harbour alcohol-free zones.
Sydney NYE celebrations key times
6pm – Aerial displays above Sydney Harbour by flying ace Matt Hall
8.30pm – start of the Sydney Harbour Bridge Pylon Projections
8.38pm – Welcome to Country ceremony
9.15pm – Harbour of Light Parade
Midnight – Main fireworks display