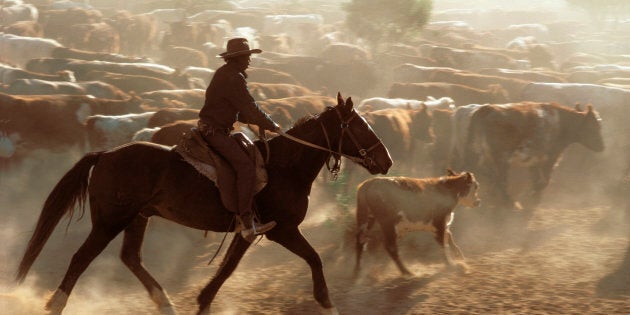 Hans Pearson, the uncle of prominent Indigenous lawyer and activist Noel Pearson, is taking legal action against the Queensland Government to recover wages that were allegedly stolen from him over fifty years ago, the ABC reports.
The 77-year-old is one of 300 people suing the State Government for money that was earned but never paid to them.
The money of Aboriginal people was controlled by the Queensland Government for almost 80 years, held in trusts and often lost or stolen, never to be paid to the workers.
Pearson only realised that his money was missing when he went to collect it after 10 years of labour, he revealed on the ABC's 7:30 program.
"When I was called up to the police station, me and the wife went up and he had a cheque there waiting for me for 28 pounds. I said, 'Is this all I'm getting?' He said, 'That's all you had'."
Pearson estimates he should have been paid around 7,000 pounds for working as a stockman during the 50s and 60s -- the equivalent of over $200,000 in today's currency.
He has lived in public housing for 46 years, the missing wages preventing him from achieving his dream of owning a house.
"The first 10 years of your life, you're working to buy yourself a home, to set your family up. That's every person's dream," Pearson told 7:30.
Aboriginal leader Noel Pearson believes Aboriginal disadvantage in today's society has its routes in these injustices.
"Where would he and his children be and his grandchildren be if that virtuous cycle had taken place?" he said.
"Namely, he had a house in the '60s and when his oldest children started getting married in the '70s and '80s, Mum and Dad, with their family home, helped the next child."
The Queensland Government set up a reparations scheme in 2002. Those involved waived their legal rights and in return were given up to $4,000. Hans was one of these people.
His payment has since been topped up and all together, he's now received $9,000.
"That's $9,000 for 10, 12 years of work. That's not right," Pearson said.
Both Hans' family and his lawyer feel a desperate Hans was conned into signing up for the scheme.
They hope the class action will produce a result that allows Hans and many others to be paid the money they're owed.
"I hope justice will be done. That they'll be compassionate with us and just give us what they owe us" he said.