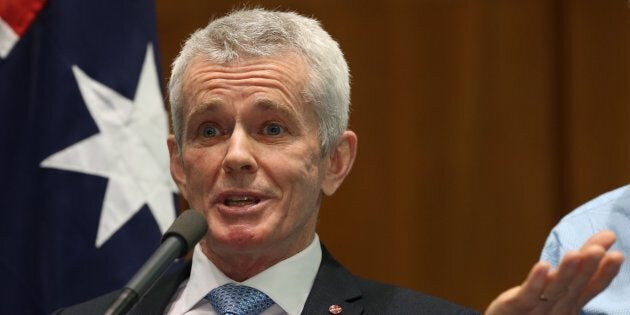 One Nation senator Malcolm Roberts hoped a TV interview on Thursday night would "put an end to the media circus" around his potential dual citizenship, but the Sky News appearance only raised further questions about whether he was once a British subject and when he technically renounced that status.
The Senator's office is also reportedly threatening to refer journalists' questions about his citizenship status to police, claiming the media scrutiny amounts to "harassment".
Roberts, from Queensland, was born in India to a Welsh father and Australian mother. In a fortnight of intense scrutiny on foreign-born MPs after the resignations of Larissa Waters and Scott Ludlam, and the stepping down of Liberal senator Matt Canavan from his ministerial role, over their previously unknown dual citizenship statuses, Roberts has been the politician most under the spotlight.
With British citizenship potentially conferred upon him by virtue of his father being Welsh, and several mediareports showing he had at one point travelled on British passports, the One Nation senator has been under mounting pressure to reveal the details of his past and release any documents relating to his citizenship.
Until Thursday, he had resisted, but finally he appeared on Sky News to claim that his status was solid, and that he had received confirmation from British authorities that he was not a citizen. The sticking point, however, is that Roberts did not receive that confirmation until December 2016 -- several months after the July poll in which he was elected to the Senate -- leading to questions over whether he was a dual citizen at the time of the election.
Roberts said he wrote to British authorities on May 1, then again on June 6, inquiring as to whether he was a British citizen and that, if he was, that he wanted to renounce that status. Roberts said he got a reply from the British High Commission stating that he was not a British citizen, on December 5, a full five months after the election.
Roberts brought some documents with him on-air, and he showed them to host Paul Murray, but did not show them on camera and has resisted calls to publicly release that proof. On Sky, Roberts said he did not want to supply the documents because of what he claimed the "Twitterati" would do.
"They just misrepresent some of these things," he said.
Following the interview, journalists sent follow-up questions to Roberts' office. Reporters from Fairfax posted screenshots on Twitter of the response they received, where the senator's adviser said such questioning was "classified by our office as stalking".
"Any continued pestering or harassment from you or your colleagues of anyone, including me, from our office or organisation will be referred to the Queensland police," adviser Sean Black wrote, according to the screenshots.
"This issue is now over. Stop the harassment. Please find another victim."
With Roberts refusing to publicly release his citizenship documents, it is unclear what the next step for him is. But if he is found to have been a dual citizen at the time of the election, and is subsequently forced to resign, it is likely that his seat would go to the next person on the One Nation ticket in Queensland -- a man called Fraser Anning. One Nation's website says he is from Gladstone, QLD, and is in the hotel business. He also spent several years as marketing manager for an aircraft manufacturing company on the Sunshine Coast, Skyfox Aviation.
However, Anning himself may prove ineligible for parliament. According to the Commonwealth Courts website, a William Fraser Anning and Fiona Ruth Anning have a bankruptcy notice filed against them in the Federal Court by ABL Nominees, a subsidiary of Bendigo and Adelaide Bank.
Section 44 of the Constitution states that someone who "is an undischarged bankrupt or insolvent... shall be incapable of being chosen or of sitting as a senator or a member of the House of Representatives." This is the same provision which struck out another One Nation senator, Rod Culleton, from the Senate just last year.
This bankruptcy matter is yet to be heard before the court, with the first court date scheduled before Registrar Colbran on August 22.