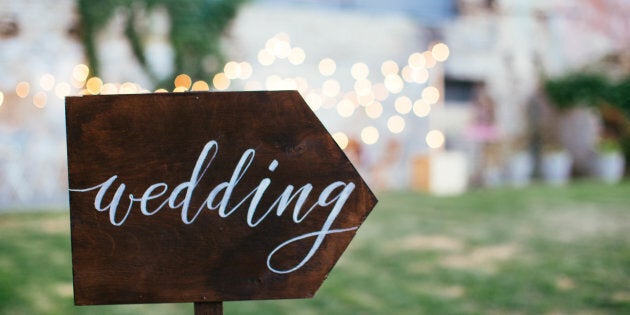 Getting married is supposed to be one of the most exciting times in your life, but it reality it can be one of the most stressful.
You've got budgets to manage, soon-to-be in-laws to factor in, plus all the regular decisions to make -- like should guests throw confetti or rose petals after the ceremony?
Thankfully, you're not the first folk to get married. Millions have gone before you and you can use their lessons learned as a guide of what not to do on your big day.
"First and foremost, do not try to please everybody. At the end of the day, your wedding is about you and your partner, not the many people who decide to throw their opinions or advice your way," Natalie Drum, co-founder of wedding blog Ivory Tribe and marriage celebrant told The Huffington Post Australia.
Another hiccup to avoid is assuming that the bride is supposed to be late to the church or ceremony location.
"A common on-the-day mistake includes presuming that as the bride, you 'should' arrive late, only to realise that unless you have factored this into your timeline, it has the potential to impact the smooth running of photos, food and celebrations to follow," Drum said.
Many couples also forget to factor in enough time for photographs after the ceremony and before the reception.
"It's important to allow enough (but not too much) time for photos, and if your budget allows, ensure you hire a videographer. Footage of your day is something that you simply will not regret."
It's also important to keep in mind that as the couple getting married, you'll be preoccupied on the day and you should not be the go-to for issues that crop up. Instead, appoint a planner or good friend to ensure the day is running smoothly and on time.
"A lack of preparation and planning can create small hiccups that have a flow-on effect on the day. Using checklists and timelines in the lead up will ensure you are prepared for almost everything that comes your way," Drum said.
2017 trends
As for trends that are rising in popularity, it's all about mood lighting, smart use of space, and gorgeous greenery.
"Lighting is becoming a more considered and creative element when it comes to the styling of weddings. We're seeing customised neon signage, and festoon or fairy lights draped or clustered on mass, and loving it."
"Elongated banquet-style table settings continue to be the layout of choice. Whilst they don't create the most social of settings they do provide high visual impact and tend to utilise space more effectively," Drum said.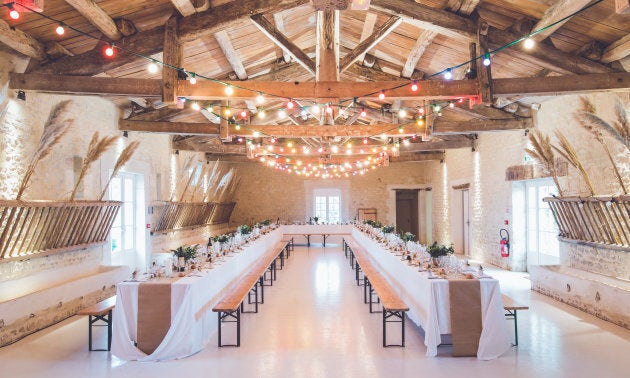 When it comes to florals, consider the use of extra greenery which looks lush, but helps keep the cost down.
"Hanging florals and an abundance of greenery is still very popular -- neither of these are going anywhere!"
When it comes to the food, Drum says that increasing she's seeing people use it to double as a styling element. Think overflowing cheese platter stations and champagne towers. Also, say goodbye to the old school alternating fish or chicken main options.
"Food has become a real focal point of weddings and is now creatively used to double as a key element of the overall styling. Excitingly, there is also a real focus on quality, fresh local produce, and the creation of seasonal menus that are used to share among guests.
"With regards to sweets, small, delicate desserts and accompanying signature cocktails -- think mini donuts or croissants -- coupled with an espresso martini (creatively named after the newlyweds, of course), are also making their mark."
To 'bonbonniere', or not?
A bonbonniere is a small gift traditionally given to each guest to thank them for their attendance.
"Bonbonniere or favours are definitely optional. What once was all about sugared almonds is now a great opportunity for couples to get creative, and a whole lot more meaningful in thanking their guests," Drum said.
"You could give a charitable donation in lieu of a gift, personalised notes to each guest, or monogrammed items such as candles or marble coasters -- there are so many great ways to both set the tone of the evening ahead with a cute thank you gesture, as well as leave a lasting impression on those in attendance."
"On the other hand, if favours aren't your thing, keep in mind that the costs associated could be re-allocated for a pair of extra special wedding day shoes, or to secure that photographer that couldn't quite fit within the budget."
What is a 'first look'?
If you're particularly shy, consider adopting the American tradition of a 'first look' before the wedding. It's a private moment between the bride and groom (and possibly the photographer) when they see each other, before the reception.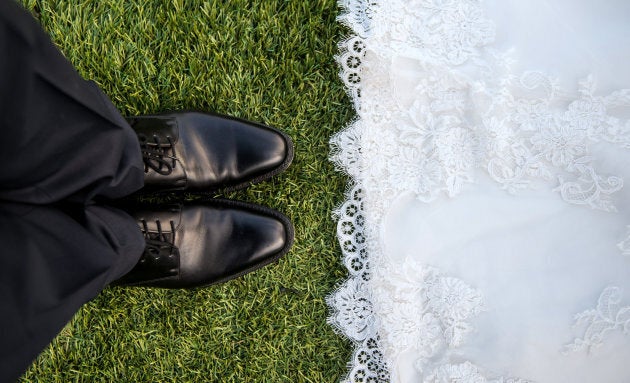 "A 'first look' is becoming increasingly popular for Australian weddings. Bucking the tradition of a couple first seeing one another as the bride makes her way down the aisle, a first look is a private moment captured by the photographer, documenting the intimate and very emotional first moment the soon-to-be newlyweds see one another on their wedding day," Drum said.
"It can also be a great way to get some of your wedding day portraits done so you can mingle and enjoy your guests after the ceremony. Heck, who knows, you may even get some canapés and pre-dinner drinks given that you've paid for them! Also, your hair and makeup is generally pretty fresh at this point in the day -- no tear streaks or aunt's lipstick smeared all over your cheeks. Winning."
ALSO ON HUFFPOST AUSTRALIA