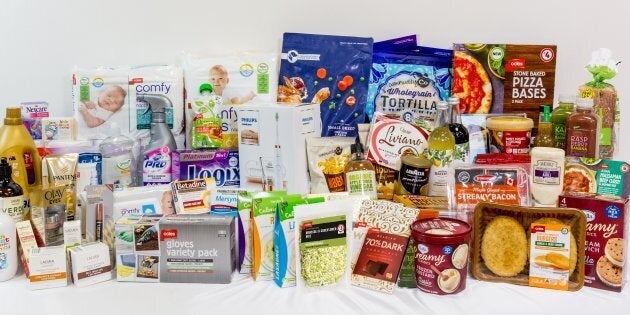 Each year a whole bunch of Aussie shoppers (13,000 to be exact) vote on which supermarket products they think are the best in terms of quality and value.
Now in its 9th year, the Product of the Year Awards (conducted by Independent research company Nielsen) pay homage to the hard working little products we call on day in and day out which make our lives that little bit easier (or tastier).
ALDI and Coles have battled for top spot, with ALDI edging just ahead with 13 wins while Coles took home 12. IGA Supermarkets and Chemist Warehouse are newcomers to the awards, taking home five and two awards respectively.
According to the research, Coles provides the best shopping environment and experience. Shoppers also voted Coles as being the first to have new products on its shelves, as well as having the most appealing home brand.
ALDI scored highly in providing really good deals and promotions for its customers, while Woolworths scored better on offering fresh and healthy products.
The full list of winning products are below:
Purewick Reed Diffuser 75ml Pastel Pines -- ALDI Stores
Kids Organic Goat Range Goat -- Chemist Warehouse
Coles Comfy Bots Baby Wipes
Coles Organic Baby Food Pouches
Bakers Life Kornig 14 Seeds & Grains Bread 670g -- ALDI Stores
Barker's New Zealand Premium Crafted Cordial
Community Co. Fresh Parmesan Cheese Community Co -- IGA
Coles Blueberry Cheesecake
Community Co. Extra Virgin Olive Oil Spray -- IGA
Lacura 24 hour Duo Lipstick -- ALDI Stores
Green Action Dishwashing Liquid 500ml Green Action -- ALDI Stores
Logix Platinum Dishwashing Tablets 40pk Logix -- ALDI Stores
Birch & Waite Asian Dressings
Philips Sonicare DiamondClean Rose Gold
ABLE Asthma Spacer with Mask
Nexcare™ Foot Protection Tape Nexcare™ 3M
Coles Gloves Variety Pack
Lacura Naturals Verde Hand Wash -- ALDI Stores
Coles Australian Vegetable Rice and Noodles
Power Force Pro Bath and Shower Cleaner Power Force -- ALDI Stores
Bulla Creamy Classics Ice Cream Sandwich
Bulla Creamy Classics Frozen Custard
ALMAT Laundry Liquid 2L -- ALDI Stores
Heinz [Seriously] Good Garlic Aioli
Mersynofen Paracetamol and Ibuprofen
Betadine Anaesthetic Lozenges Betadine Sanofi Consumer Healthcare OTC Medicine - Cough and Cold
Confidence 3ply Double Length Toilet Tissue 8pk -- ALDI Stores
Coles Stone Baked Pizza Bases
Hillcrest Protein Bars 5pk 200g -- ALDI Stores
Coles Chilled Ready Meals
Community Co. Nibbles -- IGA
Natural Instinct Dark Circle Wrinkle Correction Eye Crème
Lacura Naturals Anti Aging Face Care Range -- ALDI Stores
Community Co. Short Cut Rindless Bacon -- IGA
Goat Soap -- Chemist Warehouse
D'Orsogna Maple Streaky Bacon 200g
Choceur Liviano Wafer Bar 150g -- ALDI Stores
Just Organic Apple Cider Vinegar -- ALDI Stores
Community Co. Tortilla Wraps -- IGA Wraps