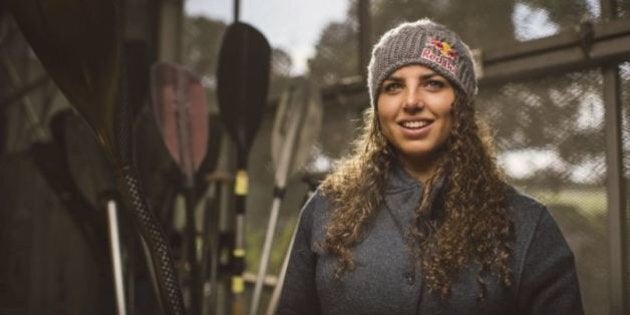 Jess Fox is the most interesting, likeable Olympian you've never heard of. She might also be Australia's best gold medal chance in Rio in August.
Fox's event is canoe slalom, which is also called kayak or whitewater slalom. The sport involves competitors doing the fastest time possible through a series of gates on a whitewater course.
Never heard of it? Well, it's spectacular stuff which takes skill a mixture of skill and strength. And right now, Jess Fox is better at it than any woman on the planet.
Fox won silver aged just 18 at the London Olympics. If you didn't know that, we admit we kind of didn't either. But we know now. And we now also know that Jess finished 2015 ranked number one in two separate disciplines. All that and she's only 21.
Huffington Post Australia caught up with our whitewater wonder as the calendar ticked over to the Olympic year of 2016. (Rio is Portuguese for river, by the way. We think that's a pretty sweet omen.)
HuffPost Australia: Hi Jess. We start by asking everyone this. Who would win a fight between a kangaroo and an emu?
Jess: I'd say a kangaroo. They've got a pretty good kick on them. I have seen videos of emus running and they put their neck out and their beaks look quite scary. I wouldn't want to challenge one but I'd still say a kangaroo.
HuffPost Australia: So it's an Olympic year. Are you excited?
Jess: Yeah, as an athlete in an Olympic sport you schedule your life in four years cycles. Sometimes lately I've caught myself lying in bed thinking 'oh my god, the Olympics are on this year' and then my heart starts to beat really fast. But the focus for now is on the selection trials in February. It's pretty tough, there's only one girl who can compete in our sport in Australia.
HuffPost Australia: Wait a minute. You're a dual world number one in the two forms of your sport and you won silver in London. And you still have to qualify for Rio?
Jess: I do, but I'm feeling positive.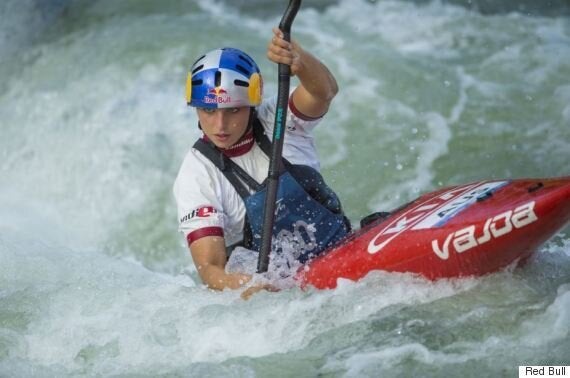 HuffPost Australia: For all the people who don't know much about your sport -- which we're a little embarrassed to admit is most of us -- what's the difference between C1 and K1?
Jess: K1 means kayaking [with a double-bladed paddle]. C1 is canoeing, which is in a kneeling position with a single blade paddle. Traditionally you paddle one side but I change sides because I'm from a kayak bakckground.
HuffPost Australia: This isn't netball or cricket. How did you get into the sport?
Jess: I was born in Marseille in France. My dad is British and he got my mum, who is French, into the sport. Mum became an elite athlete and won Bronze at the Atlanta Olympics in 1996.
HuffPost Australia: Wow, and then you went one better 16 years later.
Jess: I did. And my dad came fourth at the Olympics
Huffpost Australia: Poor old dad. But you've got a fourth, third and a second in the family, so there's one obvious spot missing, isn't there?
Jess: Maybe my sister Noemie will win an Olympic gold medal. She's 18 this year.
HuffPost Australia: So many talented athletes in the family! Let me guess, you're all bilingual and ridiculously fluent in French, right?
Jess: I grew up speaking French. Dad spoke to me in English so I always understood it, but I would reply in French. So when we moved to Australia when I was four years old, they weren't sure if I'd be able to speak the language.
HuffPost Australia: So could you?
Jess: Yeah it all just sort of came out. And I'm really glad they moved here, and that dad had his [coaching] contract renewed because I'm not sure I would have had the same opportunities in France.
HuffPost Australia: You mean, to pursue canoeing and school and everything all together because the French are more strict about that sort of thing?
Jess: Right. I had to miss quite a lot of school when I travelled to compete.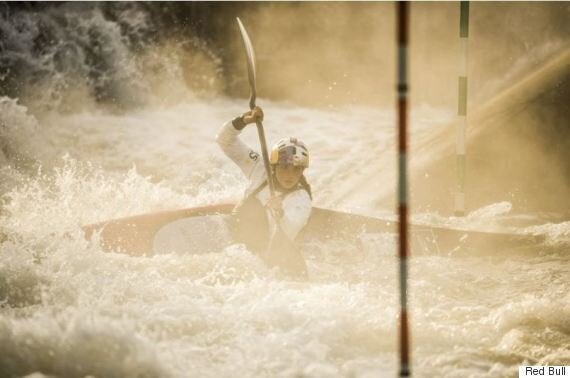 HuffPost Australia: But Jess, we've been doing a little cyberstalking here, which is what journalists do before they interview elite athletes, and we've just learned you were dux of Blaxland High School. How'd you manage that when you missed so much school?
Jess: School was always really important to me. I always wanted to do really well to make sure I had something else. Plus I enjoyed it. I was always competitive in every subject and topped the state in exercise science. The secret is that I was motivated. I had teachers who could email me the homework tasks and that made a big difference to me. A lot of boys and girls stopped sport altogether when they got to HSC, but for me it was a way of focusing.
HuffPost Australia: Wow. We're impressed.
HuffPost Australia: And since you went to Blaxland High School, we're guessing you spent half your childhood just down the road at the Penrith Whitewater Stadium where they held canoeing at the Sydney Olympics.
HuffPost Australia: So you're the proof that the Sydney Olympic facilities spawned a new generation of successful Olympians. They always told us that would happen!
Jess: Oh definitely. I wouldn't be an Olympian if not for having having the whitewater stadium in my backyard. I feel so lucky and fortunate to have that. In other countries they train on flat water.
HuffPost Australia: Whitewater canoeing at the Olympics is always held in a purpose-built facility like Penrith. But In Europe you often compete in real rivers. Does competing in real white water hone your craft for the purpose-built courses?
Jess: I love going back to natural rivers, to the roots of the sport. Natural rivers tend to be faster than artificial courses. You've got to be able to read the water and have a quick ability to analyse what's coming. Those skills are valuable on any course.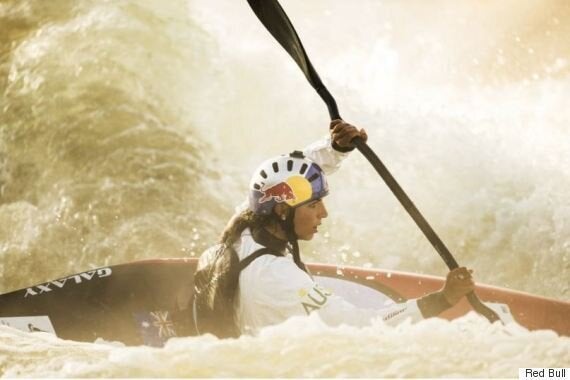 HuffPost Australia: Do you ever go out paddling somewhere just for the love of it?
Jess: Not often enough, but last year we were on holidays in Bundeena [a coastal spot in the Royal Nationa Park, just south of Sydney] and we took the kayaks out and saw dolphins. It was just a really beautiful way to get around.
HuffPost Australia: Obviously you have to stay super fit, but do you ever just let your hair down a little?
Jess: I went to New York after the world championships last year and I ate hamburgers and pancakes and things I hadn't eaten for ages. I didn't feel that good afterwards although miraculously I lost weight.
HuffPost Australia: You lost weight eating hambugers and pancakes? There are about 20 people in this office who'd really like to know who you did that.
Jess: All I can say is that I used to eat a lot of pains au chocolates at my grandparents' place when I was a little girl in France.
HuffPost Australia: So your body's used to it.
Jess: Maybe, yeah. I don't see the point of travelling the world and not trying the local cuisine. I think it's a shame being an athlete and bringing your own food. It should also be about enjoying life.
HuffPost Australia: That's a lovely attitude. So what's next, Jess? You're only 21 so it's all about paddling for the foreseeable future, but what are your longer term goals?
Jess: I'm studying a Bachelor Of Social Science with a Major in Psyche which I started at Sydney Uni but am now doing online through Swinburne. I'm one of those people who doesn't know what they're going to do but who enjoys a lot of different subjects. So I thought I should try a bit of everything.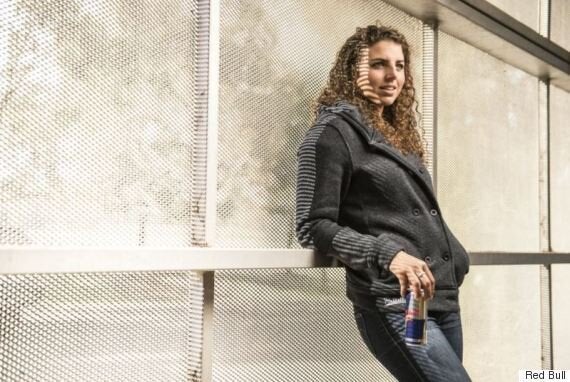 HuffPost Australia: We've only known you for five minutes but that answer is sooo you. Anything else?
Jess: I've also done some work experience at Channel Nine and I'm writing blogs for the Australian Olympic Committee. I'm also writing for Rebel Sport who are one of my sponsors. I do a bit of public speaking as well. I gave a 15 minute talk on leadership to 15 to 18 year olds recently. It was good. I'm a very last minute person but I need that pressure to deliver.
HuffPost Australia: Well in the nicest possible way, we hope you lose your boat and then find it at the last minute just before you paddle for gold in Rio. Good luck this year, Jess.