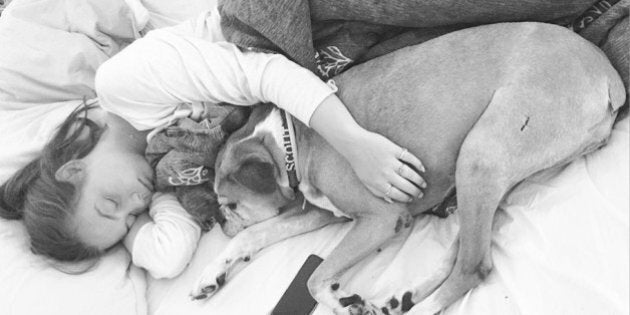 Scout died today. Our beautiful, loyal, gentle boxer. She was, at 12, a grand and dignified old lady of 84 in four-legged years. And it's a day our family has long been dreading, but expecting.
Despite that, I just wasn't ready, not even remotely, which is crazy, because these past few months have been so tough for her, and she was clearly rapidly heading down a hill for which there was only one possible end.
I guess I was hoping she could fight her way through this, just as she always had before.
When she was just an 11-week-old puppy she had a terrible fall from the top of a four-metre wall here at our house -- puppy curiosity getting the better of her -- and her life should've ended then. But she defied the odds and, at great expense to the management, the local vet managed to screw her shattered little bones back together. But the truth is, we would have paid anything to fix her, so quickly did she become the centre of our family's universe.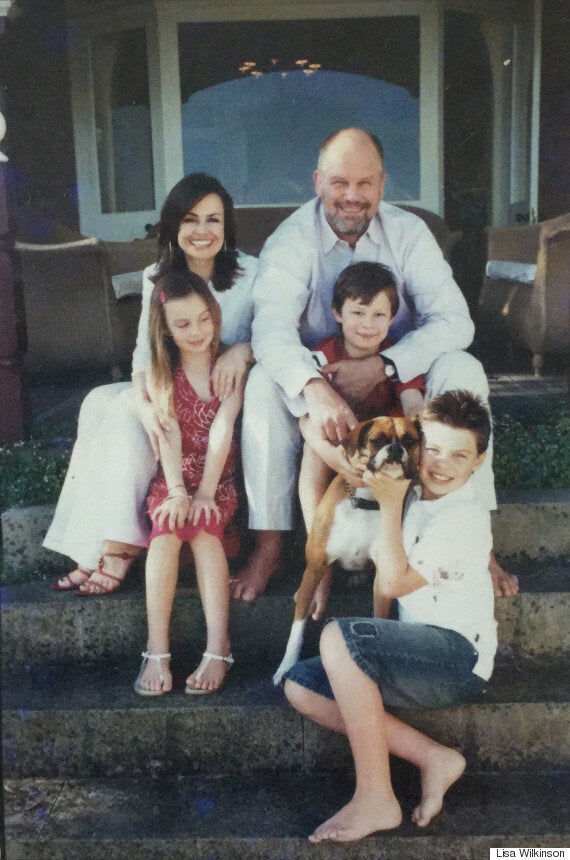 Our whole happy family, 2006
The vet warned us that arthritis would be a problem in old age, and he was right. In recent months her back legs had started collapsing beneath her. And most of her days now were being spent in her bed, happy just to watch the world that once offered so many opportunities to explore, gently pass by.
My own love for Scout went deep, with its roots in a time many decades before she was even born. You see, I'd grown up with another boxer, Heidi. I was 17 when we lost her and I thought my world had ended. So I was always sure that when I had kids of my own, I wanted to replicate that beautiful experience for them. And yes, okay, for me too.
When we went to get her back in 2004, Scout, or "Princess" as the owners of her mother had temporarily called her, was the runt of the litter. "Not strong", they warned us, and the only one of the puppies that hadn't found a home by the time we came calling. But as soon as we all saw her, we knew she was the one. In our eyes she was perfect. And as soon as she laid eyes upon us, she seemed to indicate the same as she performed the first of those many happy dance greetings that, for the next 12 years, never failed to make us smile.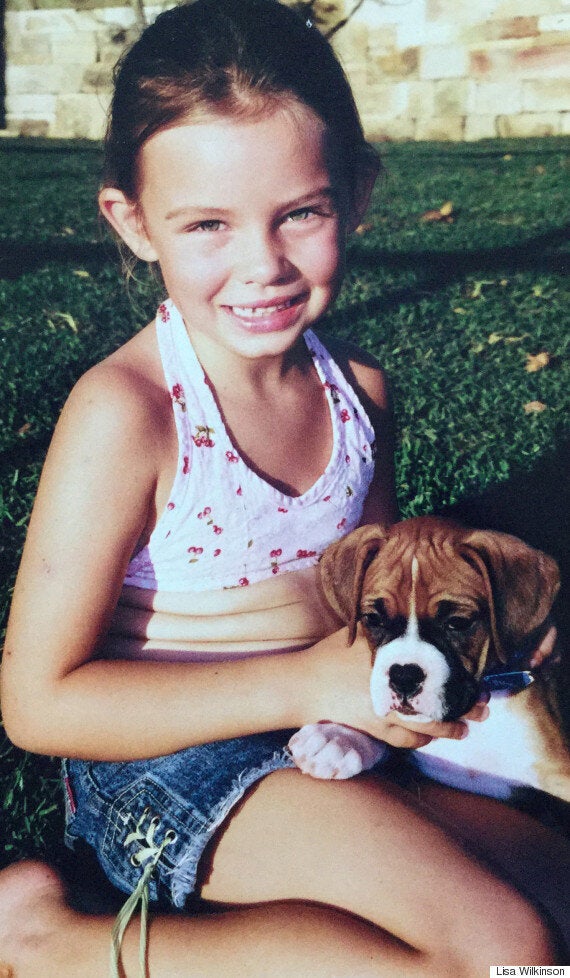 Billi and Scout, 10 weeks old, just days before her accident
Her name came from my favourite childhood character in To Kill A Mockingbird. And like Harper Lee's version, any predictions of Scout's fragility were wrong. She was strong, surviving -- beyond her leg-shattering fall -- numerous bouts of cancer, a heart attack, and her regular "escapes" into our busy neighbourhood whenever someone accidentally left the gate open.
The neighbours knew our bounding brown escapee well. And loved her.
"Found Scout up the street again, Lisa," they would tell me more times than I can remember. "Just popped her inside the gate for you."
For everyone in our family, she was a cure-all. Having a bad day? Go and spend some time with Scout.
Mum and Dad on your case? Scout will give you a loving lick on the face.
Kids driving you nuts? Scout again. Never taking sides. Just there. And always, always happy to see you.
She was meant to be an "outside dog", but whenever Pete or I weren't around, the kids would quickly sneak her in and then all snuggle up together on a big comfy lounge in our kitchen. I always knew because our much-loved old red and white quilt that sits on that lounge had the tell-tale signs of Scout's hair. Occasionally I'd rouse on them, but mostly I turned a blind eye. And sometimes when neither Pete nor the kids were around, I'd do the same, and let her in to lie on that gorgeous old red quilt. Our little secret. We loved our girl.
Then, today, a friend dropped by around lunchtime to find none of us home. But sure enough, there was Scout, standing sentinel, as she always did by the driveway in anticipation that one of us was just about to return. It didn't matter to her which one of us it was. We all received the same greeting: an excited happy dance, a tail that almost wagged itself off, a sniff of our hand, a sneeze of excitement. The sort of unadulterated, uncomplicated sheer joy just at the mere sight of you that no human ever delivers.
But when Pete arrived home soon after with no Scout waiting in the driveway, he knew something was wrong. Ten minutes later he found her. There she was, lying peacefully, in the afternoon sun in the dappled light thrown by the weeping mulberry tree. It was a favourite spot whenever her old bones needed warming. Maybe she was just asleep? But then he called her name, there was no response and...
And I hope with everything in my soul that her end was peaceful. That, realising she was right at the bottom of that hill, she just closed her eyes and slipped away. Anything else is too much to bear.
So this afternoon we gathered to bury her, wrapped in that same precious red and white quilt, in a patch of ground beneath the swing in our garden where, when the kids were little, they would play while Scout sat by watching, patiently protecting, and waiting her turn until they threw her a ball, had a wrestle, had her time to play.
Then, as the sun started to drop in the sky and deliver us one of the most perfectly warm, autumnal, late afternoons any of us can remember, our eldest son Jake did his bit to dig her final resting place. But before she went I steeled myself for one last look at her beautiful face in the soft light -- and I'm so glad I did. As I gently drew back the quilt, I could see it: her poor body now finally free of pain. She had gone peacefully. Our sweet girl was finally at rest.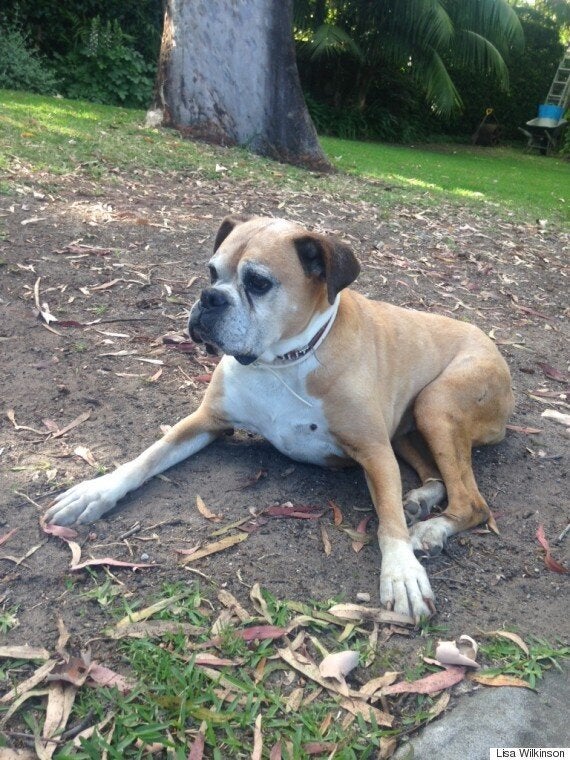 Just metres from her final resting place