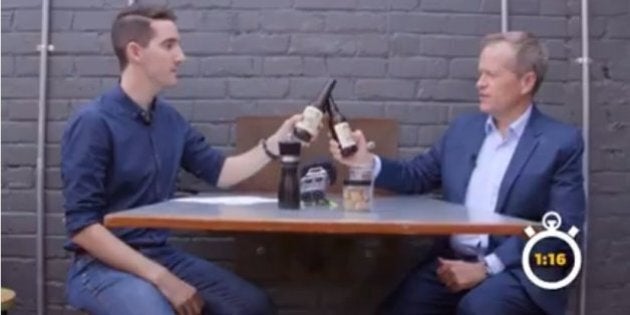 Bill Shorten has claimed Malcolm Turnbull wanted to be secretary of the Australian Workers Union -- a position Shorten himself once held.
Shorten made the declaration in a video interview with The Labor Herald. The Labor Party launched The Labor Herald earlier this year amid much chatter, promising to "bring you fresh ideas, news and information from an Australian Labor Party perspective." How an official instrument of the Labor Party managed to snag an exclusive interview with the Labor leader, we'll never know, but Shorten had a sit-down with a 22-year-old interviewer at a pub in Perth after a town hall meeting to answer "15 quick questions on the clock."
Amid a few fun facts -- he eats toast for breakfast, his favourite song is U2's 'With Or Without You,' he was in the Army Reserve -- Shorten drops an unexpected answer when asked "what's something people don't know about Malcolm Turnbull?"
Shorten's response: "he wanted to be secretary of the Australian Workers Union."
The rest of the interview was breezy in tone with the Opposition leader doling out light-hearted answers to most questions -- but Shorten did not smile or laugh after that particular answer.
Turnbull is currently travelling overseas, with a staff member saying he would be "boarding a plane in about 20 minutes" when contacted by The Huffington Post Australia and that a response to Shorten's claim would not be immediately available.
A Shorten representative cited this Daily Telegraph article as the foundation for the Opposition leader's claim. HuffPost Australia was unable to find any other online evidence to back up Shorten's claims regarding Turnbull's past union aspirations.
Shorten held the position of federal AWU secretary between 2001 and 2007, but it was his leadership of the AWU's Victorian branch between came under the microscope recently during the Trade Unions Royal Commission into corruption.
Speaking on Sky News Australia after the news of his clearing, Shorten said the Royal Commission was "designed (by Tony Abbott) to smear his political opponents".
Through the rest of the video, Shorten demonstrates some of the personable, affable qualities that recent polls have stated Australians believe Shorten lacked. He speaks warmly about his family and gives frank answers about both government policy and Labor policy. On prospects of raising the GST, Shorten replied "bad idea, means more people will pay more for the most they need in life"; on feared "$100,000 uni degrees" after university deregulation, he said "bad idea, bad for our kids, if you want to go to uni it should be based on your marks not your wallet".