When you think of a 'healthy dessert', you might picture a sad plain piece of fruit, or a few nuts and seeds. For any sweet tooth, this simply cannot do.
Yes, eating more healthily means cutting back on the milk chocolate and bikkies, but it doesn't mean we have to go without dessert completely or be restricted to one square of 90 percent dark chocolate.
Healthy treats can be sweet, satisfying, filling and definitely dessert-y with a few tricks. Promise.
Here are the best healthy desserts, shared by four top Australian health experts.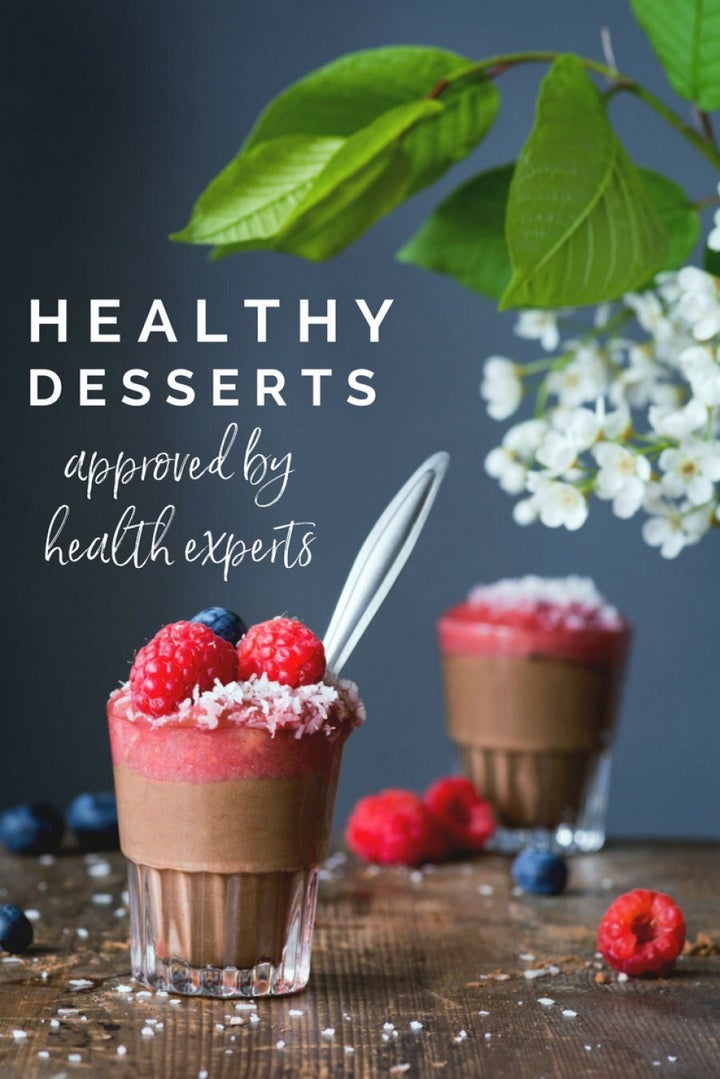 Chloe McLeod, accredited practising dietitian and sports dietitian.
I've got a couple of favourites. I really like getting a medjool date, taking the seed out of the middle, then getting a spoon of natural peanut butter and stuffing the date. It's the best.
But I try not to keep dates in the house anymore because it's so easy to go overboard.
I also really like getting some cacao powder and avocado and blending it with a bit of maple syrup and vanilla to make a chocolate mousse. It's very yummy.
It doesn't sound super exciting, but yoghurt with fruit is awesome -- whether it's getting a really good quality natural or Greek-style yoghurt, berries and some cinnamon, or baking some apple or pear and serving with yoghurt. It's delicious, filling and so healthy.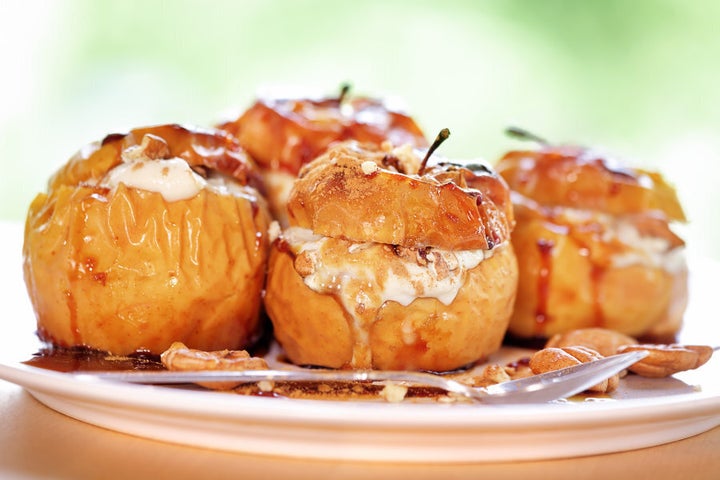 Kim Beach, health and fitness expert and author of Beach Fit.
I don't crave treats very often, but when I do I like to indulge in a little chocolate pleasure.
I will always choose a healthier option when it comes to treats as I like my body to feel good afterwards, and I also feel satisfied knowing that what I'm eating is made using whole, natural ingredients which is very important to me.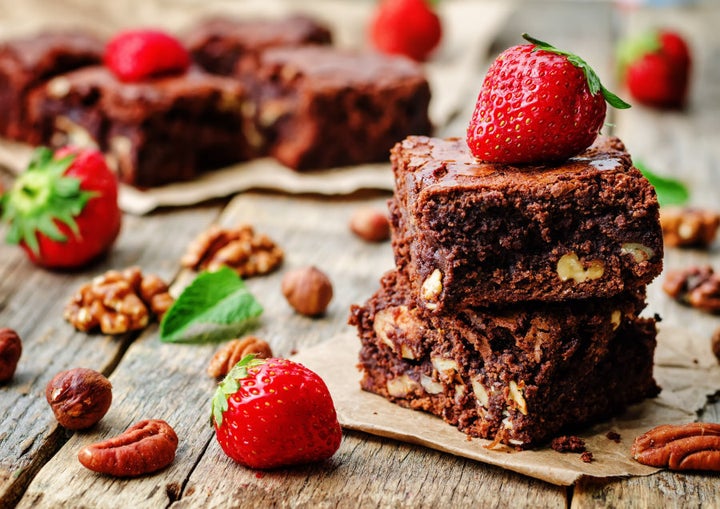 Holly Louise, personal trainer, The Fit Pharmacist and Body Science expert.
This cookies and cream protein parfait is one of my favourite desserts because it tastes amazing, is low in calories, packed full of protein and micronutrients, and keeps you feeling full.
It can also be used for quality fuel as a pre- or post-workout snack, too.
To make it you'll need one high protein low carb bar in cookies and cream flavour, 150 grams of Chobani zero percent plain yoghurt, 100 grams of fresh strawberries and stevia.
Chop up the protein bar into bite-sized pieces, cut up fresh strawberries, mix stevia into Chobani yoghurt to desired sweetness, and layer yoghurt with protein bar chunks and strawberries.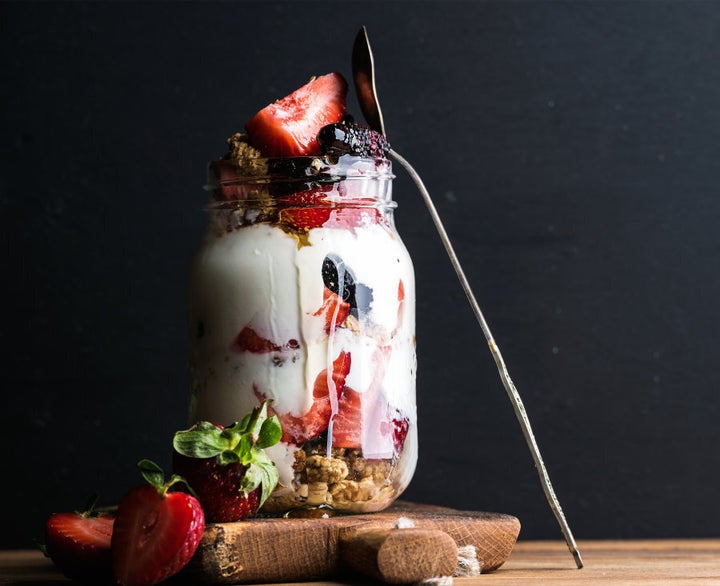 Ben Lucas, personal trainer, former NRL player and founder of Flow Athletic.
My favourite healthy dessert is banana pancakes. They're simple, quick and taste great.
To make it you'll need two eggs, one ripe banana and cooking spray for the pan. Mash the ripe banana well in a bowl and add in the whisked eggs. Then warm a non-stick or cast iron pan to medium and spray with oil.
Cook palm-size pancakes for 30 seconds on each side and serve. I use a small amount of maple syrup or agave on our pancakes.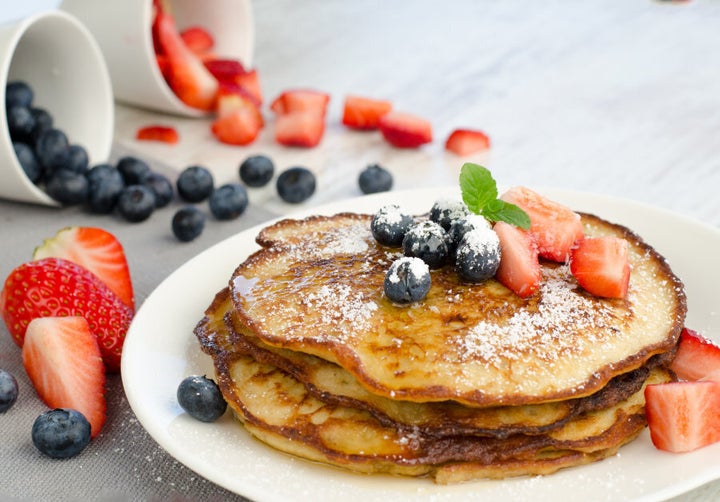 Click below to subscribe to the Refresh podcast by HuffPost Australia on iTunes.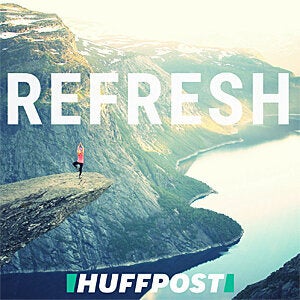 ALSO ON HUFFPOST AUSTRALIA