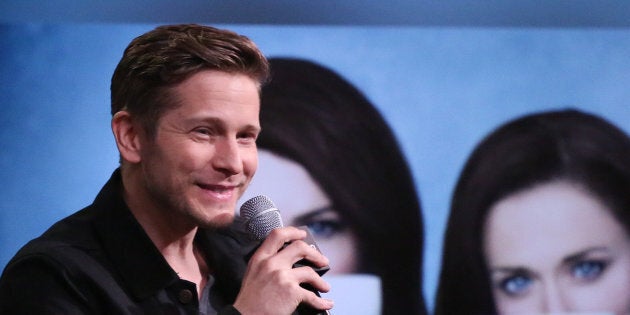 The "Gilmore Girls" revival left us with many questions (Rory, heels on a journalism assignment, really?), but the major mystery hanging over our heads is the key to the final four words.
SPOILER ALERT: Do not read further if you haven't watched "Gilmore Girls: A Year in the Life."
In the closing moments of the revival, the much-hyped final four words were finally revealed to be, "Mom?" "Yeah?" "I'm pregnant." To make things even more shocking, viewers are left to guess the paternity of Rory's child.
We might be totally in the dark about who the father is ― we do have our theories ― but there's one "Gilmore Girls" star who's been clued in: Matt Czuchry.
"In terms of those last four words, it really is Amy and Dan's last four words. It is their story. I'm very protective over those four words. They did tell me who is the father of that baby," he told The Huffington Post at AOL Build Series.
"If they ever want to reveal that, they can do that, but I think at this particular point, I think the purpose is ... to fast forward and say, what kind of mother would Rory be, what kind of grandmother would Lorelai be [and] in terms of whoever the father is would they be in that person's life. Would it be different from Christopher or would it mirror that completely? Those stories aren't told yet."
"I think the fun is for everybody to come up with those theories and play that out in their minds," he added."
Although Czuchry played coy, the mere fact that he knows who the father only gives more credence to our theory that Logan is the father, but Rory will end up with Jess.
Watch our full interview with Czuchry below: