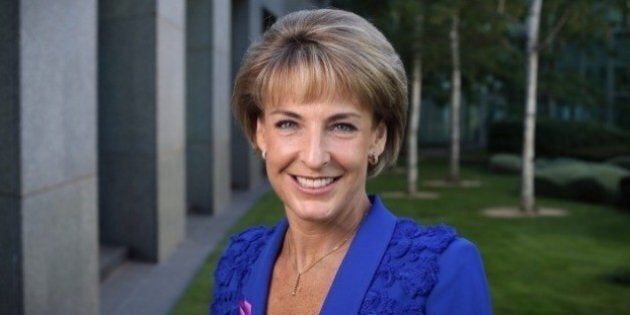 There were many issues that troubled Tony Abbott's government, but one that continued to dog the former Prime Minister was his lack of women in cabinet.
He started with one, Julie Bishop, and last year added another, Sussan Ley. He appointed himself the Prime Minister for Women.
Today Malcolm Turnbull brought the number of women in cabinet from two to five - and appointed a woman, Michaelia Cash, as Minister for Women. Cash was also appointed Employment Minister.
Senator Marise Payne became the first woman to be Minister for Defence in Australia's history.
"She is one of our most experienced and capable Senators, she has spent two years in the human services portfolio and has done an outstanding job in modernising Government service delivery. She will release the defence white paper later this year, defining our key national security priorities and she will of course join the national security committee of the Cabinet," Mr Turnbull said in announcing his reshuffle.
Payne will join Julie Bishop on the National Security of Cabinet.
Kelly O'Dwyer was promoted to the front bench as Minister for Small Business and Assistant Treasurer, a position which Turnbull today elevated to Cabinet. She will also be appointed to the expenditure review of cabinet.
Julie Bishop continues in her role as Foreign Affairs Minister, while Sussan Ley continues in her role of Minister for Health and Sport.
How do the numbers compare with those who have gone before... and around the world?
Julia Gillard's first cabinet had four women, while the last cabinet of Kevin Rudd had six. John Howard never had more than three.
In the UK, David Cameron's second cabinet was formed following the election in May this year - with 7 of 22 ministers in cabinet are women. That's just over 30 per cent of cabinet.
Canada has 12 female cabinet ministers of a possible 39, which puts it more or less on parity with the UK at around 30 per cent.
A report from the Parliamentary Library into representation of women across Australian parliaments, published last year, found Australia continues to perform poorly compared to other countries in terms of broader numbers of women in parliament.
"Internationally, Australia's ranking for women in national government continues to decline when compared with other countries," the Representation of women in Australian parliaments 2014 report said.
It said the number of women in parliament continued to hover around the 30 per cent recommended by the UN as the minimum needed to ensure women had influence in decision-making in parliament.
"Across Australia women continue to be significantly under-represented in parliament and executive government, comprising less than one-third of all parliamentarians and one-fifth of all ministers," the report said.
The Inter-Paliamentary Union shows Australia ranks 45th for women's representation in parliament. New Zealand ranks 31st, with women making up 32 percent of its Parliament.
The leader when it comes to women in parliaments internationally - and potentially a surprise to some - is Rwanda, with 63 per cent of parliamentary positions being held by women in the country's lower house.
Rwanda's constitution ensures women occupy "at least 30 percent of posts in decision-making organs."
Bolivia and Cuba round out the top three, while Australia is ranked at 45 by yesterday's standings. Today, we might creep just a little further up the rankings.