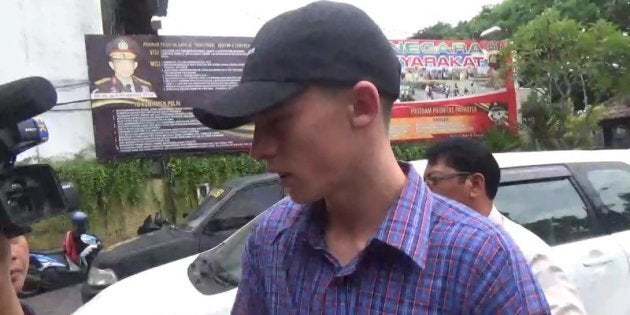 The Bali drugs nightmare appears to be over for Perth teenager Jamie Murphy after he was cleared by a forensic analysis and was allowed to walk from his holding cell at a Kuta police station.
The 18 year old schoolie had been held for almost two days on suspicion of carrying drugs in a Kuta nightclub, however the sachet of white powder found in his bum bag has turned out to be a mix of painkillers, caffeine and cough medicine.
Blood and urine tested also turned out to be negative.
Kuta Police Chief Wayan Sumara has described the 18-year-old, who had bought the sachet on the street, as "very lucky".
Filmed exiting the police station on Wednesday night, Murphy replied "yep" on being asked if he was pleased to be free.
If the 1.6 grams of powder had turned out to be illicit drugs, the teenager could have faced up to 12 years in an Indonesian jail.
"We would like to extend our sincere apology to Jamie, his family, and friends," Sky Garden said in a statement.
"Our company procedure is to simply hand over suspects 'peacefully' to police if we feel they've committed a crime at Sky Garden.
"We have reprimanded the security in question, and he will not be permitted to come back to work until he has completed & passed another round of police security training.
"We too feel he used too much 'excessive force', which is clearly unacceptable."
Jamie Murphy is expected to fly back to Perth with his parents later on Thursday.