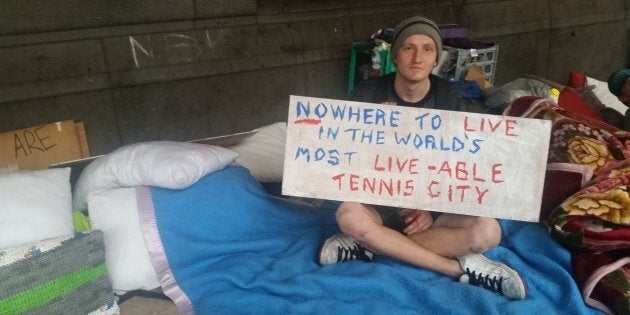 The Victorian State government will spend $9.8 million on a housing plan for Melbourne's homeless, as debate rages over proposals to move on rough sleepers in the city's CBD.
Daniel Andrews' government on Friday announced a $9.8 million plan to build 30 new permanent modular homes by the end of 2017, while forty people sleeping rough will be given immediate transitional housing the while the new dwellings are being built.
The move comes as about 247 people have been sleeping rough in Melbourne's CBD in recent months.
"We're taking action to provide a pathway for rough sleepers out of the CBD," Housing minister Martin Foley said in a statement.
"This new package will mean there is now no reason for people to be rough sleeping at Flinders Street Station.
The Victorian government's Towards Home program:

Immediate, dedicated access to 40 transitional housing units across Melbourne until new additional permanent housing is in place by the end of 2017;
30 new permanent modular and relocatable homes on public land to be in place by the end of 2017;
A guaranteed pathway to permanent supportive housing so that rough sleepers gain stable housing as quickly as possible;
Case management and targeted supports for an immediate 40 vulnerable rough sleepers for up to 2 years to help them maintain their housing
"People experiencing homelessness need intensive support to address a range of complex issues – that's why we're ensuring we have the right services all working together to stop people falling through the gaps."
Debate has been raging in the city since mid January, when Melbourne lord mayor Robert Doyle told Melbourne's Herald Sunthat he was happy to bring a police proposal for stronger by-laws to move on camps to council.
In a statement on Monday, Doyle -- who has acknowledged the complexity of the problem -- said he has asked for a redraft of council bylaws to meet the request for further compliance powers by the Chief Commissioner of Police.
"I am confident that I'll be able to put a strong and workable proposal to Council at our first meeting in 2017," he said.
"We will continue to offer housing, alcohol and drug and mental health referrals but we will warn people that if they refuse offers of support then we need to remove these large encampments from our streets.
"Police have raised a number of other concerns which require joint action."
Housing at the core of the problem
Lucy Adams, from Homelessness Connect Legal Services, told the Huffington Post Australia any plan to move on the city's homeless had risks.
Adams cited the recent closure of a number of rooming houses and caravan parks in Victoria, as well as 33,000 person long list of people waiting for public housing in the state, a state with 22,000 people sleeping rough -- was also a major contributor.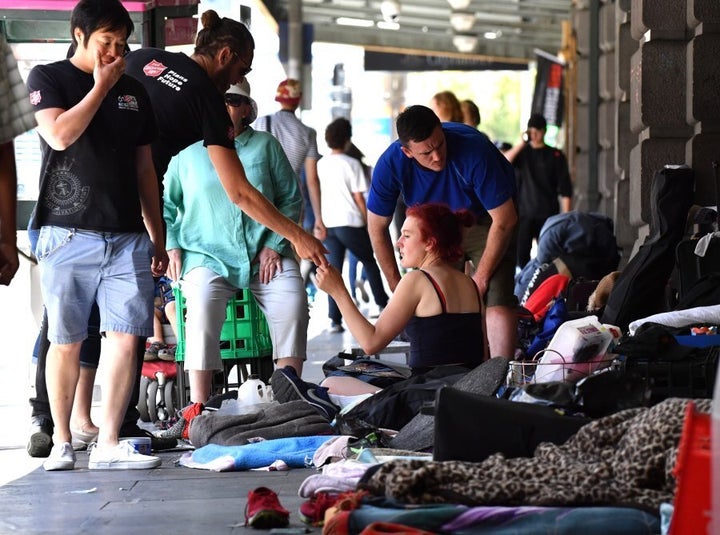 "We've seen a longterm lack of strategy and investment in terms of boosting the supply of affordable housing," she said.
She said there was potential for move-on laws to backfire.
There, she said, authorities charged one homeless woman 60 times for sleeping on the pavement.
"She'd done a stint in prison, she was homeless and had a mental illness and those underlying causes were not addressed by this punitive response," she said.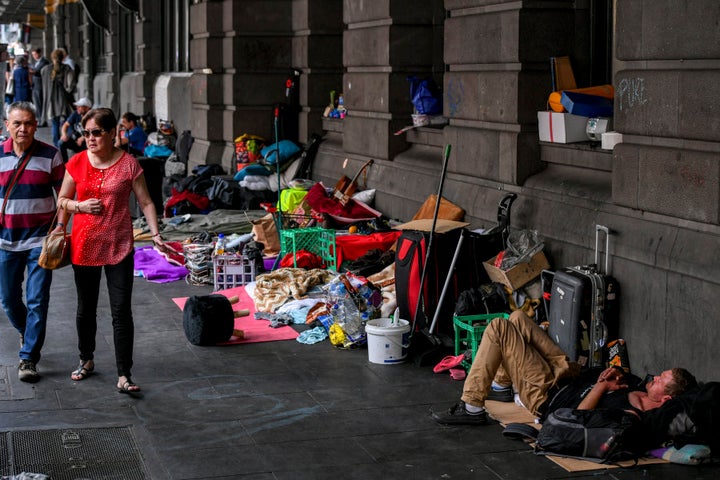 Still, the prospect of increased police powers to move on camps worries James Petty from the University of Melbourne's Criminology Department. Petty has analysed the city's approach to homelessness for his research.
Called "Swept off the streets": The Substantive Criminalisation of Homeless in Melbourne, Petty's thesis title is borrowed from a phrase used in Doyle's 2005 policy approach to homelessness when, as state opposition leader, he called for a crackdown on begging in the lead-up to the Melbourne Commonwealth Games.
Petty argues providing stable and supported accommodation is cheaper than the costs of policing, using the courts or imprisonment.
"Generally I would say that proposals to address homelessness through police and through additional police powers are not only going to be ineffective at fixing the problem, but are really going to make matters worse for this people who are subject to them," Petty told the HuffPost.
He said if success is measured as making homeless less visible and there are less noticeable homeless bodies around in the in the street, then these methods may work.
"(But) surprise surprise, being arrested doesn't help people address the issues causing their homelessness, so it doesn't lessen their trauma, lessen their grief, give them money or means of generating an income," he said.
Mission Australia's Melbourne City director of homelessness and Justice Services, Sherri Bruinhout, earlier this week warned that people people shouldn't be "charged and penalised" for being homeless.