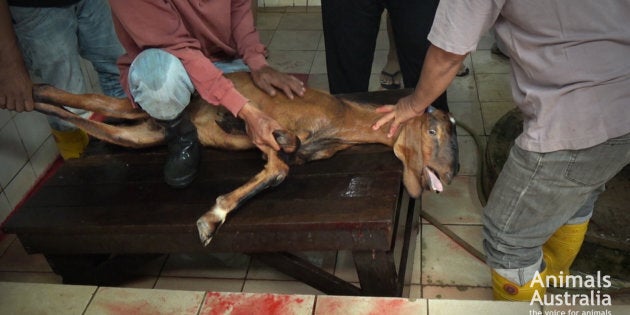 CANBERRA -- Calls have resurfaced for the banning of Australia's live animal export trade as new footage of brutal, cruel killings of Aussie animals in the Middle East and Asia is released.
Animal protection organisation Animals Australia released video of what they say is Australian goats and sheep having their throats cut with long knives and left to bleed out in countries including Malaysia, Lebanon, Kuwait, Oman and the United Arab Emirates. The shocking video, shot by Animals Australia investigators, shows animals having their throats cut over drainage grates and in dirty slaughterhouses, then left to die a slow painful death.
Independent MP Andrew Wilkie showed the footage to media in Canberra on Tuesday, leveling blame at the Department of Agriculture as well as the Exporter Supply Chain Assurance System, a framework meant to support exporters to track their animals through the supply chain and ensure the proper handling and slaughter of their stock.
"The government should move immediately to investigate this footage, find out which Australian companies were involved and revoke their licence," Wilkie said.
WARNING: VERY GRAPHIC FOOTAGE
The Tasmanian MP said Australian should again investigate how to "phase out the live animal export trade." Wilkie said that previous similar investigations, including Four Corners exposes in 2011 and 2012, had showed that such practises were widespread that Australia should not export live animals to countries which participate in such practises. He claimed that live export has "very little support in the community" and that very few producers in Australia were even licensed for live export, so banning the trade would not have a deep impact.
"If you're to draw a line from Perth to Townsville, there is only one abattoir north of that line that is licensed for live expert markets," he said.
"When there are so many exposes over so long, there is clearly a systemic problem. It is not something that can be dismissed as a one off."
"It is wrong for anyone in any country to treat and handle animals like that. It is wrong in any country to allow animals to suffer like that, to die lonely miserable deaths like that."
The ESCAS system was introduced in 2011, just months after the initial Four Corners report on Australian cattle being killed in Indonesia. The Department of Agriculture's website states that the holder of an ESCAS licence, which is required to export live animals overseas, "must demonstrate that livestock in the supply chain will be handled in conformity to [World Organisation for Animal Health] recommendations for animal welfare, up to and including the point of slaughter."
Wilkie said the footage showed "the failure of ESCAS."
"It was meant to put an end to the sort of cruelty [in the video] but it hasn't worked. There's no action as far as we're aware being taken against any of the exporters involved in sending animals to slaughter involved in the cruelty [in the video]," he said.
In a statement, the Department of Agriculture defended the ESCAS system.
"It is clear that the system is working. The Department's review of ESCAS found that more than 99 per cent of exported livestock since the systems introduction in 2011 were handled and slaughtered in accordance with standards set by the World Organisation for Animal Health (OIE)," a department spokesperson told HuffPost Australia.
"The OIE itself has said Australia is leading the world in animal welfare and that industry's investments in improving the implementation of OIE welfare standards has its full and unequivocal support."
"In 2015, the number of sheep found outside supply chains was around 12,300 (of the 1.3 million exported to Eid markets). Reports for Eid in 2016 indicate around 4000 sheep were seen outside of approved supply chains—a significant reduction compared to 2015."
Wilkie called for action and change.
"What we saw would be illegal if it was attempted in Australia. People would go to jail for treating animals like that," Wilkie said.
"The ESCAS system should have helped avoid that and it did nothing."
Animals Australia Chief Investigator Lyn White said she was appalled by the footage.
"The handling and slaughter of Australian sheep and goats in Malaysia at numerous non-approved sites was some of the most distressing I have witnessed. It was nothing short of a blood bath," she said.
"That animals raised and cared for by Australian producers end up in such circumstances is appalling. Producers would be equally outraged, yet the only time that they are advised is on the occasions that we are able to determine an animal's property of origin."