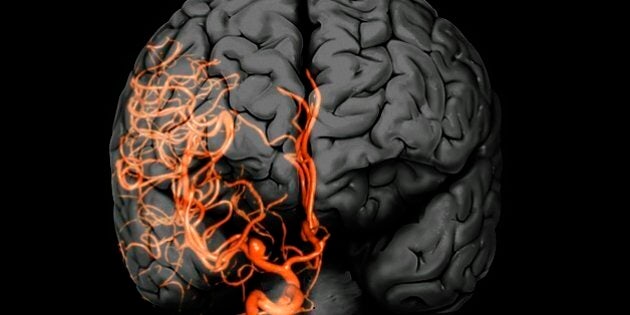 Caleb Rixon was in the middle of a pump class when he felt by a sharp pain in his skull. He was training for the Australian tour of Chicago, the musical he'd just been cast in. The pain was so strong, that Rixon assumed his eyeball had been pushed from its socket. He stopped class, moved to a mirror and when he was able to confirm his eyeball was still in place, he decided to grab a drink.
"It felt like my eye had shattered or fallen out of my skull," Rixon told The Huffington Post Australia.
"It was like I'd been struck by lightning. It's like a thunderbolt went into me and through my eye and I was left with a body that was still trying to deal with being fried."
Rixon, who was just 24 years old at the time, would later learn this "thunderbolt" was in fact a Grade 5 Subarachnoid Hemorrhage due to a Dural Arteriovenous Malformation. In other words, he had bleeding in his brain caused by two ruptured cerebral aneurysms.
According to the Australian Brain Foundation, aneurysms are present in approximately two percent of adults, and more than 10 percent of those people will experience more than one rupture.
For 25 minutes after the initial burst of pain, Rixon remained conscious. He remembers losing the ability to swallow and speak. He also remembers feeling his body fly out of control.
"It was like my body was separating itself from my mind and my limbs were just sort of flying and people were holding me," he said.
Rixon was taken to hospital. His parents were called and told to come immediately because doctors didn't think he would make it through the night.
"I was on life support and unconscious. Without surgery I was definitely going to die, but with the surgery I only had a one in three chance of survival," he said.
When he woke from surgery, Rixon was unable to stand, walk, swallow, speak or see on his own.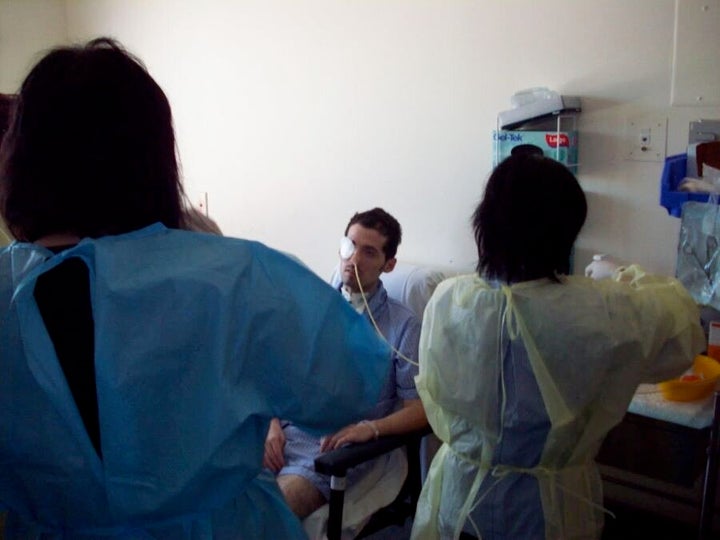 Linda Nichols, Coordinator of Neuroscience Nursing at University of Tasmania, says the chances of a rupture in someone as young as Rixon are quite rare. "Eighty percent of cases usually occur between the ages of 40 and 65," Nichols said. For this reason, and despite all of his symptoms, Rixon assumed he was fine up until the moment he was rushed to emergency. He just felt "tired and dehydrated," as he lay prone on the floor unable to move.
"It's difficult because 25 percent actually walk back out of the hospital because their condition improves. In 40 percent of cases paramedics report the patient has regained consciousness on the way to the hospital," Nichols said.
"People will often say they had a sudden onset headache, but what's sudden?"
"If you have an instantaneous, incapacitating headache and it reached its maximum intensity in less than a minute, you should seek professional help immediately."
Many patients -- 10 - 15 percent -- die from initial bleeding and 40 percent die from later complications.
"The risk of a second bleed increases in the first 24 hours," Nichols said. "Anything can trigger a re-rupture."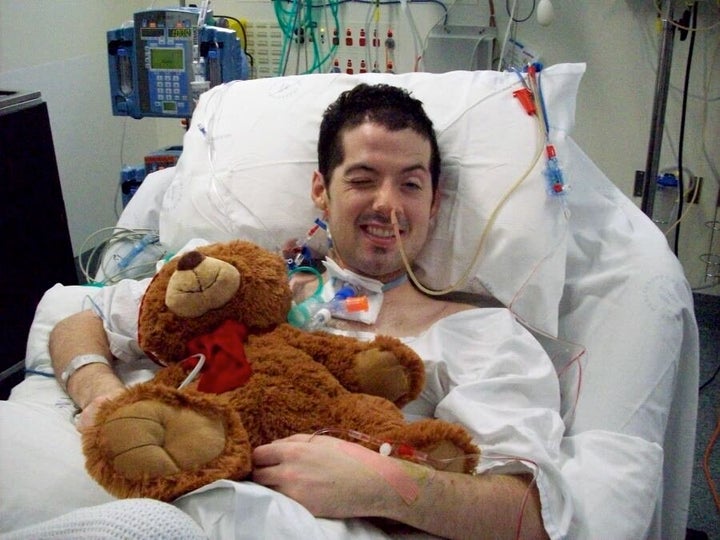 For Jodie Rushton, 49, two "pimple-sized" aneurysm ruptures left her fighting for her life in intensive care a fortnight ago. "It was in the afternoon and she just got home from work," her daughter Tiffany Rushton told HuffPost Australia. "She couldn't stand, she was trying to use the bench and she couldn't move her legs. The weird thing was she was talking saying she felt sick and she was vomiting.
"She had a seizure and my brother ran out the front to get help. Luckily, the lady who lives across the street, Megan, who we'd never spoken to before works in a hospital so she was able to help and knew what to do."
Once the ambulance arrived, Rushton had another seizure and the paramedics put her into an induced coma. Up until that point she was refusing to go to hospital, insisting it was just a headache.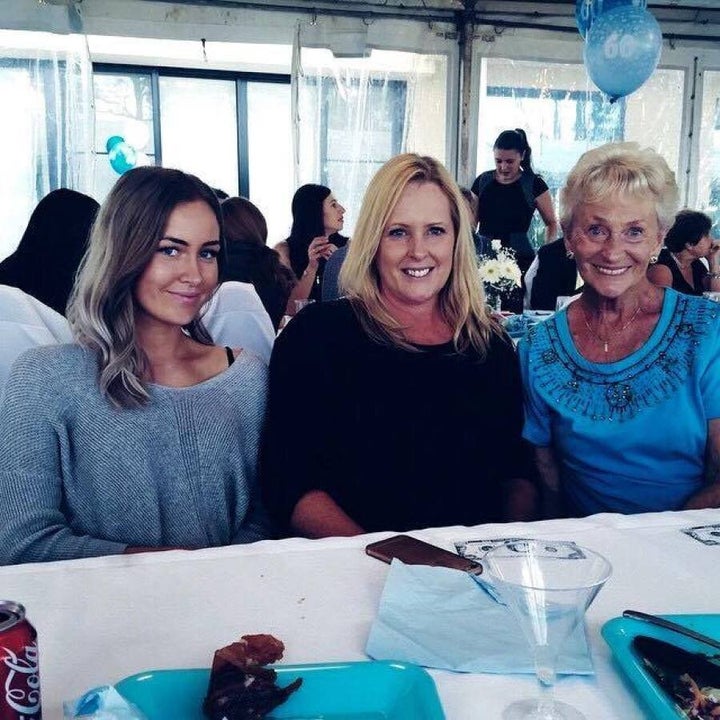 "Mum was in ICU for 12 days in total and is now in a brain ward. They woke her up just over a week ago and we were petrified she wouldn't be able to talk or would have memory loss. The left side of her body wasn't moving at one stage but now it is and every day she's getting stronger," Rushton said.
"She was able to speak, too. It was hard to understand at first, like she was speaking another language, but every day she's been better and she can eat and speak. We still have to feed her but she can swallow by herself. The speech pathologist and physios have to help her until she gets stronger."
Rushton and Rixon have one more thing in common -- they were both otherwise healthy. But this isn't always the case.
"Smoking and excessive drinking both increase the risk as does family history in a first-degree relative," Nichols said.
The oral contraceptive, hormonal changes and hypertension can also have an impact.
"Females are at higher risk. And there's a two-to-one prevalence in females to males," Nichols said.
According to Nichols, the younger the patient, the higher their chance of survival -- granted they make it through the initial bleed.
While Rixon and Rushton can be considered two of the "lucky" ones they don't always see it that way.
Rixon says being told by medical professionals that he wouldn't be able to sing again was the hardest part for him.
"I initially had a paralysed vocal cord and I was a professional singer. I was miming words with an eyepatch thinking 'maybe I'll be able to join [the Chicago tour] in a few months', I just had no idea and when that realisation happened it was sad," he said.
"My voice was the way that I expressed myself and that had been cut off. But I proved them wrong."
Rixon spent a total of five weeks in ICU and went through over a year of speech pathology and physiotherapy. He spent around four months in hospital and two and a half years in outpatient rehab.
Rushton doesn't yet know what her recovery journey will look like, but her family and friends are proud of how far she's come in such a short amount of time.
"She's so strong so we know she'll get through this," Rushton said.
"We haven't had the easiest 12 months. I know no-one deserves for this to happen, but she really doesn't. She was just starting to get her life back on track, we moved to a new place, she just started dating someone new -- who happens to be her first ever boyfriend from when she was 17 -- so it's been hard."
Rushton's family and friends have set up a GoFundMe page to help pay for rent and bills while she's unable to work. To date, it's had over $14,000 worth of donations.
"Mum works at Forest Lodge Cemetery in Leppington and helps people deal with the grief of losing loved ones. So now that the situation is flipped everyone is rallying around her because she's always there for them."
"At first, when we set up the fund, mum said she didn't feel comfortable but when we explained that it would help look after Jaye and I she was a bit more OK with it," Rushton said.
"She's been overwhelmed with the support, especially since income protection and insurance takes a while. Her work has been amazing and they're still paying her and she has a lot of leave accrued so that helps."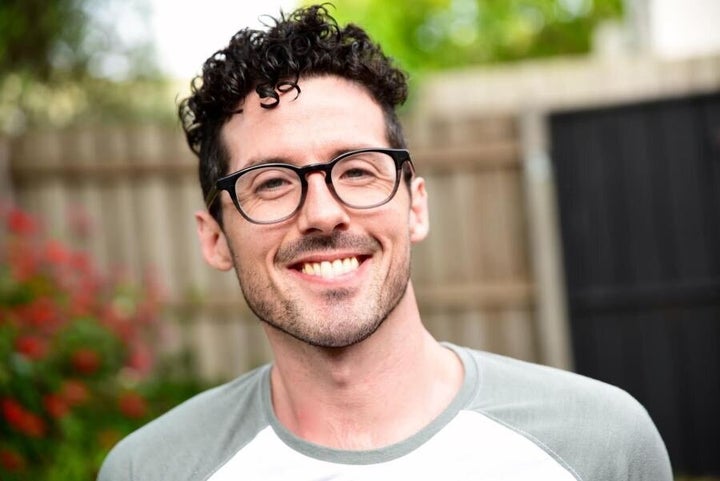 Now 30, Rixon has used his experience to help other young trauma sufferers connect. He launched the Gen Y United Survivor Network (Genyus Network) which is a digital platform for young trauma survivors and supporters that aims to optimise their quality of life and connect their experiences.
"When it happened I felt a bit robbed of my identity. I felt like a victim but once I found hope I found a lot of different ways of engaging with people," he said.
"When it comes to this stuff, young people aren't the norm and it's a bit scary to talk about it but people like me have a lot to say."
Both Rushton and Rixon hope their experiences can help raise awareness around brain aneurysms so that others can recognise the symptoms.
"In Australia we don't have headaches as a symptom on any of our stroke awareness campaigns," Nichols said.
"People don't often alert professionals over a headache. They sit on them and assume it's nothing. But if you're getting headaches more frequently than normal you should see your GP."
"My mum always had headaches and it's scary to think it could have been that the whole time," Rushton said. "I really hope this helps at least one person see a doctor sooner."