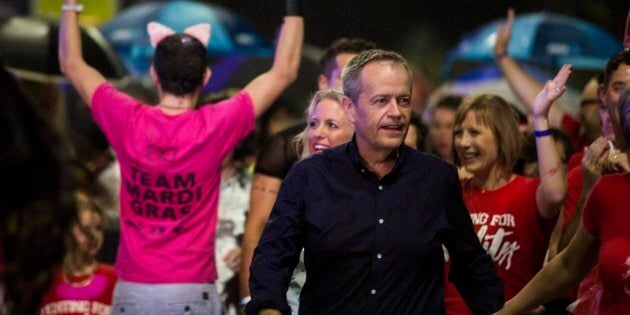 If you're reading this and you haven't checked your enrolment details, check them now.
If you're reading this and you're one of the 500,000 Australians aged 18-39 who aren't even enrolled to vote, enrol now.
If you know someone who hasn't done either of those things: a friend, a sibling, a classmate, a housemate, a teammate, a colleague -- stop reading this and tell them to do so now.
This is about a clear, simple question for Australia: Do we support equal legal recognition for the love and devotion of same-sex couples?
My Party does and we have been ready to vote for marriage equality in the Parliament for every day the Liberals have fought among themselves about it.
We didn't want Malcolm Turnbull's divisive and unnecessary $122 million taxpayer-funded survey; the easiest, fastest and cheapest way to deliver marriage equality is through a free vote in the Parliament.
I do not believe LGBTQ Australians should be subject to a different law-making process from the rest of the country, and same-sex couples shouldn't have to write to every other Australian to ask for their permission to get married.
But if we're stuck with this postal survey, then all of us who support marriage equality have two responsibilities. First, we have to call out discriminatory nonsense and homophobia wherever and whenever it occurs. Second, we have to enrol, say 'Yes' and win.
So let's concentrate on what's really at stake here.
This is about bringing a new measure of hope and happiness to the lives of tens of thousands of Australians whose love has been denied equality under the law for too long.
This debate is about Australians like Wilma Lawn. Wilma is 89, she has 14 grandchildren and three of her grandsons are gay. After her husband of 62 years passed away, Wilma wrote to me about her grandsons and their partners, saying:
"I see the same love and commitment that my husband and I shared, just as much as all my other grandchildren who are happily married.

Nothing would give me greater pleasure than to attend their weddings."
This debate is about Tony Rogers and Kenn Armstrong from the Blue Mountains, who've shared each other's lives for 23 years. When Kenn needed a kidney transplant, Tony was the donor. Both men are proud Australians, they love our country, they can trace their ancestry back to the First Fleet. They could have gone overseas to get married, but their home is here, their loved ones are here and they deserve the right to get married here.
This debate is about Sophie Meredith and Alison Gerard, who have been together for eight years. They wear rings, they have two children they adore. They fulfil all the obligations of marriage: care, respect, love and family.
Yet in the eyes of our laws -- somehow they are different, somehow their love is counted as less.
Every street in Australia is home to stories like this. Hardworking people, raising children, building communities, serving the country -- made to feel like second-class citizens through this last lingering relic of legal prejudice.
I live in a blended family. I have stepchildren who I love as my own children. One of the reasons Chloe and I chose to re-marry is because we wanted a sense of formal equality between our other children and their baby sister.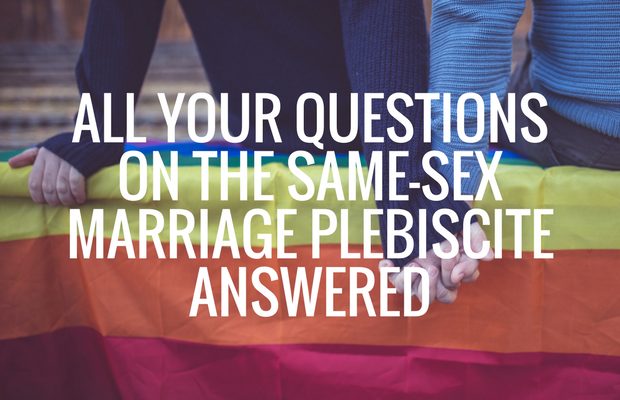 We're familiar with people who talk about the superior value of a 'traditional' family. But for LGBTQ Australians and their families, those criticisms are far more common, far more cruel and they are backed-up by actual, legal discrimination.
For same-sex couples and their children, 'moral bullying' is an all too real part of everyday life. And it's well past time campaigners for the 'no' case stopped their baseless attacks on good parents and good people.
Opponents of marriage equality like to dismiss this debate as 'identity politics'. In one small way, they're correct -- this debate is about identity.
It's about our national identity, our sense of self, the Australia we want to see in the mirror. It's about how we hold ourselves in the world, as a confident, forward-looking, diverse nation.
How can we call ourselves the land of the fair go if we continue to discriminate against our citizens on the basis of who they are and who they love?
LGBTQ people are our neighbours, friends, siblings, children, teammates, colleagues and classmates. They are equally patriotic, equally loving, equally decent Australians -- and it's time they were equal in our laws.
This postal survey is a terrible idea, dreamed up by people who would rather marriage equality never happens. The strongest possible act of defiance against opponents of equality is to enrol, vote 'Yes', and win.