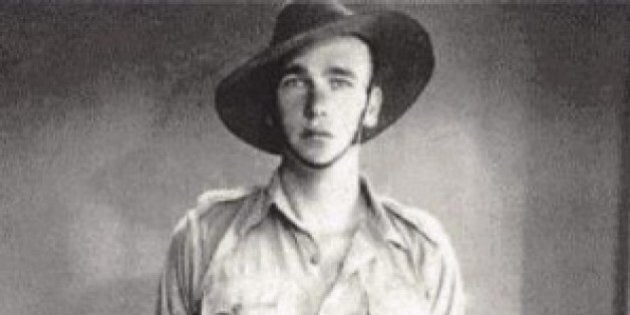 Historians and relatives can now search through rare and important World War II records, as more than 20,000 Australian Prisoners of War records are published online for the first time.
Many of those who were captured during WWII endured barbaric conditions and found it difficult on their return to discuss the experience. Now relatives can get an insight into the horrors of war, as thousands of personal diary entries are now available online.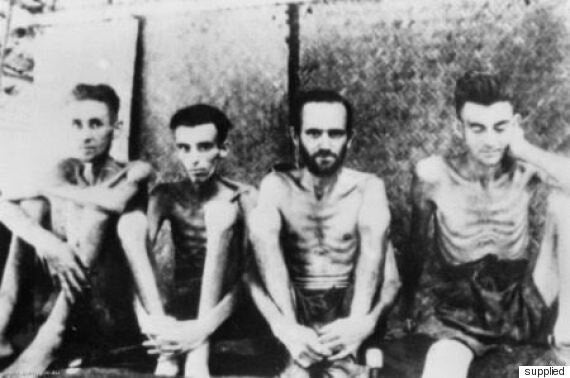 A group of POWs in Burma.Picture Supplied
The valuable records have been released by the National Archives and published at family history research site, Findmypast; containing the names, ranks and locations of Prisoners of War (POWs), along with the length of time spent in camps, the number of survivors and details of escapees.
The release is so valuable because many official WWII records are still protected under privacy laws.
The National Archives UK decided to release these records to coincide with the 70th anniversary of the end of the war, and the anniversary of the liberation of the notorious Changi Prison camp in Singapore. Of the one million records released, at least 20,000 are Australians -- the real figure could be much more because, in many thousands of records, no nationality was recorded.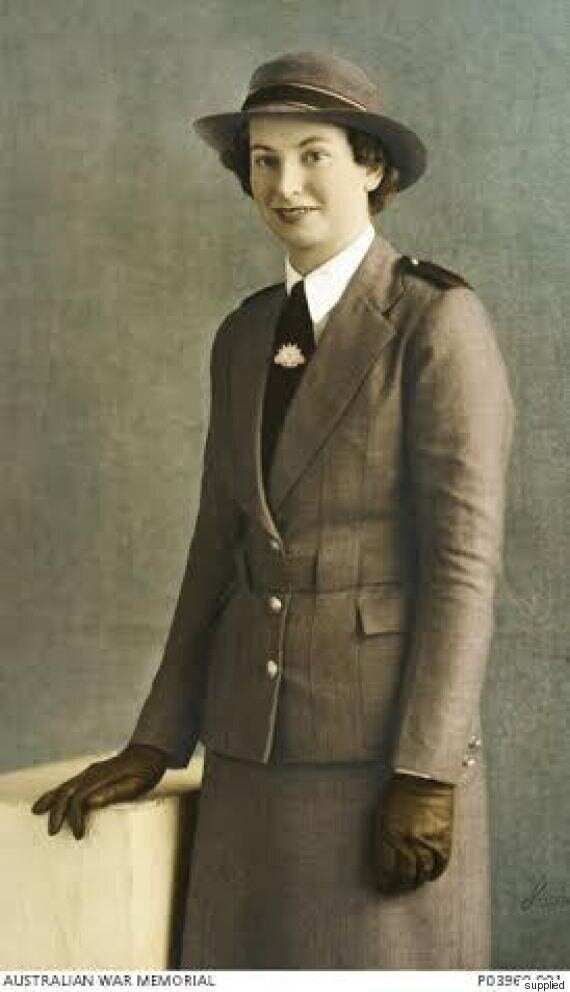 Vivian Bullwinkel. Picture Supplied
National Archives Military Records Specialist, David Langrish, said the online publication of these records means people can learn more about their relatives' war experiences.
"It's now much easier for a wider audience to research this period and even find members of their own family. We're committed to widening access to our shared national records and the publication of these files is a significant development in facilitating this," Langrish said.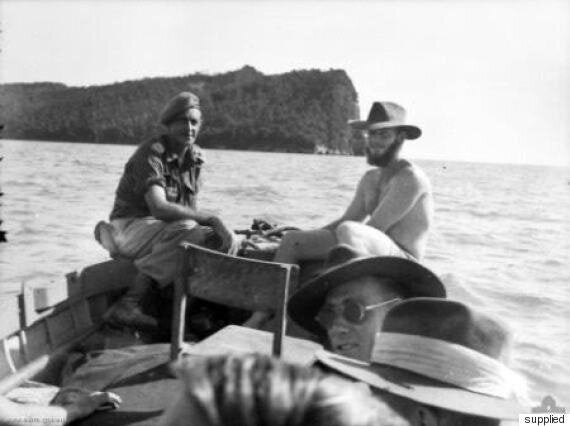 Jock McClaren. Picture Supplied
Vicki Dawson from Findmypast told Huffington Post Australia people will be able to gain valuable insight into what relatives went through during captivity.
"The records are so valuable because they shed light on the terrible things people may have endured as prisoners of war, something understandably many men never spoke about after release," Dawson said.
"While this is a dark time in Australia's history, these records do provide a sense of closure for people that had ancestors involved in WWII. These records are invaluable given the classification they've had until now and can further tell the story of heroics made by so many brave people involved in the war."
The war records of Archie Flanagan, the father of Man Booker award winning Australian author, Richard Flanagan, are now released. Archie was the inspiration behind Flanagan's bestselling novel, The Narrow Road to the Deep North, based on Archie's experiences as a prisoner of the Japanese.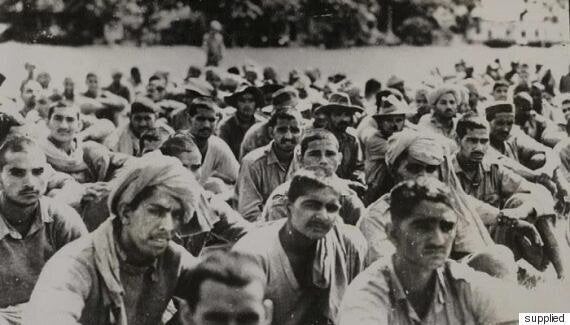 A group of POWs in Far East Asia. Picture Supplied
There are also the records of an Australian 'Captain R.D Wilkie', who wrote a very detailed diary of his times as a POW.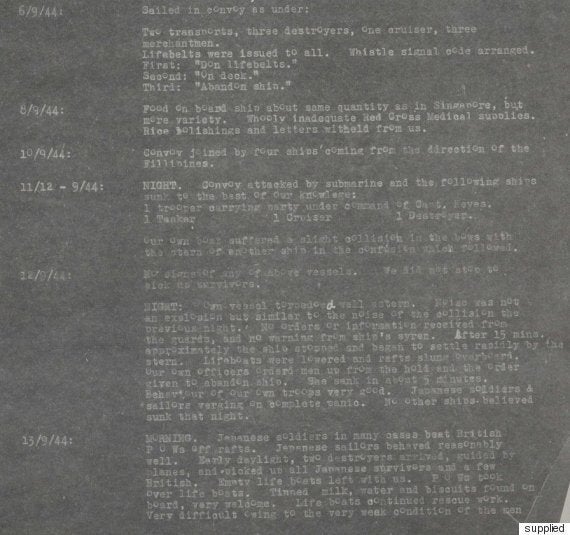 Diary of Captain Wilkie. Picture Supplied
War Diary for No 25 Prisoner of War: Captain R.D Wilkie
Arrived River Valley Road Singapore.
Accommodation: wooden platform. No side walls. Very bad condition. 300 men per hut. In some huts, the wooden platform is missing and men have to sleep on the ground. Started work at docks, loading and unloading cargo ships. Very heavy work.
10/8/44Hut collapsed, injuring 20 men…8 badly injured and moved to Changi.
Rations: Rice, about 650gm per day. A little dried fish, 2-3 times per week and tapioca root. Inadequate supply of cooking oil. Help received from Indian troops in next camp in the way of curry powder and extra rations. Complete rations totally inadequate.
Medical: main diseases beri beri, malaria, ulcers, dystentry, two deaths.
Morale: morale of troops declining throughout this period.
Here, Wilkie is describing a prisoner transport on board ship to Japan. Between 11-12 September the ship was torpedoed. Wilkie describes spending nights in a lifeboat before being picked up by Japanese a ship.
Sailed in convoy as under: two transports, three destroyers, once cruiser. Life belts issued to all. Food on-board ship about the same quality as Singapore but more variety. Wholly inadequate Red Cross medical supplies. And letters withheld from us.
NIGHT: Convoy attacked by submarine. The following ships sunk to the best of our knowledge. 1 trooper carrying party under command of Capt Keyes. 1 tanker, 1 cruiser, 1 destroyer. Our own boat suffered a slight collision in the bows with the stern of another ship in the confusion which followed.
12/9/44No sign of any of the above vessels. We did not stop to pick up any survivors.
Own vessel torpedoed. Noise was not an explosion but similar to the noise of the collision the previous night. No information or orders received from the guards and no warning from the ship's siren. After 15 minutes the ship stopped and began to settle rapidly by the stern. Lifeboats were lowered and rafts slung overboard. Order given to abandon ship. She sank in about five minutes. Behaviour of our own troops very good. Japanese soldiers and sailors verging on complete panic.
MORNING. Japanese soldiers in many cases beat British POWs off rafts. Japanese sailors behaved reasonably well. Early daylight, two destroyers arrived, guided by planes and picked up all Japanese survivors and a few British. Empty life boats left with us. POWs took over lifeboats. Tinned milk, water and biscuits found onboard. Very welcome.
The records also include some of the most infamous POWs:
Ronald Searle, whose harrowing sketches depicting the inhumanity of life in the camps of the Far East are in stark contrast to the much-loved St Trinian's cartoons for which he is most known
Immunologist Dr Bill Frankland: at 103 years old (and still a practising doctor), he is just one of many prisoners who did not speak of their experiences until very recently
Eric Lomax, whose defining account of life in the camps, The Railway Man, was made into a major feature film starring Colin Firth
The names of the 76 escapees from Stalag Luft III, immortalised in The Great Escape, grouped according to their fates
Accounts showing that the shooting of British POWs by the Nazis – in defiance of the Geneva Convention – was conducted at the 'express personal orders' of Hitler.