As the holiday season approaches and calendars start filling up, it's a great time to start making plans for Christmas baking.
For anyone with food allergies or sensitivities, the best gift you can give them is inclusion. While it's not always convenient to provide an allergy-friendly option at events, the extra effort will always be appreciated.
It's important to note that when preparing food for someone with food allergies to read ingredients carefully and be aware of cross-contamination. Ensure your kitchen surfaces and utensils are clean and free from any trace of food allergens, and cook allergy-friendly dishes separate from other dishes. (Also, consider lining your bakeware with parchment paper.)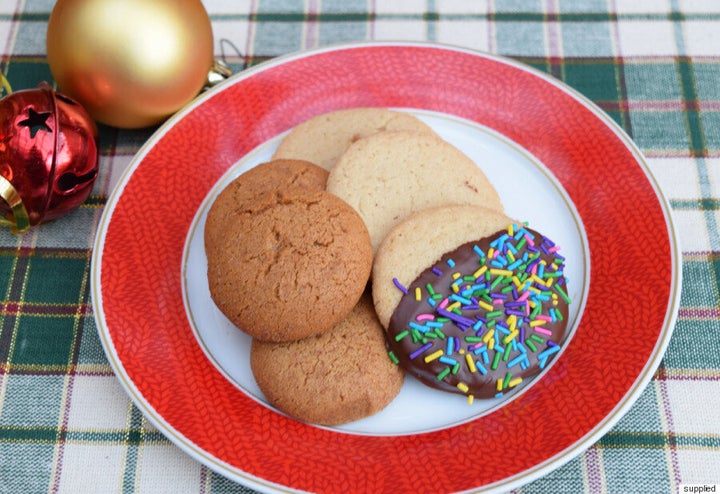 It can sometimes be difficult to find recipes that are free from the top allergens, so I've pulled together a list of allergy-friendly Christmas cookie recipes.
Here are 10 cookie recipes that are nut-free, gluten-free, dairy-free, egg-free and soy-free.
Gingerbread is typically flavoured with ginger, cloves, nutmeg or cinnamon and sweetened with honey, sugar or molasses. Here is a gluten-free, nut-free, dairy-free, egg-free and soy-free recipe for gingerbread.
Traditional shortbread biscuits are made from one-part white sugar, two-parts butter and three-parts flour by weight. This delicious shortbread cookie recipe uses a gluten-free flour blend, coconut oil, tapioca starch and powdered sugar to create a crispy and light cookie.
Sugar cookies are often shaped and decorated with frosting or sprinkles, which make them popular during the holidays because you can make them fun and festive. This sugar cookie recipe uses gluten-free flours, and replaces the eggs with applesauce and the butter with dairy-free margarine.
No holiday party is complete without decadent homemade chocolate truffles. This is a simple 2-ingredient recipe using chocolate and coconut milk. Make a variety by rolling them in allergy-friendly toppings like cocoa powder, shredded coconut, finely chopped roasted sunflower seeds or sprinkles.
The possibilities are endless with these gluten-free double chocolate thumbprint cookies. This recipe is easily converted to dairy-free by using a dairy-free butter substitute. Decorate with sprinkles, candy cane pieces or chopped roasted sunflower seeds.
These sweet coconut bites are a festive treat. While they are traditionally made with eggs, almonds, flour and sometimes condensed milk, this easy-to-follow recipe uses coconut milk, gluten-free flour and honey to make a delicious and moist macaroon.
These gluten-free, vegan and nut-free snow globe cookies are easy to pull together and require no baking. High in protein and fibre, these soft and chewy cocoa cookies are made with oats, hemp and flax seeds and are dusted in powdered sugar to add a festive snowy setting to any holiday table.
Chocolate and peppermint are considered holiday comfort foods, and peppermint patties are the perfect marriage of these two flavours. This recipe requires no baking and replaces the dairy used in traditional recipes with coconut oil to make an allergy-friendly version of an old favourite.
No eggs are needed to make these perfectly airy and crispy meringue cookies. This simple recipe only requires sugar, vanilla and aquafaba (chickpea water). For a festive twist, make peppermint meringue cookies by adding ¼ teaspoon of peppermint extract to the recipe.
10. Holiday Cookies for Non-Bakers
For those who are time-strapped or just don't enjoy baking, there are delicious allergy-friendly packaged cookies. Many boxes are clearly labelled and certified peanut-free, nut-free or gluten-free. Read all ingredients carefully, as peanut-free does not always mean it is also tree nut-free. One of my go-to brands for treats is Enjoy Life, as these products are free from top allergens, easy to find in most grocery stores and they have a selection of festive flavours like shortbread, gingerbread spice and snickerdoodle. To add a homemade touch, dip the cookies in melted dairy-free chocolate chips and decorate with festive sprinkles.
Pauline Osena is a food allergy advocate and founder of HypeFoodie.com, an online resource for allergy-friendly living. This former dairy junkie became an expert in allergy-friendly cuisine while figuring out how to feed her child with multiple food allergies. Pauline aims to inspire culinary adventures and experimentation with her series, "An Allergy-Friendly Makeover," and shares the valuable knowledge she has gained from her trials, errors and adventures in living with food allergies with "The Allergy-Friendly Top 10." Pauline's short-term goals include getting a full night's sleep and drinking her entire cup of coffee while hot.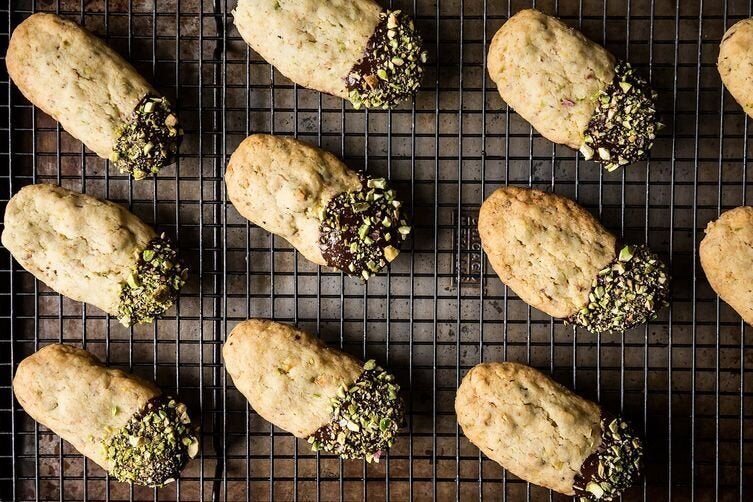 Christmas Cookie Recipes