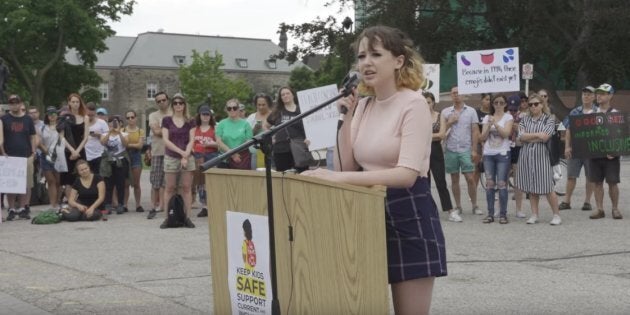 Rayne Fisher-Quann was seven years old the first time a man masturbated in front of her on the Toronto subway.
Now 17, it's happened to her five times. Men harass her on the street and TTC "almost daily," Fisher-Quann told HuffPost Canada in an interview.
"I can't even imagine how different my life would be if all the men who harass me on the street had learned about consent earlier," the Grade 12 student at William Lyon Mackenzie Collegiate Institute said.
On Friday, students at 73 schools across the province will leave class at 1 p.m. to attend rallies calling on the government to revive the previous health curriculum. Fisher-Quann organized the walkout with Indygo Arscott from Decolonize Canadian Schools to show Premier Doug Ford's Progressive Conservative government that students care about what they're learning.
Story continues after video.
Ford's government scrapped the curriculum, which was introduced by the Liberal government in 2015, after being elected in June. Teachers were directed to teach a health curriculum first introduced in 1998, until the PCs can consult parents in all 124 ridings across Ontario and rewrite the curriculum.
So, high school students won't learn what "consent" means this year. They won't be taught about sexting, cyberbullying, gender identity or same-sex relationships.
Fisher-Quann was in Grade 9 when the updated curriculum was first brought in.
"Immediately, I could see such a difference in the quality of education that was being taught," she said. "I would talk to people around me and they would be like, wait, I didn't know [sharing] nudes was illegal. I didn't know about the close-in-age law."
I just knew immediately that I had to do something.Rayne Fisher-Quann
She said she was "gutted" when she heard Ford would scrap the curriculum.
"I just knew immediately that I had to do something."
NDP MPP Marit Stiles asked the minister of education about Fisher-Quann's walkout in question period at Queen's Park on Thursday.
"Students across our province are staging walkouts to protest the chaos brought on by this government's rollback of sex education," Stiles said.
"Will the Minister of Education tell the House how long Ontario's youth will be forced to learn from a 20-year-old health curriculum while the government delays its work on the curriculum consultations?"
Minister of Education Lisa Thompson said that she looks forward to hearing from parents and students on the topic.
"We look forward to the information and the consultation responses that we are going to foster. We are going to be embarking on a unique situation whereby we will utilizing telephone town halls and online responses, in terms of a survey that will be released at the end of this month, and we will be entertaining written submissions as well."
Asked by email if the minister would consider meeting with Fisher-Quann, a spokeswoman for the ministry said, "We encourage every interested person in Ontario to participate in the province-wide education consultations set to begin next week."
Fisher-Quann said that she will "absolutely" participate in the government's consultations, but she would rather speak to Thompson or the premier directly.
"We're not going to let this go," she said. "This is something we're going to keep fighting for."
Popular in the Community