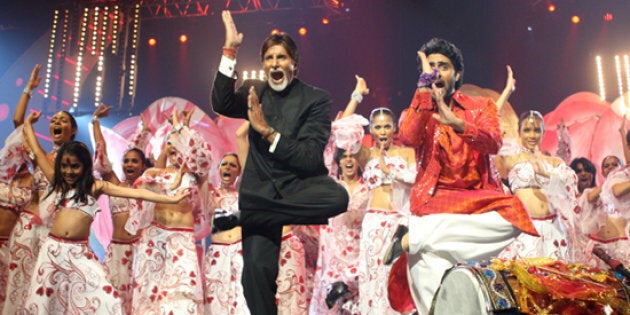 The 2011 International Indian Film Academy Awards are bringing the excitement of Bollywood to Toronto this June 23rd to 25th and the buzz for this extraordinary awards show is at a fevered pitch. The glitz and glamour of the popular Hindi cinema industry is set to take over Toronto and you won't want to be left out - here's the definitive insider's guide to IIFA 2011 to keep you in the know.
This year marks the 12th year of the International Indian Film Academy Awards, and the first time this awards ceremony will be in North America. Seeking to promote Indian cinema all over the world, the Academy chooses a different international city to host the IIFA Awards each year. Having celebrated its inaugural year in London, IIFA has since traveled to exotic locations like Malaysia, Dubai, Thailand and most recently, Colombo. With over a million people from the South Asian community calling Canada home, Toronto could not have been a more perfect choice for the 2011 IIFA Awards.
An enormous, extravagant three day affair like the IIFA Awards doesn't come without its controversy or confusion, and despite being only a week away, many stars' attendance at IIFA 2011 remains a mystery, yet the discussion and debate surrounding their attendance is deafening. Social networking sites like Twitter and Facebook are alive with millions of Bollywood fans speculating as to who will show up and when; the rumors are understandably endless.
Last week fans and members of the media were thrilled to hear that Bollywood power couple Abhishek Bachchan and Aishwarya Rai would be at IIFA 2011, but Bachchan quashed the rumors on Twitter, denying their attendance. Bachchan's father and arguably Bollywood's biggest and most respected star, Amitabh Bachchan, has always hosted the IIFA Awards but this year took to Twitter to confirm he was not. Rumors about his absence instantly flooded the blogosphere, many of which suggesting he had not been asked to host. Anil Kapoor and Preity Zinta announced the 2011 IIFA Awards in January (read the article here) but Zinta told fans just days ago that she would have to bow out, due to scheduling conflicts with a movie she's shooting.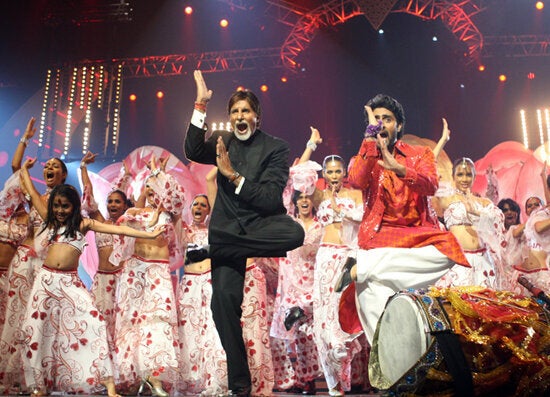 Amitabh and Abhishek performing at an IIFA show
This year actors Riteish Deshmukh and Boman Irani will be hosting the awards and there is a slate of other stars who will be performing throughout the weekend. Veteran Bollywood star Salman Khan will present the opening film on June 23rd with Chillar Party, the first film to be co-produced by Salman Khan Being Human Productions, and the next day will be all about style, with the fashion extravaganza IIFA Rocks being hosted by Saif Ali Khan, featuring performances by Dia Mirza and Mallika Sherawat.
After two incredible days celebrating film and fashion masala style, the final awards ceremony on the night of June 25th is sure to be an explosive end to an incredible IIFA weekend. Though no one can say for sure, insiders are expecting performances by Bollywood heartthrob Shah Rukh Khan, former Miss World Priyanka Chopra, actor and Indian dancing phenomenon Hrithik Roshan and... time will tell.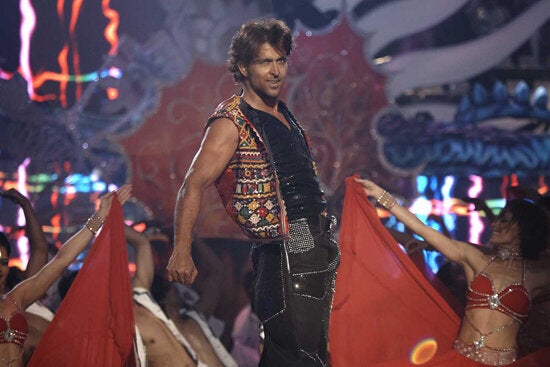 Hrithik Roshan performing at an IIFA show
Who else can thousands of IIFA attendees and an estimated 700 million international viewers expect to see over the three day festivities? So far the confirmed list includes actresses and Indian fitness goddesses Bipasha Basu and Shilpa Shetty, popular Bollywood director and host of Koffee with KaranKaran Johar, Dabaang diva Malaika Arora Khan and her husband Arbaaz Khan, talented Bollywood newcomers Sonakshi Sinha and Anuksha Sharma, young hero Ranveer Singh, bad boy Sonu Sood, former model Dino Morea, Vikas Bahl, Arjan Bajwa, Vishal Bharadwaj, Bobby Deol, Esha Deol, Sunny Deol, Dharmendra, Neha Dhupia, Javed Jaffery, Neetu Kapoor, Rajiv Kapoor, Randhir Kapoor, Rishi Kapoor, Fardeen Khan, Sonail Khan, Zayed Khan, Madhavan, Hema Malini, Kangana Ranaut, Shankar-Eshaan-Loy, Shatrughan Sinha, Ramesh Sippy and Arshad Warsi.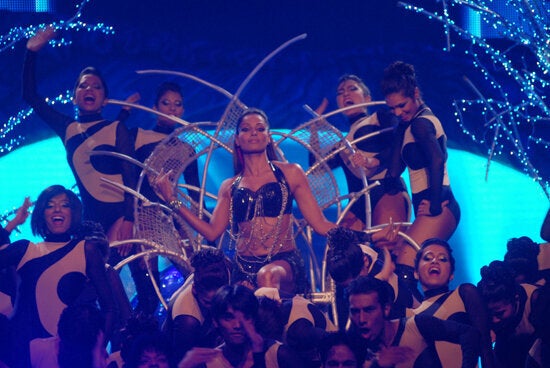 Bipasha Basu performing at an IIFA show
Despite being confirmed, all this could change - stars could drop out, while others could hop on. I'll be tweeting all the changes as they happen so be sure to follow me on Twitter.
Okay, now you know who's (likely) coming but do you know what they're nominated for? As with the Oscars - and IIFA really is the Oscars of Bollywood - be sure to remember what's nominated for Best Film. These five films feature wedding planning, a crooked but kind policeman, underworld dons, 9/11 tensions and Indian politics.
Once Upon A Time in Mumbaai
Bollywood stars are treated like Gods and nothing is more divine for an actor than Best Performance in a Leading Role. The Bollywood hunks and heroes that are nominated this year:
Hrithik Roshan - Guzaarish
Shah Rukh Khan - My Name is Khan
Ajay Devgn - Once Upon A Time in Mumbaai
Ranbir Kapoor - Raajneeti
Bollywood heroines that won fans this year on the big screen:
Anuksha Sharma - Band Baaja Baaraat
Kareena Kapoor - Golmaal 3
Aishwarya Rai Bachchan - Guzaarish
Interested to know who and what is nominated in the other 2011 IIFA Awards categories? Click here to find out.
The 2011 International Indian Film Academy Awards weekend will be a whirlwind of film, fashion and fun that no one should miss! If you weren't lucky enough to get a ticket within the few days before they sold out, fret not - I'll be reporting on everything from the dazzling, opulent, spectacularly riotous weekend and you can bet the surprises will be endless and the stars as scintillating as ever. Stay tuned!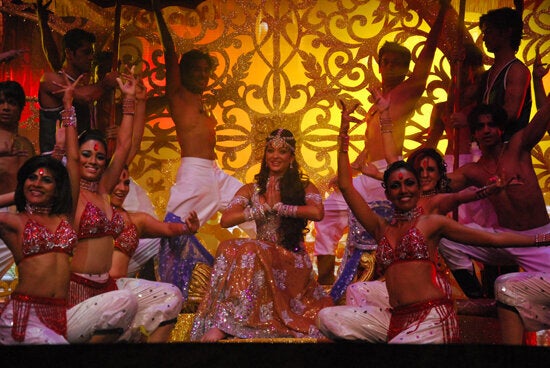 Aishwarya Rai performing at an IIFA show
All photos courtesy of Wizcraft International Entertainment/IIFA.