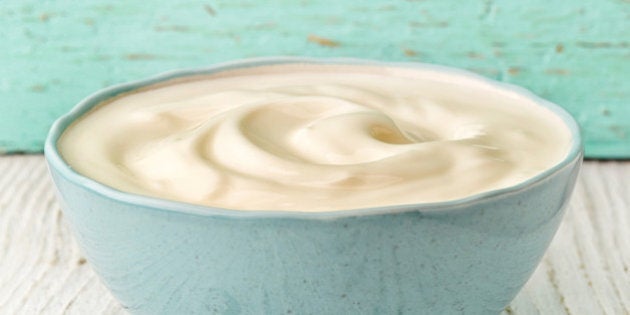 Greek yogurt is one of my kitchen staples. My husband actually makes fun of me because he sees me eat it every day, and he hears me recommend it to clients, in interviews, and to him, all the time. But Greek yogurt has a lot more going for it than just taste!
One of its biggest attributes is that Greek yogurt has twice the protein than normal yogurt, which is great for satiety. As someone who recommends around 20 grams of protein at each meal, I use and recommend Greek yogurt as a breakfast staple precisely because of the high amount of protein in it. It's sometimes a challenge to get your 20 grams of protein at breakfast, but Greek yogurt makes it simple. Replace your bagel or cereal with 3/4-1 cup of Greek yogurt at breakfast, and you'll be energized and satisfied for hours.
Greek yogurt is incredibly versatile! I've used it in my High Protein Apple Pear muffins, overnight oats, potato salad, and grits. My clients keep tubs of it in the fridge at work and bring it to their kids' soccer games as an after-sports snack. At dinner, I swirl it into soups, mash potatoes with it, and use it in salad dressings. It adds a protein boost to anything it's added to.
If you're worried that you need to limit yourself to just 0% yogurt, think again! The great news is that pro-milk fat evidence seems to be growing. I'm a 4% girl, and I don't go lower than 2%.
Recent studies (here, and here) have suggested that increasing your milkfat intake does not cause weight gain; quite the opposite, in fact. Eating higher-fat dairy may keep us lean. It may also help prevent diabetes.
Happily, my favorite brand of yogurt, Oikos, has recently come out with 2 new sizes of their plain yogurt ! They now have 850 gram tubs of the 4%, which I'm really happy about because I used to have to buy 3 or 4 a week to keep me in yogurt. 4% milk fat is also my favorite - I eat it every single morning for breakfast with a handful of granola. Delish. Oikos is also the only yogurt in Canada that now has 4-packs of their 100 gram size in 2% milk fat. Yay! For those of us who love plain 2% yogurt, this is a huge deal!
Both of these sizes are really handy - I keep the tub in my fridge at home, and bring the little guys to work for snacks!
The benefit of plain yogurt is that it's ready to accept anything you want to put in it: savory (yes, savory yogurt is becoming a thing, and it's fabulous) or sweet. Here are some mix-ins I've been loving lately using plain Greek yogurt. These healthy, high-protein snacks will keep you going all day long:
Chickpeas, lemon, mint, and olive oil.
You can pre-make this one in a mason jar and layer the ingredients, or swirl them together in a bowl. Add some sriracha for a healthy kick! To turn this from a snack into a meal, toss in some cooked quinoa to round it out.
Fresh figs, pistachios, and honey.
I've never actually been to Greece, but I imagine that this snack would be something I'd eat while basking in the sun there. It's also the perfect trio of protein, carbohydrate, and fats to satisfy.
Almond butter and cinnamon.
Nut and seed butters mix really well into yogurt! I'd even soften the almond butter in the microwave to pour it into the yogurt, then sprinkle with cinnamon.
Fresh coconut and cacao nibs.
I discovered this combination one day by accident. You can also use dried coconut shreds or toasted coconut chips. The cacao nibs add crunch and a delicious chocolate flavor that's full of antioxidants.
Tomatoes, basil, pine nuts, and olive oil.
This combination is different, savoury, and amazing - especially when sprinkled with freshly cracked black pepper.
Disclosure: I received monetary compensation from Oikos for writing this post. That being said, I would never promote, recommend, or take money from a company whose products I don't eat or feed my own family. I was excited to be able to write this post because I truly love Oikos yogurt's taste and I 100% believe in the product.