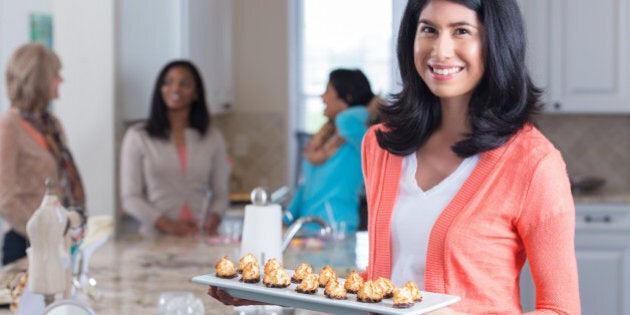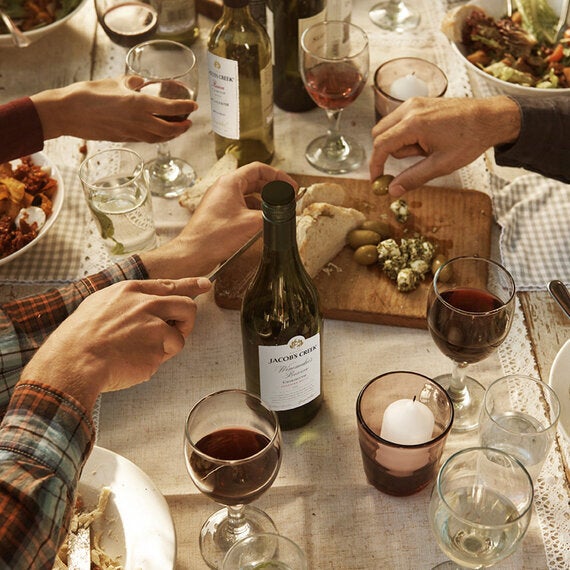 With the holidays around the corner (and being the hospitable friend that you are), you're probably already envisioning the festivities. But every good host knows that throwing a successful holiday party has its hurdles: the prep, the cleanup, entertainment, and what to wear?
But in the end, nothing beats bringing family and friends together. Growing up in a family of seven, dinner at our house every night was quite the event -- lots of food to plan for, but also lots of fun.
Whether you're throwing an intimate dinner party or a big holiday bash, I have a few helpful hints to help you host your next get-together with style and ease.
1. Plan your serving pieces ahead of time. This way you have time to either change your menu or pick up that extra platter and serving spoons that you'll need. Save time on the evening of your dinner party by using post-it notes to label the platters, bowls and spoons you'll use to plate your food. All you'll need to do is a little last-minute assembly, and you'll be free to enjoy quality time with your guests. It's also a great way to recruit some last minute help without having to explain anything.
2. Have appetizers ready when guests arrive. Make sure to have food out right away for guests to snack on, especially if you're serving alcohol. A cheese plate is always a favourite. A simple rule of thumb: serve a cheese from different categories like an aged, soft, firm and blue cheese to satisfy everyone's tastes. If you're serving Chardonnay, a triple-cream brie makes for a killer match! Don't forget to add crackers or bread, nuts and dried fruit to balance out the cheese plate's flavours.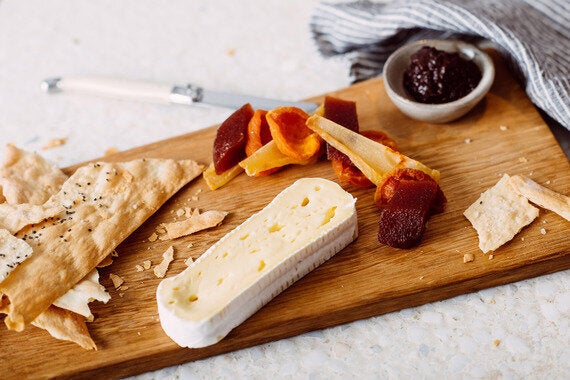 3. Keep the bar selection simple. To keep things simple, both in planning and so I can enjoy time with my guests, I like to have an easy-to-enjoy red and a chilled white wine on hand. Jacob's Creek Reserve Chardonnay is my go-to holiday wine because it pairs with a wide variety of foods and is a crowd-pleaser. Other great options include Stoneleigh Sauvignon Blanc and Graffigna Pinot Grigio. Trying to figure out how much wine to buy? You get 5 glasses out of a 750ml bottle. Do the math and then add a few extras just to be sure you don't run out.
4. Use place cards and mingle. It's human nature to want to stick to those you know but dinner parties are the best way to meet new people! If you have people coming to your party who don't already know each other, make sure everyone is introduced. Mix up the seating by using place cards and watch your friends make new friends.
5. Keep your guests connected. For the convenience of my guests, I print my Wi-Fi password and place it a pretty frame. I then set it in a central location for my guests to reference. Not only do guests appreciate it, but it avoids anyone having to interrupt your conversation to ask for the password. To add to the fun, I include a memorable hashtag that my guests can use when sharing their party photos.
6. Wear a cute apron. Make that apron your best friend for the entertaining season. The last thing you want while plating your entree is a huge splatter of gravy all over yourself. Play it safe and wear that apron!
To save the stress when entertaining this year, it's important to create a setup that works for you. If you do your planning ahead of time and remember my tips, you'll have no trouble hosting a night to remember.
Follow HuffPost Canada Blogs on Facebook
Popular in the Community