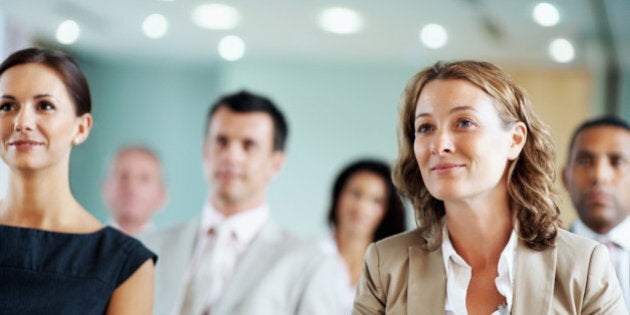 I've organized, attended, and spoken at a lot of events in my day, from large global conferences like LeWeb in Paris, to big U.S. events like SXSW, to local events in Canada including MESH. While most conferences follow the same format of formal programming and networking events, some events I've attended recently have made me realize it's so easy to go above and beyond the basic conference formula and make it an event that's more valuable for sponsors, attendees, speakers, and people following along online.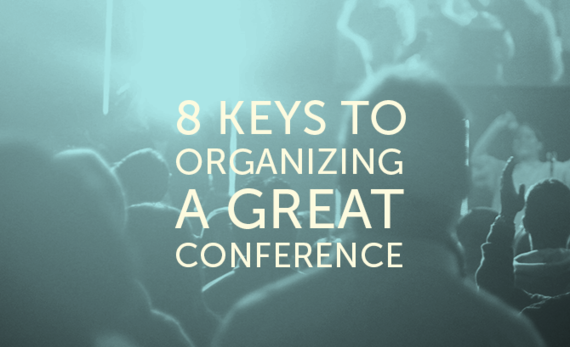 If you're in charge of organizing a conference or event here are my tips for making it amazing:
Provide a way for attendees to connect - Other than conference content, the best thing about an event is networking and meeting interesting people in your industry. Lately I've noticed most conference have devoted apps which allow you to view agendas and conference details; check out speaker and attendee bios; and even rate programming. At the recent Dell Women's Entrepreneur Summit (DWEN) in Cape Town I used the app to check room locations, browse through attendee bios, and even set up one-on-one meetings using the private messaging function.
Take networking events to the next level - Typically conference parties or networking events are held either at the conference venue or at a nearby bar. There are drinks, nametags, and lots of awkward networking. I love the trend of going above and beyond that to provide a unique experience for attendees. Trendhunter's Future Festival provides off-site adventures called Trend Safaris, taking attendees on graffiti tours, food tours, and other adventures around Toronto. Unbounce's recent Call to Action Conference in Vancouver gave attendees the option of attending a full day of fun activities before the event kicked off - this included a food tour of Granville Island and a trip to the Sea to Sky Gondola in Squamish. And Dell's annual women's entrepreneur conference always includes offsite events - this year there was a dinner and artisan market at a Cape Town theatre, and an event with food stations and traditional African performers. This lets attendees connect in a fun setting, and goes way beyond just offering open bar.
Find an interesting venue - Most conferences are either at a convention centre or typical conference venue, so I love when organizers get creative. I attended the Canadian Internet Marketing Conference (CIMC) in Squamish, BC this spring, and it was held in the West Coast Railway Heritage Park - you could check out old train cars in between sessions, and the venue had a backdrop of the mountains. This fall I'm speaking at Fireside Conference, an annual conference which is help at a camp - yep, the kind you went to when you were kids. The annual conference for entrepreneurs and tech enthusiasts brings over 300 people to a sleepaway camp, and encourages people to disconnect for the weekend and instead focus on making real connections (while eating smores). Getting away from the typical conference venue provides a unique setting, and in the case of Fireside Conference, a better chance to connect and unwind.
Make sponsors more than just a logo on a banner - Event organizers rely on sponsorships to make their conferences profitable, and every conference attendee is used to sitting through the "we'd like to thank our sponsors" talk. But great conferences engage sponsors above and beyond the logo on their website. At Unbounce's CTAConf every sponsor had an engaging presence - Campaign Monitor offered postcards they would mail out for you, and took notes in each session which were then made available to all attendees. Other booths had a digital caricature artist and massage chairs so attendees could have a unique experience while they chatted with company reps. It was the best use of sponsorship I've seen, mostly because it was a value-add to attendees, and I'm sure made the sponsorship more valuable to those companies.
Get creative with swag - Everyone loves a swag bag (especially Michael Scott), but often you find yourself rooting through your swag and discarding a bunch of postcards, and maybe keeping one or two things (let me guess: a portable phone charger and a travel coffee mug). The best conferences find a way to get creative with swag. For example at Dell's women entrepreneur conference, their swag bag was filled with products and offers from the entrepreneurs in attendance. This was cool because not only did you get to meet the creators of the products as you went through the conference, but you also knew that by using the products you were supporting women-led businesses. At CIMC and CTAConf they offered a unique take on swag: you had to earn tokens which could be exchanged for swag, kind of like playing Skee-Ball to earn tickets at Dave & Buster's. The more actions you performed - interacting with a sponsor, sharing on social media - the more tokens you earned, and the better the swag you could get (they were even offering flat-screen TVs).
Go above and beyond for speakers - Since I speak at a lot of conferences, I'm always pleasantly surprised when organizers go above and beyond to make sure you're prepared. At CTAConf Unbounce's co-founders reviewed presentations to make sure they were in line with attendee expectations, and they provided detailed ratings and feedback after my session - this ensures not only speakers are prepared, but attendees get better content (and a better outlet to provide feedback). I also loved the green rooms at both CIMC and CTAConf - they provided hair and makeup artists, refreshments, and also a "rider" - similar to how Mariah Carey has a list of demands at her conference, sponsor NativeAds asked speakers what they wanted to see in the green room and made sure it was there with a nice note - it was a really nice touch. My picks? Diet Coke and pretzels, natch.
Entertainment never hurts - Entertainment can take the form of an engaging MC, on-site performances, or the DJ at the after-party - but it always adds a creative element to an event. A great MC can keep people motivated and engaged, like Leah Gregg from Rethink Canada at CIMC. At Dell's DWEN conference they had an all-female African band perform to open and close the concert, which was an incredible way to be exposed to the local culture. And at conferences like TEDxToronto, they incorporate performances into the conference agenda. Adding some local culture and entertainment is always a great way to engage attendees, especially anyone who's from out of town.
Provide a forum for feedback - The best conferences are ones that listen to their attendees, speakers, and sponsors. DWEN asked attendees to rate every speaker, as did CTAConf - you could rate in real-time using the app. They also asked speakers for feedback on everything from the conference format to speaker preparedness. Real-time speaker ratings and post-event surveys help identify what worked and what didn't so organizers can tweak programming, and make it better in time for next year's event.
So there you have it -- my tips for organizing an engaging conference for attendees, speakers, and sponsors. What are the best events you've been to lately? And what made them stand out?
Follow HuffPost Canada Blogs on Facebook