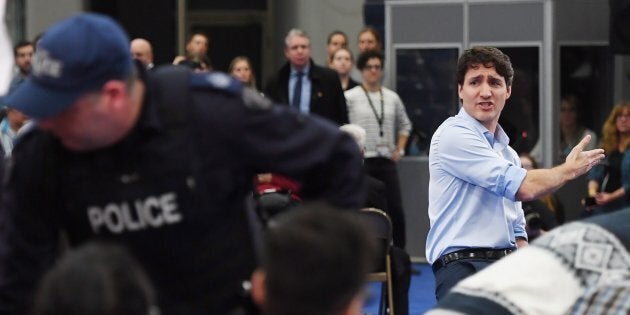 Prime Minister Justin Trudeau got one hell of a welcome to Nanaimo, B.C. Friday as his town hall tour brought him to a Vancouver Island University gym flanked with supporters and critics.
In a span of 10 minutes, Trudeau was called "my handsome precious one" by a senior who grilled him about "that damn pipeline" — and then asked for a hug — before losing his cool at hecklers yelling behind him.
"I am trying to engage with you. I am trying to speak with you," Trudeau told two women in the crowd. They continued their interruptions with shouts about a handful of issues including the Kinder Morgan pipeline expansion.
"I'm trying to answer a question from someone who asked me a question that is extremely important to her and I'm not able to answer her question that she asked of the prime minister because you think your voice is more important than her ability to listen," Trudeau said to the crowd's applause.
"That's not very polite."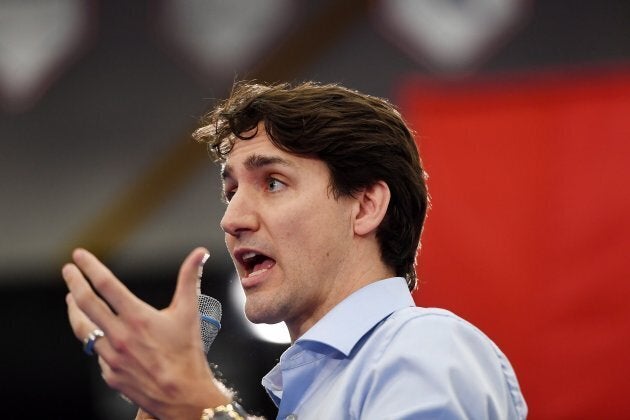 The prime minister turned his back and took other questions before the familiar voices of the two hecklers proved too distracting.
"C'mon!" Trudeau said after spinning around, surprised to see the two hecklers were still in the room.
The prime minister, who has been greeted by protesters at all stops on his town hall tour across Canada, suggested a line was crossed when one of the women made a remark that she didn't respect anyone in the room.
"You don't respect anyone in this room? Then I'm going to have to ask you to leave," he said. "If you don't respect the people in this room, please leave this room."
RCMP carried the hecklers away after they refused to leave. Security removed a man from the venue earlier for persistent heckling.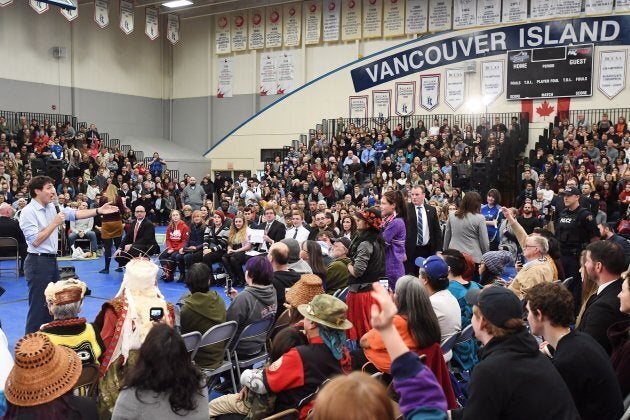 Tensions were high as soon as Trudeau walked into the venue. He was met with a mix of cheers and boos. As the town hall progressed, shouts of "shame!" were audible as the prime minister responded to several questions about pipelines.
Trudeau's Nanaimo visit comes one day after a stop in Edmonton where he defended the government's decision to approve Kinder Morgan's Trans Mountain project, which will expand the current capacity of 300,000 barrels per day to 890,000.
He told the B.C. crowd: "It is in the national interest to move forward with the Kinder Morgan and we will be moving forward with the Kinder Morgan pipeline."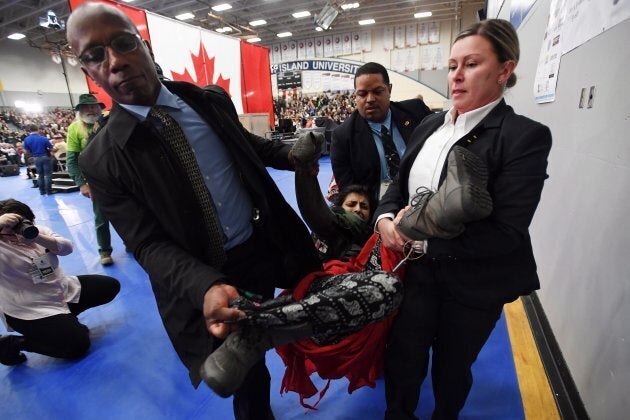 The B.C. minority NDP government recently announced its proposal to ban bitumen shipments off the West Coast, bound for Asian markets. The move infuriated the NDP government in neighbouring Alberta.
"We're prepared to do what it takes to get this pipeline built — whatever it takes," Alberta Premier Rachel Notley told reporters Thursday, while announcing her government will halt discussions to purchase electricity from B.C.