Lots of kids across Canada will dress up as Batman for Halloween this year, but none will have a costume as awesome as Troy Pardely's, that's for sure.
The five-year-old boy from Spruce Grove, Alta., got a big Halloween surprise from his barber, who built him a custom Batmobile to fit around around his wheelchair.
"It's pretty cool," he told HuffPost Canada over the phone.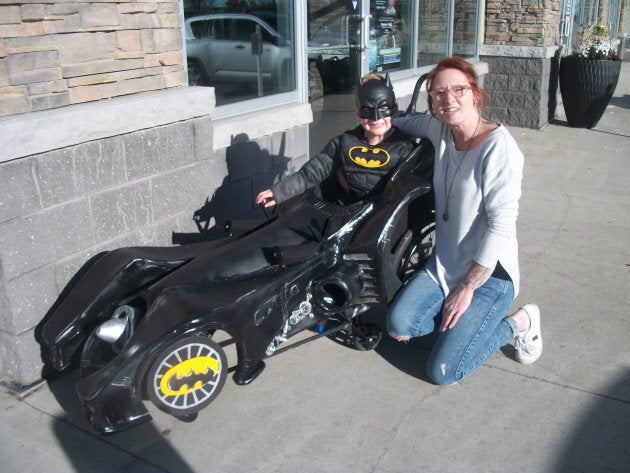 Troy has Charcot–Marie–Tooth, a hereditary, degenerating neuromuscular disease that causes progressive muscle-tissue loss in various parts of the body.
"Troy's mom was telling me about was how tired Troy got (on Halloween) last year and that she wanted to build him a Batmobile to go over his wheelchair, but she wasn't sure how good it would turn out," said Troy's barber, Katie Nagy, about her decision to help.
Nagy's been cutting Troy's hair for close to two years and said they'd become pretty good friends, so she wanted to do something to help her pal.
"I knew I could whip something up."
Although she has experience creating elaborate cosplay outfits, this was by far the most time she'd ever spent on a project.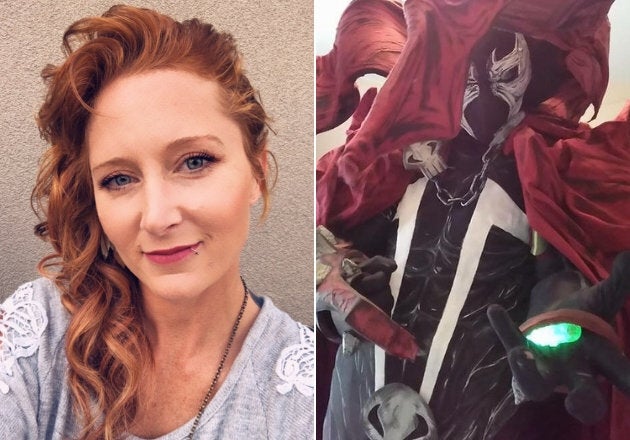 With help from her partner and son, she completed the Batmobile in approximately six weeks.
It's an impressive piece of work. The body was constructed mostly out of foam mats, to keep it light enough to manoeuvre. There are several sets of working lights, including head lights and tail lights. The front wheels are set up on clock calibres, so they spin as the wheelchair moves. Perhaps the coolest part of the project, however, are the silly string missiles.
"I wasn't planning on it being that elaborate," Nagy laughed, "but I was thinking, if we're going to do this, we're going to do it right."
Up until this year, Troy was able to live life without a wheelchair, but now uses it part-time to conserve energy and combat pain.
His mom, Charlotte, told HuffPost Canada that last year's Halloween was a bit disappointing for the pre-schooler.
"He could walk, but he didn't get very far before he was in too much pain to continue. I mean, what four year old gives up on free candy?
"So this year he's really excited; we'll be able to get a lot further and stay out a lot longer."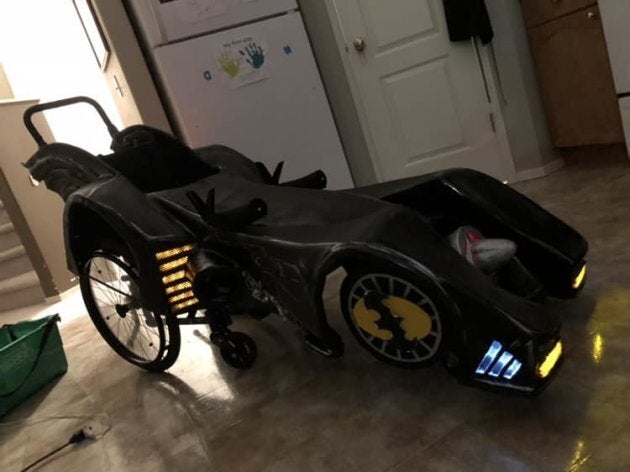 Nagy had just one meeting with Troy when she first got to work, to make sure her final creation would fit around his chair. So when she unveiled the finished project last week, she said it was a huge surprise for Troy — but also very rewarding for herself.
"Everyone I know has always been so encouraging of my talents (creating costumes), so for me to put those talents to good use for such an amazing boy is such a great feeling.
"There won't be any challenges for him this year, no pain. He can just be a boy enjoying Halloween."
Troy will likely get a couple years out of the Batmobile, his mom said, and then they'll happily to pass it along to another kid.
"We're just so happy and so glad to know that there's a lot of really good, kind-hearted people out there."
Check out some other kids with amazing wheelchair costumes: