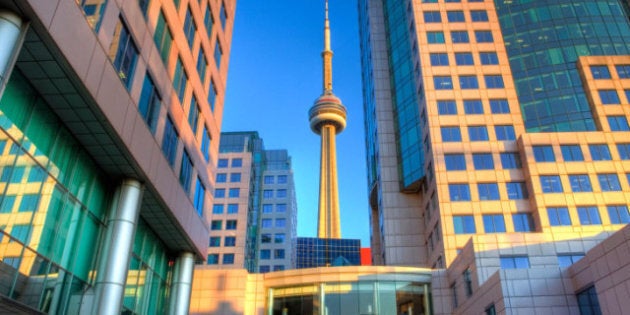 Former Conservative Party strategist Alykhan Velshi is not generally associated with efforts to reduce Canada's carbon footprint.
But that's about to change.
Velshi, who has been the driving force behind Ethical Oil -- a pro-industry campaign that aims to re-brand the Alberta oil sands -- was recently appointed to the board of the Toronto Atmospheric Fund (TAF), a city council committee that finances local initiatives that fight global warming, and lists Jack Layton as one of its original founders.
It's a decision that is drawing fire from critics, who are voicing concerns about an appointment they say defies logic.
According to Velshi, who occasionally blogs for HuffPost Canada, he was drawn to the position by the opportunity to keep an eye on TAF's bottom line "at a time of economy uncertainty."
"When I applied for the position, I saw my role on the board as ensuring that TAF fulfilled its mandate, and delivers value for money for taxpayers at a time of deficits," he says.
Velshi, who was an aide to former Environment Minister John Baird, says his history of working for "environmental causes" was "felt by city Toronto City Council to have given me a good deal of experience to contribute to this."
"I come into this role with an open mind, and I look forward to TAF's activities," he says. "I look forward to serving Toronto taxpayers in this voluntary, unpaid position."
But while Velshi may have received the approval of the majority of councillors, not all are on board.
As Adam Vaughan sees it, appointing a vocal advocate of oil sands production to a committee devoted to fighting greenhouse gas emissions "blows the mind."
"We have a group of radical libertarians in the mayor's office, and they actually think Ethical Oil is an environmental achievement," he says. "These guys are Orwellian. You can't make this stuff up."
EthicalOil.org, the website behind the re-branding campaign, has gained notoriety in recent months for its hard-hitting ads, which position the Alberta oil sands as an "ethical" alternative to the oil produced in undemocratic countries. The ads have ignited a dispute between Ottawa and Saudi Arabia.
Though Velshi announced this week that he is ceding control of the website (a decision he told The Huffington Post had nothing to do with the TAF appointment, but rather a natural end to his commitment to the project), Vaughan remains steadfast in his rebuke.
"I don't care what organization he does or doesn't belong to, the last thing he is is a progressive environmentalist," he says. "He's just another conservative appointed by an ultra-conservative mayor to undermine environmental initiatives in this city."
But despite the insinuation that Mayor Rob Ford is behind the appointment, Velshi maintains he has "never spoken to the mayor about this."
After submitting his application several months ago, he was interviewed by the Civic Appointments Committee, which then recommended him for the position -- the standard process for committee appointments. Council gave its stamp of approval in an in camera vote last week.
"I was appointed by Toronto City Council. I can't really speak to the rationale," he says. "All I can really speak to is my application and my own interview. I laid out to you the same thing that I laid out to them in terms of my priorities would be."
But the decision has also left Ontario NDP energy critic Peter Tabuns scratching his head.
"I don't understand the logic in making this appointment if you want the Atmospheric Fund to be successful in its programs," he says. "I think Mr. Velshi will find huge conflict between his commitment to expanding oil production in Canada and serving on the board of a fund whose aim is to substantially reduce our reliance on fossil fuels."
Though Tabuns says he "won't presume to speak for Jack," he says Layton's vision for the fund as a means to "energetically lead campaigns to reduce our reliance on fossil fuels" is "not consistent with what I've heard of Mr. Velshi's."
But former TAF chair David Soknacki has a different take. Though he confesses he "chuckled" when he heard about the appointment, he says adding Velshi to the group will inject a fresh perspective.
"If you take a look at the TAF membership right now … there is fair similarity of outlook. A couple of appointments that have a different outlook I think is healthy for any organization," says Soknacki, maintaining that he was appointed to the fund "for the same reasons."
"I was put on the board to keep an eye on Jack," he says, referring to the left-leaning Layton, who helped create the fund in the 1991 with a $23 million endowment from the city.
Velshi's perspective is one that Soknacki says could prove to be a significant advantage to TAF, particularly in the current climate of austerity.
"If the administration doesn't feel that an organization is responsive or part of the team, they will be less inclined to protect it," he says, noting that the fund came under review when he was at the helm.
For her part, Coun. Shelley Carroll, the current TAF chair, says she is interested to learn more about Velshi, whose credentials represent "a first" for the organization.
"I look forward to any new board member that comes fully understanding the mandate, and is ready to help us meet that mandate, both in the investment sense and in the galvanizing the environmental community sense," says Carroll. "I hope that Mr. Velshi has decided that that's his new interest."
Alykhan Velshi's "Ethical Oil" campaign has been one of the more notable attempts at a rebranding in recent history. Check out these other notable rebrandings:
Popular in the Community