MONTREAL — A star NDP star candidate is backing away from comments he made on television in which he suggested the NDP would be willing to work with a minority Conservative government in Parliament.
Speaking on CPAC, Andrew Thomson, a frequent NDP spokesperson and candidate in the Toronto riding of Eglinton—Lawrence, told anchor Peter Van Dusen that the NDP would work with either party in a minority situation to make Parliament work for Canadians.
Thomson started off by saying the Liberals and the Tories had cooperated a lot, noting they voted together on Bill C-51, and he suggested they would do the same on the Trans-Pacific Partnership Agreement.
"Is there an opportunity to work with either of the other parties in a minority? I think the answer is yes. We are committed to trying to make the Parliament work," Thomson said.
Van Dusen interrupted him to point out that NDP Leader Thomas Mulcair had told reporters last month he would never work with Harper.
"What we have said is we will make the Parliament work," Thomson responded. "And what we need to do is make sure it will be a progressive set of policies that are put forward in this Parliament, whether it is lead by an NDP government or others. And I think that's really what Canadians are looking for."
In a press conference on Sept. 23, Mulcair was asked if there were any circumstances under which he could support Stephen Harper's Conservatives.
"...There is no likelihood that the NDP would ever, under any circumstance, be able to support Mr. Harper," Mulcair answered.
In case, he wasn't clear enough, Mulcair added: "There isn't a snowball's chance in hell."
After this story was first published, Thomson called HuffPost to say that he was trying to say that an NDP minority government would accept support from either the Conservatives or the Liberals.
But, he insisted, that the NDP would not "prop up" the Conservatives, with or without Harper at the helm.
"We've been clear, we are not going to prop up the Conservatives, but we do need to make sure that it is progressive sets of policies that are put forward in Parliament," he said.
Thomson's comments come as voters head to the polls today to determine who will govern Canada. Both the NDP and the Liberal party have been competing for the position of who best represents, or who can best offer, change. Several pundits, pollsters and party spokespersons have said they believe this election is a referendum on Harper's decade in office.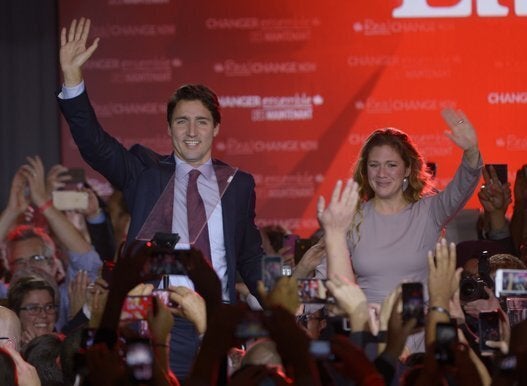 In Photos: Canada Election 2015