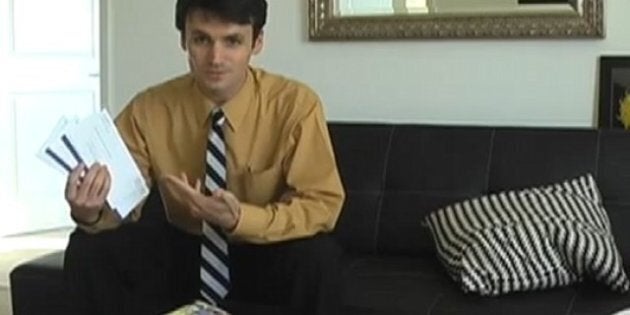 San Francisco poet Artie Moffa is promoting a different way to occupy the banks: Keep them occupied with junk mail.
In a video posted to YouTube late last week, Moffa suggests taking those credit card application forms that arrive in the mail and turning them into a message to the banks.
Send the postage-paid envelopes back empty, Moffa says. "It costs the bank about twenty five cents" per envelope, he tells viewers.
Those feeling a bit more proactive can take it to the next level and stuff the envelope full of the materials that came with it, and maybe even other junk mail. But those willing to put a little money into it can buy a wood shim or a roofing shingle, and put that in the envelope.
Because rigid mail is charged at a higher rate, that will cost the banks even more, Moffa says. But he stresses this should be about communication.
"Putting some sort of message -- clear, rational, a slogan -- I think that matters too," Moffa says.
As an example, Moffa displays a cardboard sign he has been placing in business reply envelopes that read, "Hello big bank clerk, please join a union."
"They're probably going to have a meeting about it -- and that's the point," Moffa says. "The real effect of this is to force banks to react to us."
Moffa told ABC News he got the idea for the protest when he found himself swamped with credit card applications.
Postage-paid envelope protests have been employed before.
But fear keeps me from spending
Which might drag this out
Popular in the Community