The U.S.'s real estate market has only recently begun recovering from the protracted slump that followed the bursting of the housing bubble some six or seven years ago, but that hasn't stopped the country's ever-richer super-rich from driving luxury home prices through the roof.
Just a few months ago, the most expensive house publicly listed for sale in the U.S. was this Florida mansion, going for $157 million ($139 million U.S.).
To call this a house would be an understatement. There are some 53,000 square feet of living space across several different buildings, the Wall Street Journal reports, with a total of 12 bedrooms and 23 baths. There's also dining room that seats 250.
To get to the main home, you travel along a quarter-mile-long driveway past olive groves and three sets of gates, before coming out in front of the main house, a 35,000-square-foot Mediterranean villa.
Basically, you could house a whole village in this place. And with space to boot.
The entertainment amenities are so numerous they need their own building: A 15,000-square-foot facility featuring a bowling alley, a theatre that seats 50 and even a "discotheque" with a rotating dance floor.
To get to the entertainment building, the L.A. Times reports, you walk along a path of glass that floats above reflecting pools. There's also a Turkish spa, a swimming pool and tennis courts that are lit up at night.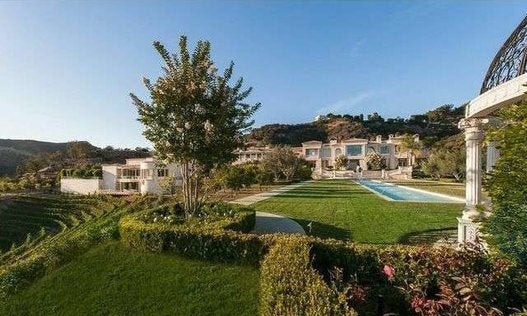 Palazzo di Amore, Beverly Hills
So who owns this paragon of excess? That would be Jeff Greene, a real estate investor who reportedly made a killing back in the day betting the U.S. housing market would crash and burn. Greene bought the unfinished property in 2007 for $35 million U.S., Bloomberg reports, but he has since put an estimated $25 million U.S. into finishing it.
Apparently Greene doesn't live on the property (his principal home is in Florida) and in recent years he has been renting it out, primarily to Saudi royals. Its most recent rental rate was $475,000. Yes, that's to rent it for a month.
For all that, Palazzo di Amore is probably not the most expensive house on the market these days. The Villa Fiorentina, on the French Riviera, is reported to be on sale for $595 million ($525 million U.S.).
Popular in the Community