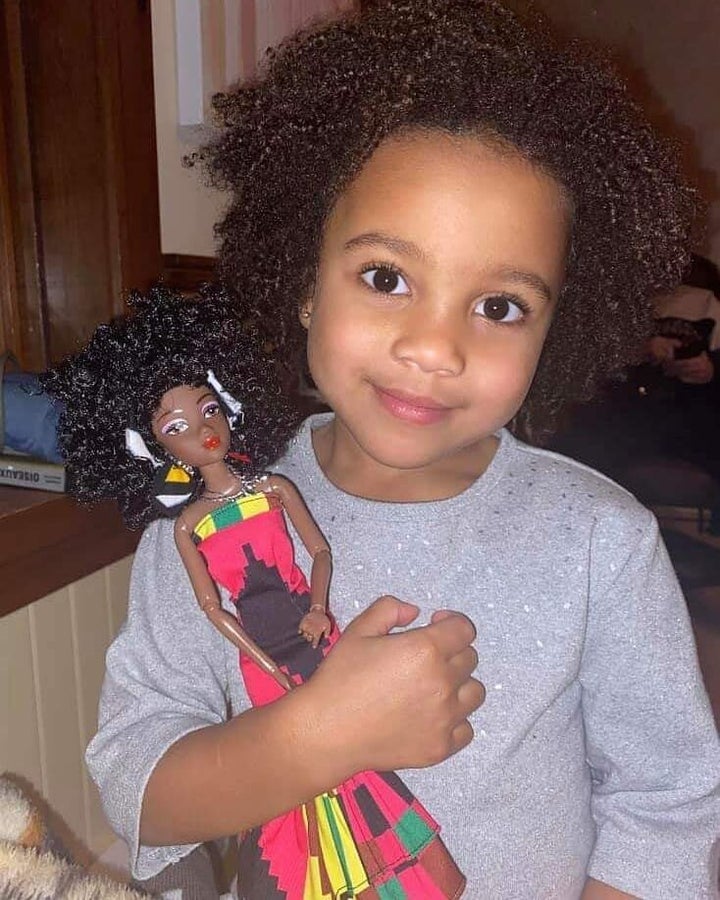 Ymma's website prominently features a Nelson Mandela quote: "It is in your hands to make a better world for all who live in it."
Gaëtan Etoga and Yannick Nguepdjop take that literally. The two Quebec dads founded the company, which makes Black and mixed-race dolls, to inspire children and expose them to difference.
Startling lack of diversity in the toy world
Etoga said the idea has been floating around in his head for a while now.
He and his business partner, Nguepdjop, both originally from Cameroon, were surprised to find that even big multicultural cities like Montreal had a startling lack of diversity in many areas — including in toy stores.
"We realized that the Black dolls were missing. In the rare cases they are on shelves, they're at the bottom, or they're really expensive," Etoga told HuffPost Québec.
So they decided to do things "their way" and make toys that were readily available, not hidden away, and accessible to everyone.
Dolls can increase self-esteem, openness to others
Both dads say having access to toys that look like them is crucial for children of diverse backgrounds.
Etoga mentions a 1940 study carried out by Dr. Kenneth Clark and his wife Mamie, both psychologists. The couple presented Black children with a white doll and a Black doll, and asked them a series of questions about their perceptions of them. Many kids responded that the Black doll wasn't as pretty as the white doll, and that they'd rather play with the white doll than the one that looked like them.
"The doll test video, when you watch it, it's heartbreaking," Etoga said. "These little children, they didn't have any toys that looked like them from an early age. I think certain parts of society dictate to them that their hair and their noses are ugly. But what we want to tell them is that that isn't true."
In creating their own line of dolls, Etoga and Nguepdjop want more kids to feel confident in themselves, and to help them realize they're beautiful the way they are.
But Etoga wants to make it clear that Ymma dolls aren't just for young people of colour. The two dads agree that giving their dolls to kids who aren't Black or mixed-race can have a big impact on their future. Having a diverse toy collection from an early age will make those kids more likely to be open and aware when they're older.
"A study by neuroscientists at Cardiff University in the UK explains that playing with dolls develops empathy, but above all skills that help kids manage social relationships," he said. "We really believe that exposing all kinds of children to a variety of toys will have an impact on society in the future — not just for them, but for the people they interact with — and make the world a better place. "
An economic and a social impact
Etoga and Nguepdjop both grew up in Douala, the largest city in Cameroon. They want their company to pay homage to their hometown.
"For example, [the dolls] are called Priso, Beri and Sadi. Those are diminutive names for neighbourhoods in Douala," Etoga said.
All of the clothes Priso, Beri and Sadi wear are made entirely in Cameroon, using local textiles.
Two of the textiles used for the dolls' clothing "are traditional fabrics from Cameroon," Etoga explained. "Let me give you an example: There's a blue fabric with sky blue patterns called the 'ndop.' It's a traditional fabric from the west of the country that's used in large ceremonies. The other is called the 'toghu.' It's black with yellow circles and a little orange on it, and it's a fabric specific to the north-west region. "
In addition to giving these nods to their country of origin, Etoga and Nguepdjop are also supporting Quebec's economy: all of their boxes and packaging are produced in the province.
"We made these decisions to have an impact in Cameroon, but also in Quebec, especially because of the difficult situations that companies and people here are experiencing now. We said to ourselves that it would be good for us to have that impact. "
Raising awareness to better understand each other
For Etoga, the most important thing racialized Quebecers need right now is more awareness and understanding of the insidious ways racism functions.
"I think the first step would be to recognize that there is something wrong. Until we recognize that there is something wrong, we don't know what to fix," he said.
After that, he thinks there will have to be a dialogue between different communities about the barriers many people still encounter.
"There are people I've talked to — I don't think they're inherently bad, but they don't know what other communities are going through. So they aren't concerned about it."
Some people were surprised to hear it wasn't easy to find Black dolls, for instance.
"They didn't realize that. Once we had a discussion, [they told me]: 'Because it didn't affect me, I never asked myself that question. But now that I've talked to you, I realize that these are things that happen.'"
Ymma's ultimate goal isn't just to sell dolls. It's to foster inclusion and understanding.
"If this initiative can make five, 10, 20 children a little more open to diversity because they've been around various toys, I think that would be mission accomplished for us," Etoga said.
"Yes, we're entrepreneurs, we're a business. But it's much bigger than that. We know that it will be complicated and that it will not be easy. But it's a fight that we're ready to lead, that we've chosen to lead."