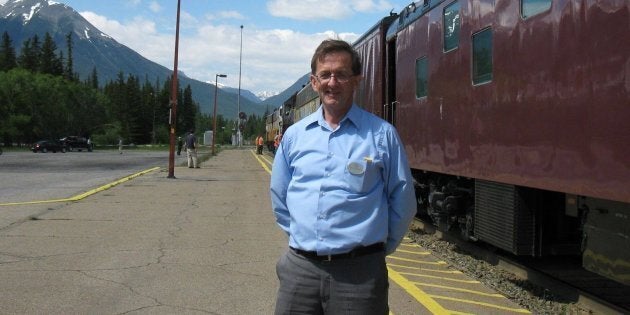 An Ontario university plans to vote on whether to strip a professor emeritus of his title after a series of racist tweets about Indigenous people.
Stevenson said the city was ditching the statue to "appease some snivelling aboriginals who probably never did a day's work in their lives".
He also went on to attack many who called him out on Twitter for his comments.
"I hope you die painfully. Who the hell do you think you are?" he said to one user who told him Canada was not his country to begin with.
He told another user who posted critically about John A. Macdonald that he did not "deserve the right to live in Canada."
He also directed a profanity-laden tweet at the prime minister accusing him of giving Indigenous people "ideas" and encouraging them to act like they own Canada.
"Brock has no connection whatsoever with his views, and abhors comments that have been posted on his social media sites," Tom Dunk, Brock's provost, said in a statement released by the university.
The university's senate has plans to discuss whether to strip Stevenson of his honorary title in the coming days.
"Brock remains steadfast in its commitment to advancing an inclusive and respectful work and learning environment, and calls upon all members of the campus community to respectfully engage each other with kindness and humility," Brock president Gervan Fearon said.
"The abhorrent online comments emphasize why it is important that efforts continue to be made across Canadian society and all communities to advance the Calls to Action established under the Truth and Reconciliation Commission as well as equity, diversity and inclusion initiatives."
Former department chair
Stevenson is the former chair of the university's political science department, according to CBC News. He retired six years ago and is the author of eight books, including his most recent, entitled Building Nations from Diversity: Canadian and American Experience Compared.
He told the broadcaster that comments made on social media were solely his own, adding that he wasn't concerned about losing his title.
"If the university wants to deprive me of the meaningless title of professor emeritus, that is their business," he said. "Although it might deprive me of the right to borrow books from their library, I am sure I can live without that."
If the university wants to deprive me of the meaningless title of professor emeritus, that is their business.Garth Stevenson
"I am sure many aboriginals are fine people and at one time I knew and got along with several of them," he said to the paper. "But I have been driven over the edge by the systematic campaign over the last few years to blacken the reputation of our first and best prime minister, Sir John A. Macdonald, a campaign in which prominent aboriginals and some of their white 'liberal' fan club have played the predominant part."
Victoria's decision to remove the statue has reignited a fierce debate over the first prime minister's role in the oppression of Indigenous peoples through the residential school system.
"When the school is on the reserve, the child lives with its parents, who are savages, and though he may learn to read and write, his habits and training mode of thought are Indian. He is simply a savage who can read and write," Macdonald wrote in 1879.
Popular in the Community