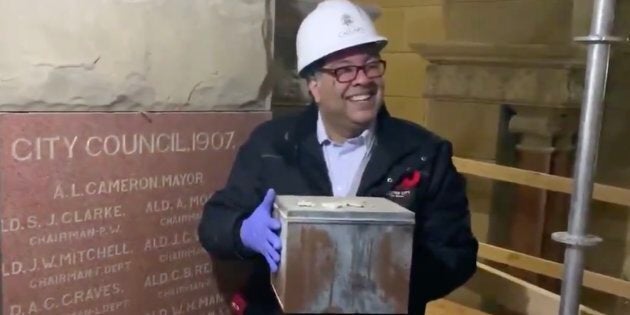 More than a century ago, members of Calgary's city council gathered items important to the city at the time and sealed them in a copper box, placing the box within a cornerstone of City Hall.
Today, mayor Naheed Nenshi pulled that box out, revealing a snapshot of a small city just beginning to grow.
The capsule was put in place on Sept. 15, 1908, by then-mayor Arthur L. Cameron. At the time, Calgary's population was only 12,000 people, and the province's vast oil resource had yet to be discovered.
The capsule was removed as part of the current rehabilitation of Historic City Hall.
In the box were 27 items, including copies of newspapers, coins, a New Testament, and an Album of the Dominion Exhibition (the precursor to the Calgary Stampede.)
The City of Calgary says more photos of the contents will be available and HuffPost Canada will update this post with those photos.
In the meantime, here's a full list of the contents:
A copy of the New Testament
Bylaws from The City of Calgary
A 1907 financial report from the City
A 1907 City of Calgary voters' list
Album of Dominion Exhibition from 1908
Report of Grand Lodge of Masona of Alberta, 1908
Report of Grand Lodge of Oddfellows of Alberta, 1908
Report of General Hospital, 1907
Report of school board, 1907
Tercentenary stamps dated to 1908
Coins, 50c, 25c, 10c, and 5c, Dominion of Canada
Copy of the history of the Roman Catholic church, 1907
Medal of the Chairman of the police department
Medal of city comptroller
List of members of the fire department
Report of Knox church in Calgary
List of members of the police department
Proceedings of synod of Church of England for Western Canada.
Minutes of the Alberta conference of the Methodist church.
Year book of the Central Methodist church
Report of Baptist church
Copy of The Daily Herald
Copy of Morning Albertans
Copy of special edition of The Albertan
Copy of The Daily News
Copy of The Eye Opener
Check out the unveilings of more incredible time capsules from around the globe: