There's a heated debate among the experts these days on just how healthy Canada's job market really is.
Well here's a point for the glass-half-full crowd: By one major measure, Canada's job market has never been better. The share of working-age Canadians with a job hit its highest level ever in the first quarter of this year.
The labour force participation rate, as it's known, for people aged 15 to 64 hit a peak of 78.6 per cent in March, the highest level in records going back to 1976.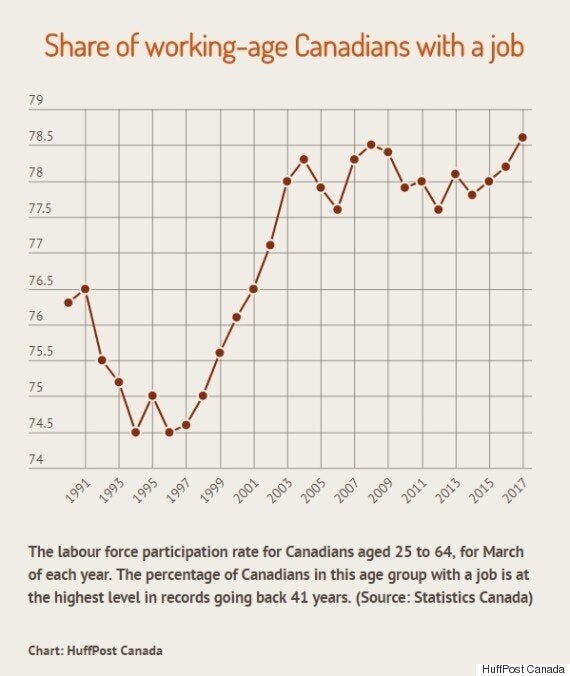 Bank of Montreal chief economist Doug Porter, who flagged the data this week in a client note, noted that for Canada as a whole, the participation rate is falling.
"But this decline entirely represents the aging of the population — we have many more people now above 65 years old," Porter wrote. Looking only at the working-age population, the participation rate has been rising.
Porter also noted that this is one way the U.S. and Canada have diverged in recent years.
The U.S. saw a sharp decline in its working-age participation rate following the Great Recession of 2008-09. It dropped from levels around 77 per cent to around 72 per cent, the lowest levels since the early 1980s. Although there has been some bounce-back in recent years, the U.S. lags Canada by a wide margin.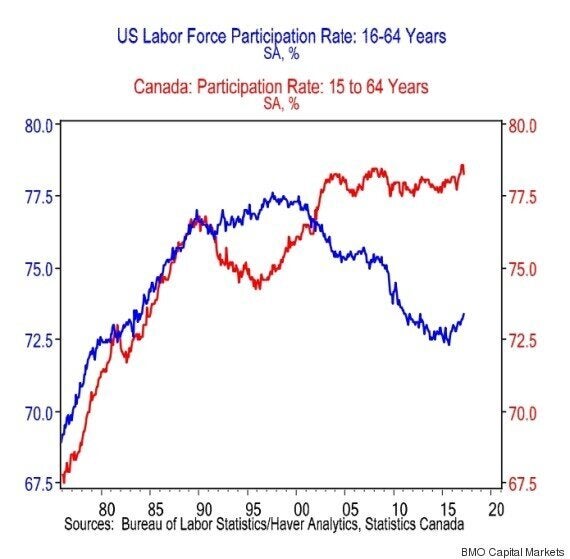 At 4.1 per cent, the U.S.'s unemployment rate is lower than Canada's 6.5-per-cent rate. But much of that is due to discouraged workers, who left the workforce during and after the recession.
No similar trend seems to have happened in Canada, Porter says.
"There just is no big group of potential workers sitting on the sidelines in Canada; arguably there is south of the border," he wrote.