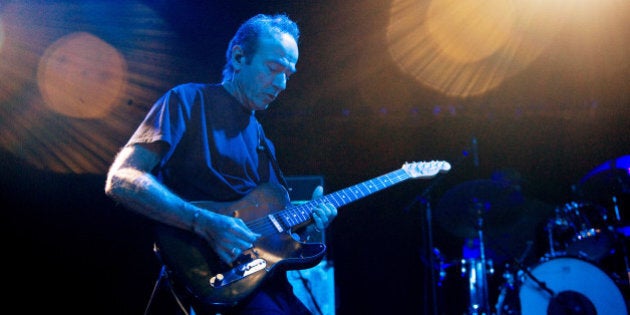 The Stranglers' lead singer Hugh Cornwell has toured Western Canada many times, but recent federal changes to foreign worker fees have forced him to nix three of four Canadian dates next month.
The Edmonton Journal reports the singer was slated to play in Edmonton, Calgary and Winnipeg. Cornwell's official site had him playing the three cities on the 16th, 17th and 20th, respectively, after confirming the three shows in mid-August. But while two of the three clubs -- Winnipeg's Pyramid Cabaret and Edmonton's Wunderbar Hofbrauhaus -- are exempt from paying the foreign worker fees, the Broken City in Calgary isn't. Thus the Calgary gig was nixed.
"By losing that date (Calgary), it made the trip through from Vancouver unviable the way the dates and routing had worked out," Cornwell's manager David Fagence said in a statement reported by the Edmonton paper. "Please let (fans) know that Hugh is very upset and annoyed about it, but we were left with no option. We will ensure we get there next time, though, one way or another."
As previously reported changes to the laws now require venues where music isn't the primary business to pay $275 per musician (and any member of the musician's crew) when filling out the application. As well there's a work visa which is $150 per applicant per performance.
The changes has resulted in a petition being signed by over 135,000 as of Sept 18 demanding the fees be reversed to enable foreign musicians and bands to perform in Canada without the increased costs.
Cornwell is touring behind his latest solo album "Totem & Taboo" released earlier in 2013. The musician is still slated to play in Vancouver on Oct. 11.
Popular in the Community