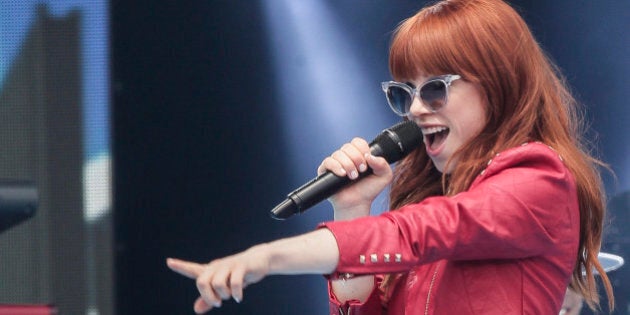 If Carly Rae Jepsen's persona has always seemed a bit like that of a Disney princess -- in that she's spunky, wholesome and very well marketed -- the subtext has now risen to the surface. The B.C.-born pop star is crooning the "Little Mermaid" song "Part of Your World" as part of the diamond edition re-release of the Disney classic.
We spoke to self-declared "musical theatre nerd" Jepsen about "The Little Mermaid," including the film's alleged sexism, as well as the controversy over Robin Thicke's song of the summer, her own breakthrough stint on "Canadian Idol" and how she plans to escape the yoke of "Call Me Maybe."
What's your personal childhood connection to "The Little Mermaid"?
The desire to always have been a little mermaid from when I was, like, age four and on. I was that kid pretending I was Ariel. I would never have thought that a project like this would come my way later on, so it's pretty rad. But yeah, I really connected to the story, I thought Ariel was rad and I loved it, so it was a no-brainer.
You really went all-in on the theatrical bits in the song, too.
It was fun. I was actually in musical theater when I was in high school. I played Little Orphan Annie and Dorothy in "The Wizard of Oz" and Sandy in "Grease." And I never thought I would get to bring musical theater back into my pop music career. So when they're like 'You get to be Ariel!' I was like, 'I get to? I get to be in a musical?' They're like 'No, it's just one song.' And I'm like, "I get to be in a musical!" So I totally like skipped to the studio and let my theatrical side come out.
Sounds like a bit of an audition.
No, it was just fun. At the beginning I was listening to Jodi Benson's version and was like, 'oh, that's what she did, that makes sense.' I just tried to do my own little take on the song.
Is this something you normally try to bury? I know you were on 'Canadian Idol' and musical theatre was always one of Simon Cowell's go-to insults.
Oh no! Maybe this is crazy of me but I love musical theatre. I think I'm like a bit of a theatre nerd actually -- "Jesus Christ Superstar," "Fiddler On The Roof," you name it! My family was really into it, too, so we went to see "Joseph [and the Amazing Technicolor Dreamcoat]" when it played in Vancouver. I don't know if I'm putting some in when I'm writing my pop album, but there's an element in it that's totally a part of my personality.
Q&A continues after music video
Also times change, right? There have been a number of feminist critiques of "Little Mermaid" and the message that it sends out about Ariel kind of giving up, not just her whole undersea kingdom but also giving up her voice to be with a man. What's your take on that?
I think it's more about finding your voice actually and it's inspiring. [She's a girl in a very sheltered community, is how I looked at it, and she decides to brave this whole new world and discover it on her own. And it's like she takes it over and she learns new things, it's kind of exciting, she's the rebel child.
It's interesting how big all of these Disney princess have become. I have three nieces and they are all obsessed and I don't remember that -- I mean obviously the movies were all a big deal when I was a kid, but it's never been as big as it is now.
I have a theory that all girls -- well, most girls that I know at least -- have like an inner Disney Princess that they think they are. And most men that I've met have an actual superhero that they believe that they are. I tested it out the other day while we were on the tour bus because we were hanging out and literally nobody had to think about it. It was like, 'I'm Batman,' 'I'm Werewolf' and Katie [Jepsen] goes 'I'm Belle.'
So which princess are you?
Well, before this experience I always thought I was more the Belle character because I always liked to read books, but Ariel is right up there for me and I've been inspired by her and died my hair red.
You had the undisputed song of the summer last year, but this year was more contested. Do you have a preference between "Get Lucky" and "Blurred Lines"?
Oh, I like both but "Blurred Lines" is my jam. The song pops up for me in the weirdest places. I was in a taxi the other day and the guy was totally quiet and, as soon as it came on, he started screaming "Good girl!" I'm like, 'this is so strange, how does he know this is my song?' So I would say "Blurred Lines" is my choice.
That song actually had a lot of grief as well for being sexist. Maybe also because of the music video. Is that something that you agree with, or do you think it's overblown?
Truthfully, I saw [the video] once and I just thought that there were three very beautiful girls and I can appreciate a beautiful girl.
Now that we're a year out from all that craziness that happened for you with "Call Me Maybe," in hindsight, is there anything that you might've done differently?
There's always things that you can look at different and just be like, 'Oh I should've done that tour instead of that tour.' But I also know that I made every decision with the information that I had at the time and kind of rehashing it or beating yourself up for no reason [is pointless]. I'm not always great at it but I try to look forward and I know so much more now that and I can help myself be ready for album number two which is an exciting opportunity.
Nobody really knows about "Canadian Idol" back in the States and it was four years or so between the show and when you broke out. How do you think your reality TV experience was helpful to you? It seems nowadays a lot of people are on these shows but they don't necessarily get music careers from them anymore.
It was helpful in the aftermath for me. I learned a lot on the show but half of what I went through was a bit terrifying and the other half was like really great. It's a strange reality to be on a show like that. The difference between the Canadian and the USA one is that we [the contestants] also lived together once we made the Top 20. So you're in this "Big Brother" vs. "Canadian Idol," it's just a very strange dynamic: 'my roommate's gone!'
But the thing that I'll never regret doing it for was the fact that when the show was done I really was able to network with the producers and the people involved and make some connections that actually led to my management team within Canada and my record deal, like my first ever one. It really started my radio career in Canada and if I wasn't lucky enough to have been discovered by Bieber, I would've probably still be kicking it doing that and I would've been really happy because that's more than I ever dreamed for myself already. So this is just all kind of a bonus round.
Your single was so huge that when the album came out it was a little bit overshadowed, despite the fact that, especially for a pop album, it got really great reviews. Was that frustrating for you?
Yeah, I have a little bit of a hunger to prove that I've got more than that one song and I definitely worked hard on the album. I think of it as a blessing and a little bit of a challenge. It's great to be known for a song and it also kind of overpowers everything. I'm looking at this next album as a chance to show that because there's been a bit of a break and going into the writing room is nothing but exciting.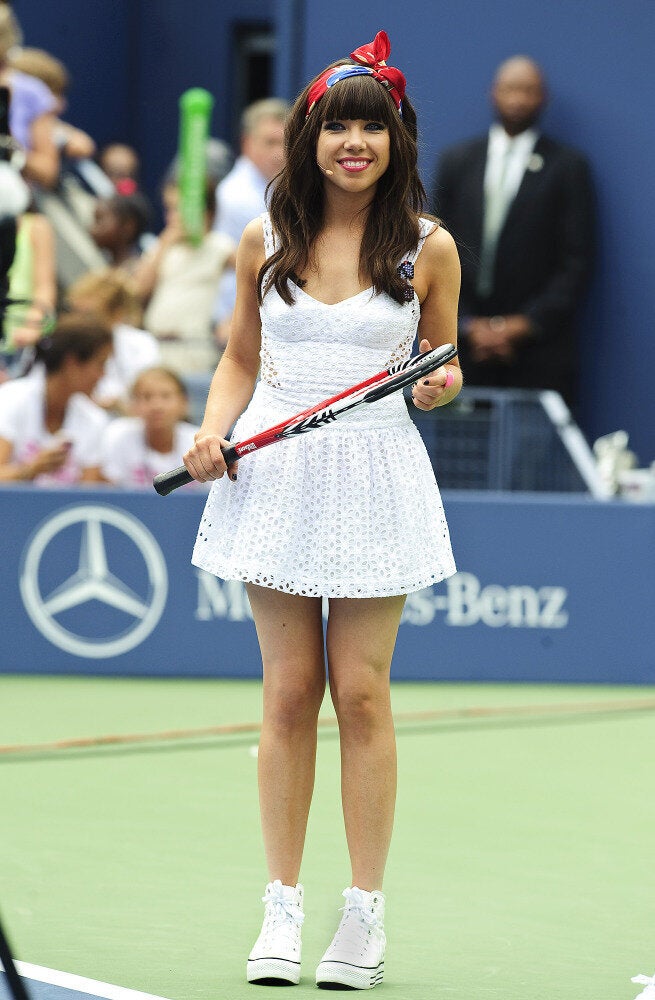 Carly Rae Jepsen's Tween-Leaning Style