Now, we're seeing how boyfriends feel about the street harassment their loved ones face when they're not around.
Cosmopolitan released a video Monday that shows men's reactions as their girlfriends are catcalled in the Big Apple. And it's obvious they had no idea just how prevalent the problem can be.
One boyfriend, Seth, looks clearly disgusted as Olivia, his girlfriend of eight months, is harassed with phrases like, "Oh my God. Look at this prize here!"
"I'm getting pissed off," he says. "I'm not happy with this."
A second woman, Tessa, shows her boyfriend Jon the time that one man said he'd like to massage her feet, and when another called her a "b****."
"That's so messed up," Jon responds.
The video is the latest in a series that shows what it's really like to be catcalled on the street.
A video from Peru, which was released in January, showed men catcalling women who turned out to be their mothers in disguise.
Concern about street harassment has led the non-profit Feminist Apparel to post anti-catcalling signs around New York City.
But street harassment doesn't just happen in New York and South America.
A 2000 study published in the Journal of Research in Crime and Delinquency found that 80 per cent of Canadian women in a survey had been harassed by men they didn't know.
The harassment undermined their sense of safety in public, it said.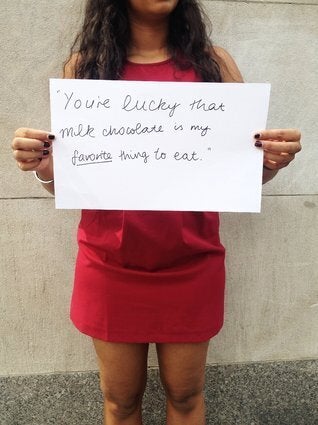 Photos: Everyday Catcalling
Popular in the Community