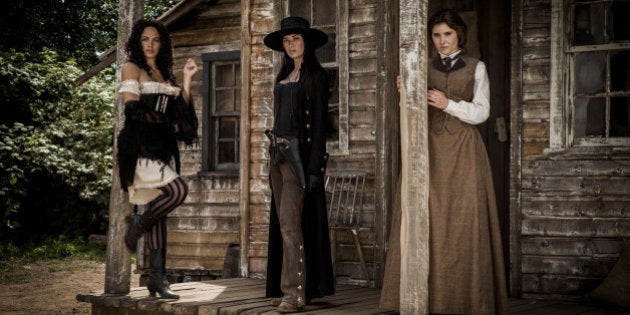 If you like your CBC programming family-friendly with a dash of feel-good, tune in Sunday nights where you can get plenty of that with trusty "Heartland" and the new series Canadians can't seem to stop talking about, "Canada's Smartest Person." Mondays have gotten a bit darker, however. Sure, hit series "Murdoch Mysteries" has its share of light moments but its newest companion, "Strange Empire," is anything but.
Set in 1860 Alberta-Montana border country, "Strange Empire" centres on women struggling to survive. In a time when all a woman was good for was to hitch herself to a man's wagon, it's a scary place for anyone without a penis to be. With most of their men dead or gone, the women of Janestown realize it's up to them to start over and build up a life, be it for themselves or to thrive and raise their families. What's more important -- and, perhaps, most dangerous -- is for these ladies to find their independence and know just when and how to assert it.
I know, it's not exactly campfires and "Kumbaya"; rather, it's almost dismal. But if you look deep, you'll feel some hope for these women folk. What keeps "Strange Empire" from getting too depressing are the strong, smart females at its core.
A western drama led by women might seem a little like a "Heartland"/"The Week the Men Went" hybrid but it's nothing of the sort. "Strange Empire" comes from the writer and co-creator of "Durham County" so you know it's going to go there, somewhere murky and disturbing and very, very emotionally charged.
Starring Cara Gee as Kat Loving, Melissa Farman (the one who looks a little like Cobie Smulders) as Dr. Rebecca Blithely, and Tattiawana Jones as Isabelle Slotter, we quickly learn just how different each character is. Kat is as strong and fierce and independent and sexual as they come (she's like Beyoncé in jodhpurs), basically the woman we all want to be when we grow up. If Rebecca was around nowadays, she might have been diagnosed with autism or Asperger's. Back then, she's almost too smart for her own good and perceived as some sort of freak. But she's also wary of the unknown and looks to Kat for answers. Isabelle, I don't have a handle on just yet. She's married to John Slotter (Aaron Poole), a man who appears to be a monster, but I'm hoping there's more to him -- and her -- than meets the eye.
The edgy drama is quite the departure for the CBC, with the word "whores" thrown about willy-nilly and men getting violent with women and children. It can be considered a daring move or of the "why fix it if it ain't broke" variety. Judge for yourself but from what I've seen, it was definitely a risk worth taking as "Strange Empire" is definitely worth watching.
"Strange Empire" premieres Monday, Oct. 6 at 9 p.m. (9:30 NT) on CBC.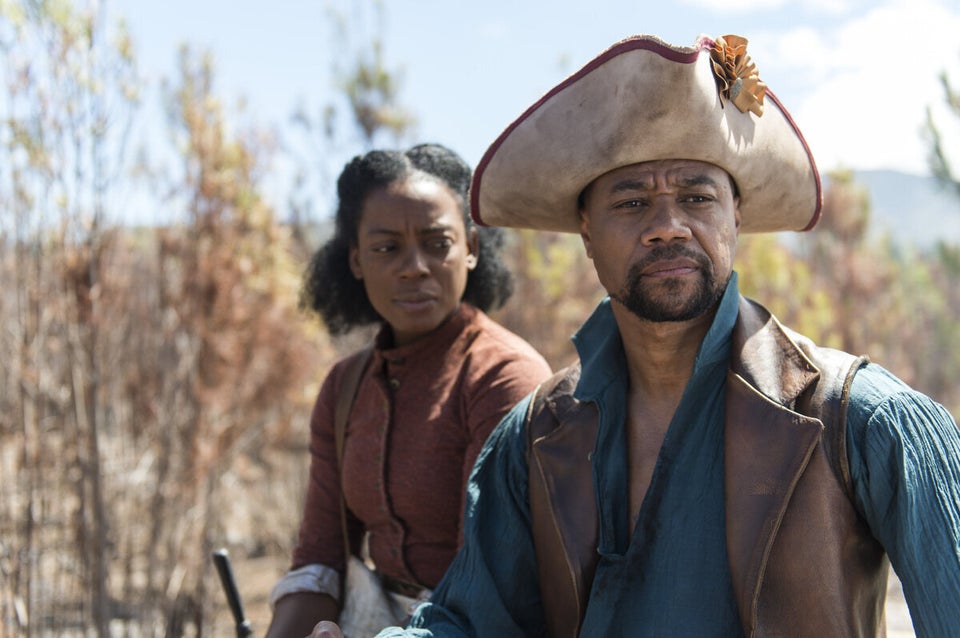 CBC TV Fall/Winter 2014-15