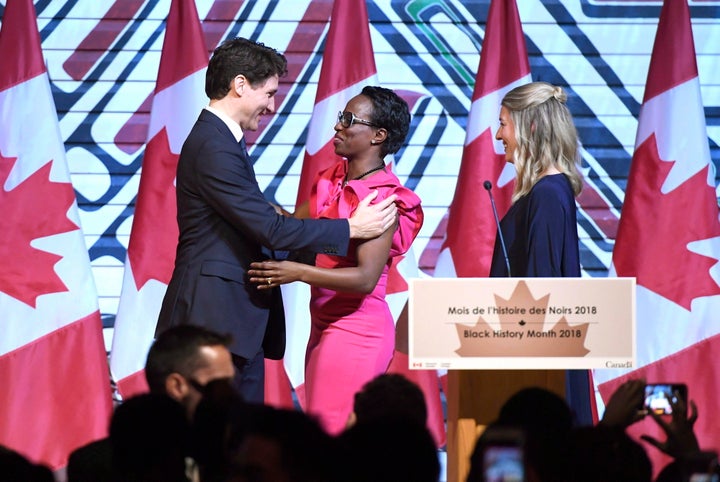 Celina Caesar-Chavannes says her public split with Prime Minister Justin Trudeau does not "discredit" him as a feminist leader.
Caesar-Chavannes quit the Liberal caucus in March shortly after telling The Globe and Mail that the prime minister yelled at her after she revealed that she would not run again this fall. The Prime Minister's Office has said that while discussions were "frank," there was "absolutely no hostility."
The Whitby MP appeared on TVO's "The Agenda with Steve Paikin" Tuesday for an expansive interview that touched on the controversy and the racism she has faced as a black woman in politics.
'The situation with me doesn't discredit him from being a feminist'
Asked by host Nam Kiwanuka if the prime minister is a feminist, Caesar-Chavannes responded: "absolutely."
"The situation between myself and the prime minister is one that is possibly just unique to me. But it's not one that should be… invalidated because somebody thinks it's a decree or an indictment on whether or not he is a feminist."
Watch that exchange in the TVO clip below:
Conservatives pounced on Caesar-Chavannes' decision to become an Independent MP as proof that Trudeau is a "fake feminist." It's a charge that Tories have levelled at Trudeau in the wake of his decision to boot former cabinet ministers Jody Wilson-Raybould and Jane Philpott from caucus in the thick of the SNC-Lavalin affair.
"The prime minister is really good at yelling and screaming at women, as the member for Whitby knows," Tory House Leader Candice Bergen alleged in House of Commons in March. "He is a very good actor. However, he is a fake feminist."
Trudeau shot back at the time by saying it was "rich" to hear Conservatives lecture Liberals on women's rights when they won't "defend a woman's right to choose."
Caesar-Chavannes told TVO that she regrets her interview with The Globe, which she said hurt her colleagues, but denied her issues with Trudeau will stifle his party's chances at re-election.
But she did not back down from her position that her decision not to re-offer this fall was met with hostility by the prime minister.
In early March, while still sitting in the Liberal caucus, she took to Twitter to respond to a quote from Trudeau about "fostering an environment" where ministers and Liberal MPs can come to him with concerns.
"I did come to you recently. Twice. Remember your reactions?" she wrote at the time.
Caesar-Chavannes, who previously served as the prime minister's parliamentary secretary, told TVO the "perception" Trudeau gave to Canadians in that statement was not her "reality."
She also maintained that Trudeau did not show her enough respect as an elected MP during their exchanges, but added she doesn't have a "beef" with him.
As one of the few black MPs in the House, Caesar-Chavannes has been vocal about issues of race and equality. In 2017, the MP wore "dope" braids to deliver a speech in the Commons denouncing body shaming. In remarks that went viral, Caesar-Chavannes said she was speaking out for "young girls and women who look like me" and those who do not.
Last month, she shared a photo of a piece of racist hate mail she received at her office. Someone wrote to call her "dumb" and the N-word.
Caesar-Chavannes told TVO that messages like that come to her office on a regular basis.
"When I see something like that… first of all, my mama told me that I'm not that so it didn't faze me," she said. "But I think we have a responsibility to call it out and put it out on social media so that people know there's a historical account of what happened when I was there."
Watch: Caesar-Chavannes lauds Daughters of the Vote
Popular in the Community