Celine Dion announced this morning, Aug. 13, she is putting her career on the backburner to focus her energy towards husband Rene Angelil battle with cancer, resulting in her Las Vegas residency being cancelled until further notice as well as her forthcoming Asian tour.
"Celine Dion has decided to postpone all of her show business activities indefinitely, in order to focus 100% of her attention on her husband Rene, their family, and associated health issues," a statement on Dion's official site says.
"Since Rene's surgery last December to remove a cancerous tumor, it's been a very difficult and stressful time for the couple as they deal with the day-to-day challenges of fighting this disease while trying to juggle a very active show business schedule, and raise their three young children."
The statement also acknowledged Dion herself has been battling an illness which caused inflammation in her throat muscles. The inflammation resulted in Dion not performing any of her slated shows at the Colosseum at Caesars Palace since July 29 and she hasn't fully recovered.
Dion announced on Aug. 5 a series of Las Vegas shows would be cancelled to deal with the "acute inflammation." "I want to devote every ounce of my strength and energy to my husband's healing, and to do so, it's important for me to dedicate this time to him and to our children," Dion says. "I also want to apologize to all my fans everywhere, for inconveniencing them, and I thank them so much for their love and support."
The statement concluded with a request that Dion and her family's privacy be respected.
The announcement follows news earlier this year that Angelil was stepping down as Dion's manager. Hello Magazine reported Aldo Giampaolo would become the CEO of Feeling Productions which is in charge of Dion's career with Angelil remaining as chairman of the board.
Angelil was originally diagnosed with throat cancer in 1999. The couple married in 1994 in Montreal and have three children.
Dion's tour schedule had her performing a string of Las Vegas shows in August before starting a five-date tour in Japan and the Philippines in November. More Las Vegas dates were planned for late 2014 and running through sporadically until March 2015.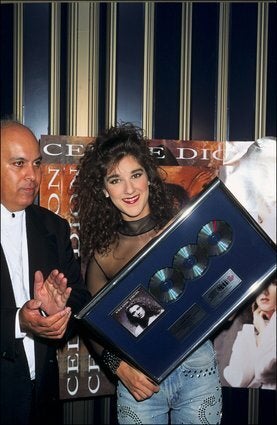 Celine Dion and Rene Angelil