One suspect is in custody after gunmen opened fire at a French satirical magazine Wednesday, Agence France-Presse reports.
The outlet cited sources confirming 18-year-old Hamyd Mourad surrendered himself to police early Thursday.
Few details are known about Mourad, though some reports have described him to have recently lived in Charleville-Mézières, a small town in northern France near the Belgium border.
It was in that small town that Mourad turned himself in, according to The Guardian. He reportedly decided to go to police after seeing his name emblazoned over social media.
French authorities have not commented on an earlier report by NBC News claiming a suspect was dead. The American outlet had cited two senior U.S. counterterrorism officials, but later walked back on their report after acknowledging "rapidly changing information."
There are two others who remain the subjects of a massive manhunt.
Two brothers identified as Cherif Kouachi, 32, and Said Kouachi, 34, have been named as the other two suspects at large. They are both French nationals.
The men are wanted in connection to the murder of 12 people when gunmen opened fire at Charlie Hebdo's Paris office. Eleven others were also wounded in the brazen attack.
Shortly after police released the names of the suspects, apparent photos of the Kouachi brothers surfaced on social media pages.
Photos of Cherif Kouachi and Said Kouachi were uploaded to Facebook Wednesday. (Photo: Facebook)
French TV reports say the identity of one of the suspects was determined after police found his identity card in the getaway car.
Witnesses say one of the attackers shouted "Allahu Akbar" – "God is Great" in Arabic – during the deadly onslaught. Two masked men were spotted carrying AK-47 Kalashnikov rifles.
Among the dead include eight journalists, two police officers, a building maintenance worker, and a former political staffer who was invited to join staff at a weekly editorial meeting at the time of the attack.
At least one of the suspects, Cherif Kouachi, is known to police with a lengthy criminal record marked with terrorism-related activities.
In 2005, Kouachi was questioned by French authorities after he was approached by recruiter in Paris to become a foreign fighter in a campaign against American forces in Iraq.
The recruiter, Farid Benyettou, was known to deliver Mosque sermons encouraging young men to travel to Iraq. According to The New York Times, Kouachi had told police he met with Benyettou at the Addawa mosque near his home in Paris' 19th Arrondissement.
Raised in the northwestern city of Rennes, Kouachi reportedly has never left France. The two brothers were orphaned as children by their Algerian immigrant parents, according to The Liberation.
French anti-terror police conducted a series of raids Wednesday night through Thursday. An investigation remains on-going.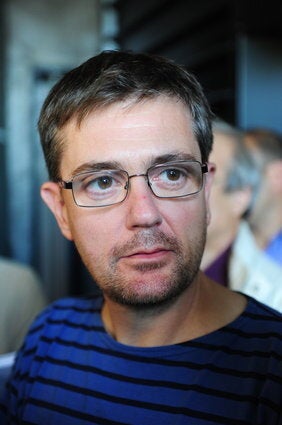 Charlie Hebdo Staff Killed In Paris Attack